Update: The Scarf Sweater instructions, together with my Eyelet Ripple stitch pattern, are now available as a printable Donationware pattern. They are still available for free, but if you like them please consider sending me a donation to show your appreciation: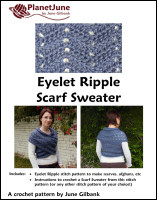 Send me a donation and receive the easy-to-print PDF version of the instructions and stitch pattern (with bonus assembly photos and instructions on how to wear it) as a thank you!
Donations of any size are much appreciated. Just add the amount you wish to donate, and, once you have checked out and paid, your pattern will instantly be available to download from your PlanetJune account.
The complete pattern and instructions are available below, regardless of whether or not you choose to pay for them 🙂
This is a PlanetJune original crochet pattern. Feel free to use items made from this pattern however you wish, but I'd appreciate credit as the pattern designer. Please do not reproduce the pattern anywhere else; instead post a link to www.planetjune.com/scarfsweater
Not ready to make it yet? Add it to your Ravelry queue:
***
I saw an intriguing knitwear idea on Pinterest a few weeks ago, and had one of those 'I could make that' moments. Here are some examples I found on Etsy (the first picture is the one I first found – uncredited – on Pinterest, and used my Google Search by Image trick to track down):


Photo (and inspiration) credit L-R: Max & Melody, Pilland, Rumina
I just wanted to test the basic concept to see how it worked – it's essentially just a scarf turned into a sweater by wrapping and stitching it together. It's very simple, so while I won't be creating a full pattern, I'll share the basic method (below), in case you'd like to make one too! I crocheted mine, but you could easily knit one if you prefer.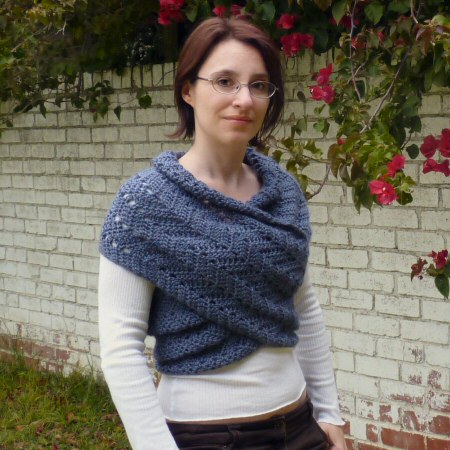 My version is very simple – I just crocheted a long rectangle like a scarf, wrapped it around myself, seamed the two short edges, and seamed across the back. I used worsted weight yarn for speed and crocheted a basic eyelet ripple to add a subtle chevron pattern. I also made it a bit wider than knitted ones, as an experiment to see if that would make it more snuggly.
Update: I've published free instructions for my eyelet ripple stitch pattern, in case you'd like to use it to make your own Scarf Sweater, or to make a scarf or ripple blanket 🙂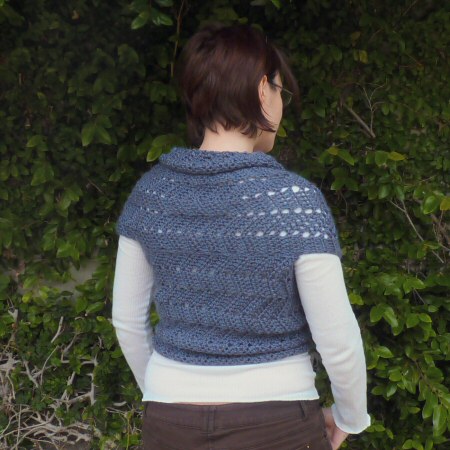 I think it's pretty cute, although a little chunky on my short figure. The nature of the design makes it a bit of a challenge to get into, and the shoulders are a bit constrictive – I won't be raising my arms above my head while wearing this! But the best thing about it is that wearing it feels like a warm, soft hug; despite having no sleeves, it's really warm and cosy.
If I planned to take this further, I'd refine the concept to make a more elegant, less bulky version. But I think this is the end of the line for my experiment – it was fun, it worked, my curiosity is satisfied, and I have a new handmade garment to keep me warm.
If you want to try making one of your own, here's a mini tutorial to get you started. You can knit or crochet this, in any stitch pattern you like – all you're doing is making a long narrow rectangle, just like a scarf:
Basic Scarf Sweater Instructions
Measure your back from where you want the bottom of the sweater to sit, up to your neckline (add an inch or two if you want to make a little fold-over collar like mine has or keep it shorter to be more fitted). Divide by two to get your width measurement.
Pick a stitch pattern and start crocheting (or knitting) a rectangle with the width you determined in Step 1.
You'll be making a very long rectangular scarf, but the length depends very much on your figure! The easiest way to figure out how long you need it is to wrap it around yourself: it should go across the back of your shoulders, cross over down your front, around your back above the waist, and cross over again up your front to meet the starting edge. It'd be easiest to get someone else to arrange it on you and make sure the two wraps meet across the middle of your back, or you can do it yourself in front of a mirror and expect to wriggle a lot to get it into position (guess which I did!)
When it's long enough, pin the two short ends together while it's on your body, then seam together (or make a double twist and then seam the two short ends together).
Arrange it nicely with the seam in an inconspicuous place – mine lies on the lower wrap so it's hidden. Ask your helper to pin the top and bottom wraps together across your back (or figure out where to stitch by yourself – it's possible; I managed!), then seam them across the back, stopping just before each underarm.
Update: It just occurred to me that although you can use any yarn (and a suitably sized hook), it may be helpful for you to know the details of what I used for mine, as a starting point for yours: I used an H (5mm) hook and worsted weight yarn (Bernat Satin, in Denim Mist Heather). I used 2.7 skeins and I wear a size XS-S top.
This is probably the simplest 'pattern' there could be for making a sort of sweater, don't you think?
I hope you enjoy this pattern. Please leave me a comment below if you do, and consider leaving me a donation. Thanks!