There's been much talk lately about how to share on Pinterest properly: giving credit to the source of your image, and making sure the pin actually links back to the source correctly before you re-pin it. I have an excellent example of why this is so important. Yesterday, I suddenly got a massive traffic spike on my blog and lots of new comments on my shrinkydinks ring tutorial.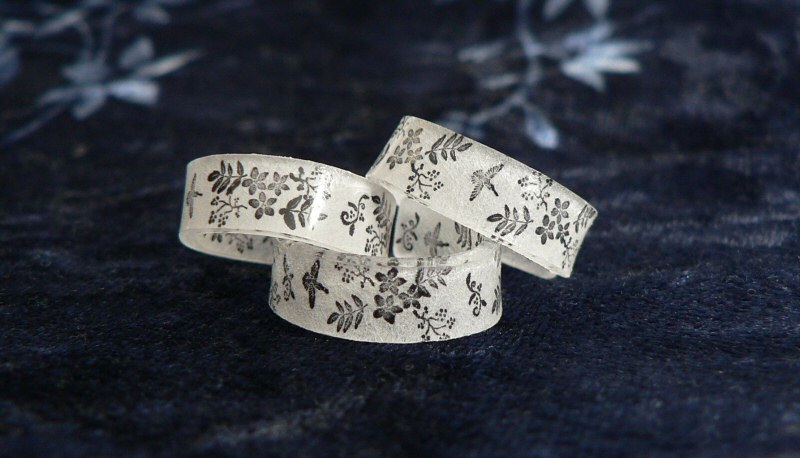 When I investigated the source, they were all coming from Pinterest and Tumblr – nothing weird about that. But then I clicked through to see the source, and here's what I found: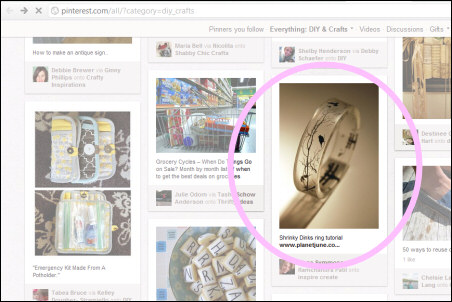 Lovely! Except… not only is this not one of my shrinky rings, but a quick glance made me seriously doubt that it was a shrinky ring at all – there's no way to make a seamless join with a shrink plastic ring, and this looked smooth and perfect. So why is it being linked to my tutorial?
I clicked through from Pinterest to see the source, and found this: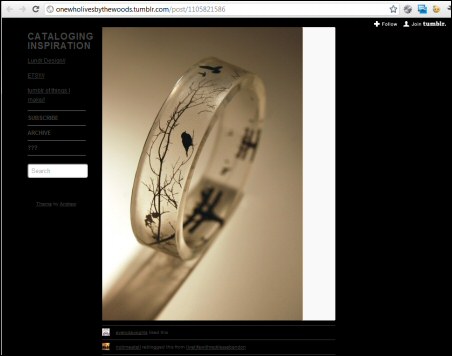 A tumblr site, with no attribution for the image at all. This is very common with tumblr – people 'blog' photos they've found online and there's no link back to where they found the photo, or any information about it. This is why I avoid tumblr: it's too frustrating to not be given any information about what you're looking at.
But all is not lost! Thanks to Google's new Search by Image function, you can enter the URL of a photo and it'll show you where else that picture appears online. (It's very useful if you want to see if anyone has been stealing your photos, as well as letting you track down the source for a creditless photo.)
To use the Search by Image feature, go to Google Images and click the little camera icon at the right of the search box:

Go back to your source picture* and grab its URL (right click on the picture; the exact wording of the option varies between browsers but in Chrome it says 'Copy image URL'), then paste it into the search box:
* Edited to add: you can do this directly from its Pinterest page: don't click the pin to go to the (supposed) source, just right click the image in Pinterest to get its URL.

After you click 'Search', you'll see links from all over the internet, wherever a webpage uses the same photo. In this case, there are lots of results, and almost all of them are social bookmarking sites: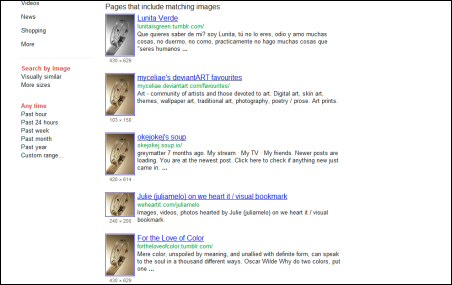 I ignored all those and looked through until I found one that sounded like it may be the original:

Bingo! And clicking through to Keri's Autumn Bangle page informs me that this image is, in fact, nothing to do with either shrinky dinks or rings: it's a bangle, "Designed as a one complete vector image then screened onto thin acetate. Next step, encase in resin for eternity. Sand, buff, wear. This bangle is for sale. If you'd like one, just ask!"
Now, just think how much business Keri may have received as a result of all this exposure, if only the first person to share her photo on Tumblr had credited this page, or her Etsy shop, as the source.
But instead, the anonymous image propagated, and, at some point, someone added the 'information' that it was a shrinkydinks ring, and someone else added the link to my tutorial… And, while I'm very happy to see my tutorial reach more eyes, I can't and won't take the credit for Keri's lovely resin bangles! (If you'd like to order a bangle from Keri, her Etsy shop is Par Amour Design her web store is Omnia Oddities.)
A side note: in case you're thinking of giving up on Pinterest as a source of inspiration, here's an encouraging sign. Plenty of people are doing it right: a search for "shrinky ring" brings this: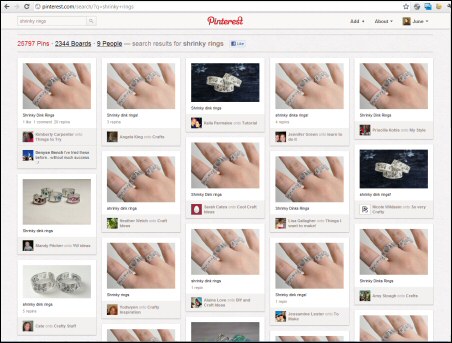 Yep, 14 of those first 15 results are links to my tutorial – and there are many, many more if you scroll down.
So, three points to take away from this:
Don't believe everything you read online without question.
Think before you share a link (whether on your blog, pinterest, twitter, facebook, or anywhere else) and make sure you're actually linking to the most useful page for your readers!
If a link doesn't lead where you expect, a little sleuthing with Google can often turn up what you're looking for.
Happy browsing… 🙂