A quick newsy post today, with a new winner, a new name, and a new deal:
Review and Win contest
October's 'Review and Win' winner is Holly M, with her Detail Stuffing Tool review: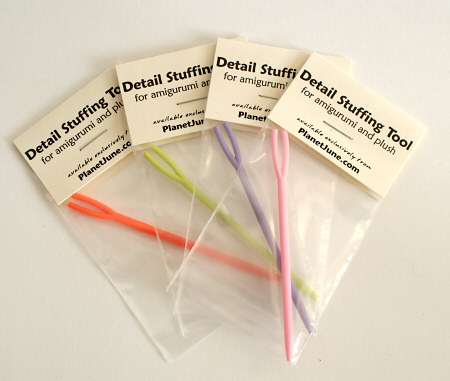 I make a lot of stuffed toys (some crochet, some sewn) and this is the only stuffing tool I've ever tried that helps me get stuffing into those really small tubes/arms/legs/etc. A chore that used to take literally hours sometimes, now takes minutes with this little tool! I really can't say enough about it – love love love it! Makes stuffing small limbs a breeze!
Congrats Holly! I'll email you to find out which pattern you'd like as your prize 🙂
To be entered into this month's draw for a free pattern of your choice, just write a review of any product in my shop – thank you!
* * *
Renamed: Amigurumi Essentials Kit
I realised months ago that having a line of patterns called PlanetJune Accessories and a kit called Amigurumi Accessory Kit was potentially confusing, but it took a suggestion from the ever-helpful ladies (and gents?) in my Ravelry group to make me do something about it. We didn't have much luck coming up for a replacement name for the PlanetJune Accessories line (as I didn't want the name to limit the scope of future designs – I think accessories is a good catch-all for everything except graded garments and toys), so we voted on a new name for the Accessory Kit instead.
So, as from today, the item formerly know as Amigurumi Accessory Kit is reborn as the Amigurumi Essentials Kit!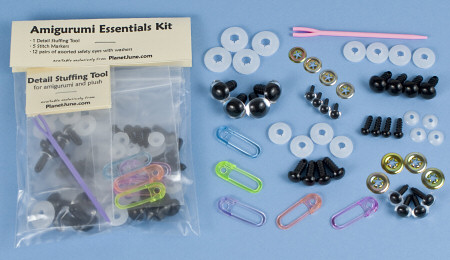 The contents is unchanged; you'll still get:
2 pairs black 6mm safety eyes with washers
2 pairs clear 8mm safety eyes with washers
2 pairs black 9mm safety eyes with washers
2 pairs clear 10mm safety eyes with washers
2 pairs black 12mm safety eyes with washers
2 pairs clear 15mm safety eyes with washers
If you do want to order one (or more) as Christmas gifts, please be aware that mail from South Africa takes about 2 weeks at the best of times, and I imagine it'll get slower as we approach the holidays, so please don't wait too long if you want to make sure you'll receive your package in time for the big day.
* * *
PlanetJune Accessories Custom Set of 3 Patterns
I launched this a few weeks ago, but just realised that I forgot to announce it! Thanks to another suggestion from my amazing Ravelry group, I've launched a PlanetJune Accessories Custom Set multipack (following the successful model of my AmiDogs Custom Set): any 3 patterns of your choice from the PlanetJune Accessories line for a special price.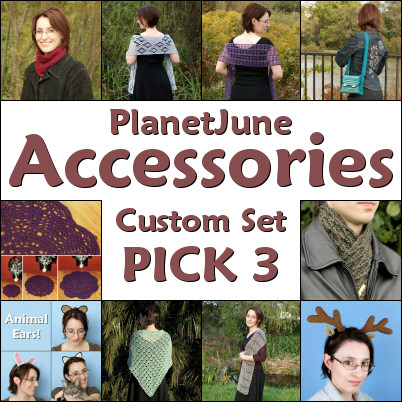 If you're considering joining the November Accessories CAL, maybe this is the incentive you need to get started..?