Did you know it's less than a month until Easter? I'm a little bored with pastel coloured eggs and I thought I'd try to come up with an Easter decoration that's a little more contemporary and sophisticated. Using a limited colour pattern of chocolate brown (yum!) and ice blue, I've designed 8 different eggs (4 designs in each of 2 colourways) that coordinate beautifully together for Easter-themed decorating. You could arrange them in a bowl or basket as a centrepiece, hang them from an Easter tree, or string them into an Easter garland.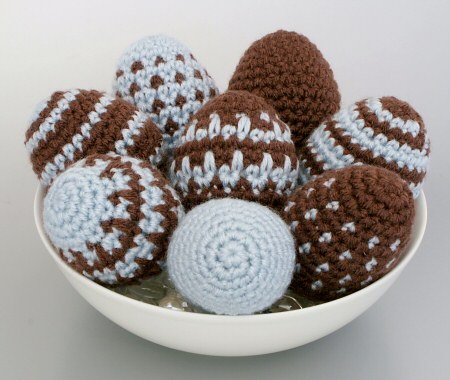 When I was coming up with my basic egg shape, I looked around at other crocheted egg patterns, and I couldn't find a single one that was the shape of a real egg: some were too pointy, some were too long, some weren't round enough. I've tried to make my design closer to a real egg shape, but a little larger so there's more room to add the pattern! My eggs are just under 3″ long made with Vanna's Choice yarn, so they would probably be about 2.5″ long if you used a different worsted weight yarn (Vanna's is, confusingly, much thicker than most other worsteds!)
I found it really addictive to make my eggs – they are so quick and satisfying, with no sewing required. I loved my colour scheme too – it reminds me of really fancy chocolate eggs, but without the calories! Of course, if you'd like to use more traditional pastel colours, or make a multi-coloured set, that would look lovely too 🙂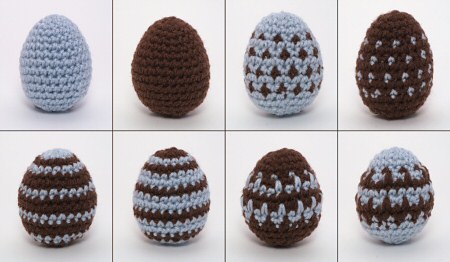 If you'd like to make some crocheted Easter Eggs too, my pattern includes 4 egg designs, so that, using only 2 colours of yarn, you can make 8 different eggs. This pattern is a great way to practice crochet colourwork and maybe learn a new stitch. The four egg designs are arranged in order of difficulty, so that novice crocheters can start with the basic plain egg, and move up through the designs, learning something new about colourwork with each one.
If you're put off by the thought of colourwork and all those ends to weave in, please don't be: I've designed the patterns so that the colours are swapped either every stitch or every row, so that you can just drop the unused yarn to the inside of the egg, and pick it back up again when you work back around to it! Maximum effect for minimum effort – just the way I like it!
You can pick up the Easter Eggs pattern from the PlanetJune store. I'd love to see your finished eggs (and anything else you've made from any of my patterns!) so please keep posting your photos to the PlanetJune Crochet Flickr pool!
PS: If you'd like to do some more Easter-themed crocheting, here are my other Easter-y patterns: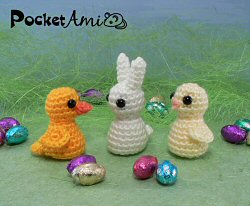 PocketAmi Easter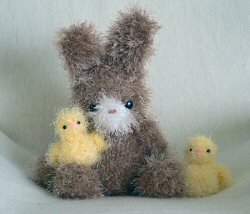 Fuzzy Bunny & Chick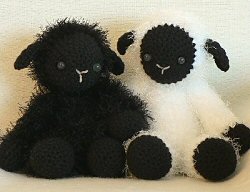 Fuzzy Lamb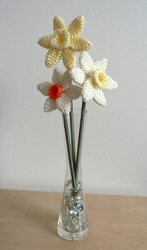 Daffodils