Time for another geeky-fun geometry-inspired pattern! The Cuboctahedron is one of the Archimedean solids – a group of polyhedra made from two or more types of regular polygons, where every vertex (corner) is identical. The 13 Archimedean solids have up to 92 faces each, but the Cuboctahedron is perfect to crochet because it has only 14 faces and the resulting shape is a nicely balanced, satisfyingly large ball.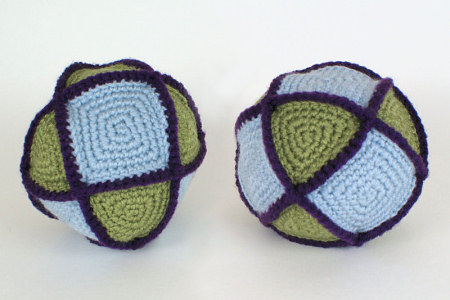 Cuboctahedron is a faceted geometric ball – how fun is that?!
I'm releasing the Cuboctahedron as an expansion pack for my Polyhedral Balls pattern, so you can extend the value of of that pattern if you've already bought it, without having to pay the full price again for something similar.
What is an Expansion Pack?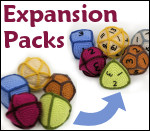 An Expansion Pack is an add-on to an existing PlanetJune pattern.
The Expansion Pack lets you modify or add to the original pattern to create something else.
You cannot use the Expansion Pack alone – you must also purchase the original pattern in order to be able to complete the pictured items in the Expansion Pack pattern.
Cuboctahedron, in particular, includes:
All the modifications required to crochet and assemble a cuboctahedron.
Tips for colour selection to give your ball the most impact.
Full right- and left-handed step-by-step assembly diagrams as separate appendices, so you need only print the pages you need.
Cuboctahedron dwarfs my other Polyhedral Balls! It makes a lovely toy as it's 6″ (15cm) in diameter: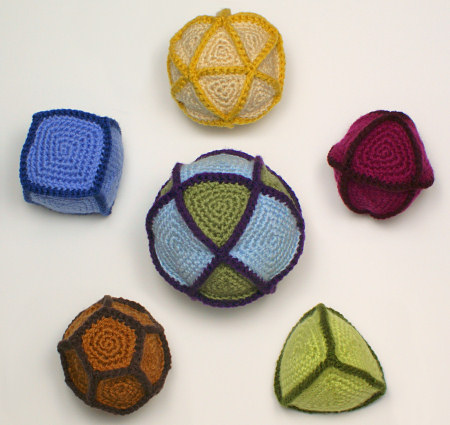 Cuboctahedron with its smaller Polyhedral Ball cousins
You can buy the Cuboctahedron Expansion Pack for only $2.50 individually from the shop, or, if you haven't yet bought the Polyhedral Balls pattern, you can select it as an add-on to that pattern before you add it to your shopping cart, and save 50c on the pair.
Launch Discount
I know you've probably already bought Polyhedral Balls, so you won't be able to save that 50c. But, for this week only, if you add the Cuboctahedron Expansion Pack pattern to your shopping cart, together with anything else (totalling $5 or more), then use the code GEEKYFUN at checkout and you'll still get your discount! (Valid until next Monday: 6th May 2013.)
Note: If you don't need anything else right now, this also applies to Gift Certificate purchases, so you can pick up a $5 gift certificate now, get your discount, and have $5 in your PlanetJune account ready for your next purchase, or to send to a crocheting friend!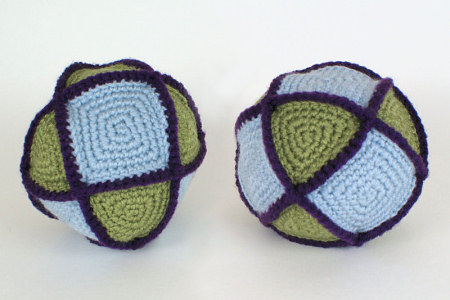 I really like this cuboctahedron – it's interesting and unusual, and it doesn't take too long to crochet and assemble. I'm not sure if I'll make any of the other Archimedean solids though: the other small (few-sided) ones are too unbalanced to make good balls, and, discounting the 64- and 92-sided ones, the remaining interesting ones still have at least 26 faces!
(I assume a pattern for a polyhedral ball with 26, 32, or 38 faces would be off-putting, but do let me know in the comments if I'm wrong about that – I'd be happy to make more of these geometric designs if there's demand for them…)
Happy geometric crocheting!