It's been a while since I had a new pattern ready – all the move preparations are keeping me crazily busy. But a commission request came in a few weeks ago for a chinchilla crochet pattern, and I just couldn't resist making such a cute ball of fluff!
(While I remember, if you're interested in commissioning a pattern design from me, everything is on hold for the time being – I'm not accepting any new commissions until I'm settled in South Africa and ready to devote all my attention back to PlanetJune. Currently, I have no idea when that will be – I'll let you know when I've reached that point…)
Okay, and now onto the chinchilla!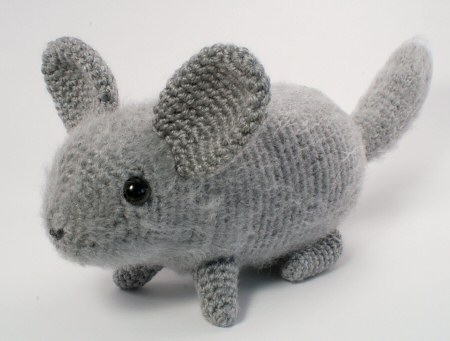 He's an extra-large amigurumi, and close to life-sized at 8″ long, not including the tail (which adds another 5″). I wanted him to be fluffy, but without using any novelty yarns, so I brushed his body and tail to give more of a fluffy look. I've also included pattern options for only brushing the tail, or not brushing at all – even the smooth version looks pretty cute, I think!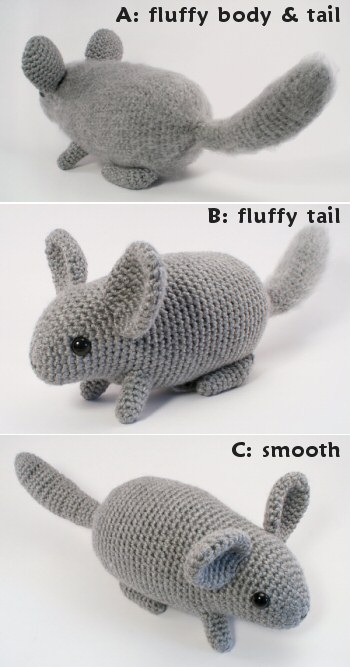 A note about brushing: I like to brush just a little, to give a fluffy look but still make it very obvious that the ami is crocheted. If you preferred, you could keep brushing for a lot longer to make it look really fluffy and obscure the stitches much more than I have with my chinchilla, although this will also mask the shaping a bit more. But if mine isn't fluffy enough for you, don't let that stop you from buying the pattern and making an extra-fluffy one!
If you'd like to crochet your own chinchilla, the Chinchilla crochet pattern is now available for purchase in my shop.
Hope you like him!