…well, part of it, anyway.
Last chance to buy…
Due to my impending move to South Africa, I'll be closing the Eyes, Tools and Accessories and Signed Books/Bookmarks sections of my shop on March 16th (next Wednesday). So, if you've been waiting to buy anything from those sections, don't delay! I won't have time to restock anything that sells out, so I suggest you order as soon as possible. There's already been a rush of orders from my mailing list subscribers, and some items have already sold out.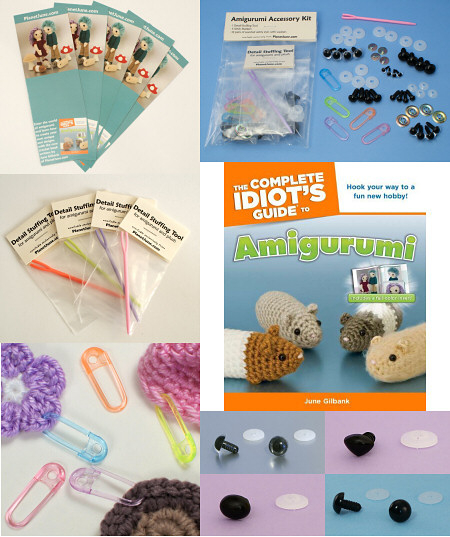 It's your last chance to pick up any of these products pictured…
What does this include?
And remember, everything (except the eyes and noses) is a PlanetJune exclusive – you won't be able to find them anywhere after March 16th!
Pattern orders:
As I'm sure you know, my shop is fully automated with instant downloads once you've paid for your patterns, so there'll be no disruption in service at all! It's only physical items that will be affected by my move.
In the future…
I do intend to resume shipping once I'm settled in South Africa, but that won't be for a few months – I need to wait for all our boxes (including my supplies!) to arrive before I can even think about setting up again. And, of course, shipping to the US and Canada will be more expensive and slower after my move. (As far as I can tell, shipping to other countries won't be much affected by my change of country.) None of this is set in stone yet, though, so I strongly encourage you to buy any non-pattern items you need from me on or before next Wednesday.