I've been planning a cactus collection for a few months now – I know I'm not exactly the first person to come up with the idea to make a crocheted cactus, but my idea was to make my designs more realistic than the cartoonish cacti I've seen before.
I always like to base my patterns on solid research so they look as realistic as possible, and when I started to investigate, I found a huge number of really interesting-looking cacti to crochetify: I started out sketching 8 different types, and then had so many great ideas for how to create them, I couldn't decide which to cut!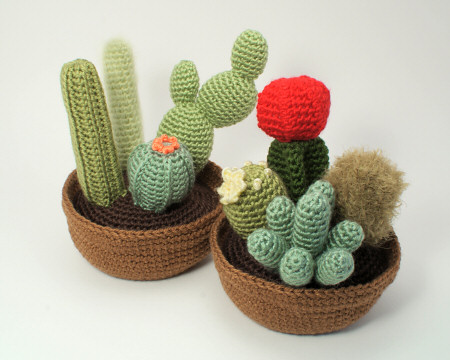 I spent a lot of time developing different techniques and effects for each cactus, so I hope you can see that it's not the same basic pattern with tweaks for size and shape here: each cactus is completely different from all the others.
8 plant designs plus 2 pots seemed a bit excessive for one pattern – that's almost a book, not a pattern! – so my solution was to split the patterns over two cactus collections: you can buy your favourite collection without breaking the bank, or buy both (at a huge discount!) and mix-and-match cacti from each collection to create your perfect cactus garden.
Each collection comes with both the individual-sized pot pattern and the larger cactus garden pot pattern:
An individual cactus makes a quick and sweet gift – or you can anthropomorphize it with some eyes and a smiley mouth to make a super-cute version!
Two or three (or more) individual cactus pots look great arranged in a line along your windowsill.
The larger cactus garden makes a beautiful decoration – and you'll never have that problem where one of the collection dies and you're left with a big empty space in the pot!
If you'd like to buy either or both of the Cactus Collection patterns, you can find them all in my shop. Don't forget that there's huge savings to be had if you buy the set of both collections.
As a special bonus for my newsletter subscribers, Twitter followers and Facebook fans, I'll be giving out a special discount code to use with these patterns this week – so look out for that too!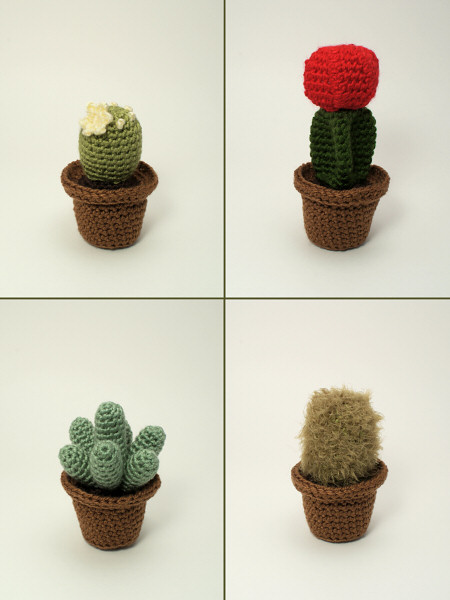 Collection 1 includes (clockwise, from top left): Notocactus, Moon Cactus, Mammillaria, Echinocereus.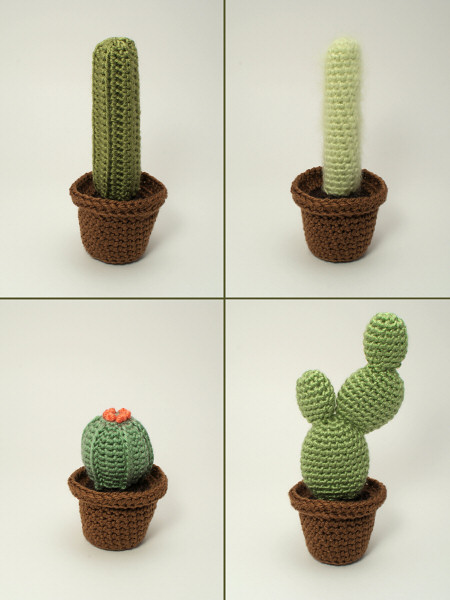 Collection 2 includes (clockwise, from top left): Micranthocereus, Cephalocereus, Opuntia (Paddle Cactus), Ferocactus (Barrel Cactus).
Which is your favourite?
UPDATE: adding some clearer links to where you can find the patterns:
Buy Cactus Collection 1
Buy Cactus Collection 2
Buy Cactus Collections 1 & 2 (at a bargain price!)