or, Why I Love Twitter…
Yesterday I had a thought about the "tr" abbreviation in crochet. I know that some people call it a triple crochet stitch, and others call it a treble crochet stitch, but I haven't seen any clear differentiation for why or when you should use one or the other.
This is one of those occasions when I really wish there were universal crochet standards! In this internet age, it seems so arbitrary and confusing that what I call a 'single crochet' stitch is known as a 'double crochet' stitch in the UK and Australia (and similarly for almost every other crochet stitch).
My initial guess was that 'treble' was the UK name, and 'triple' the US name, but my go-to site for these questions, YarnStandards.com (a US site) states that tr is the abbreviation for treble crochet, so that can't be right…
Time to turn to Twitter to poll my network of crocheting friends! I tweeted:
and within seconds the replies started flooding in (here's a sample):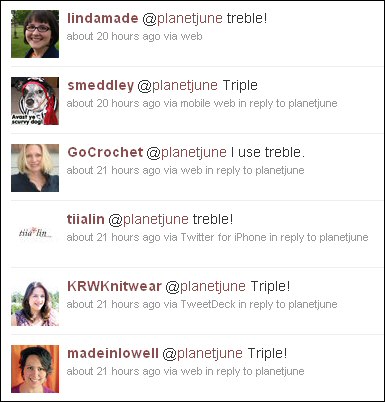 Thank you to everyone who responded! With all the votes counted (37 total), my results were 22 votes for triple vs 15 for treble. From what I can tell, UK folks say treble, and everyone else seemed split between the two options. @ThingsBright said that vintage US patterns use treble, and the new US convention is triple – which sounds right to me (although YarnStandards.com hasn't made the change to triple).
So, should you use triple crochet or treble crochet in your crochet patterns? Apparently, unless you're writing in US/Aus crochet terminology, the choice is yours!
I've decided I'm going to cast my vote in the triple camp, but write triple (treble) crochet in my patterns, to avoid confusion.