The blog is a little quiet because I'm playing a waiting game at the moment, so I don't have a lot I can blog about yet:
Waiting for my new book to be released (less than 6 weeks to go!)
Waiting to see an advance copy – they should be printed by now and I can't describe just how nervously excited I am that I'll soon be able to hold a copy in my hands… (And then I'll be able to finally share some details with you!)
Waiting to announce my new secret project that I'm busying away at behind the scenes…
Waiting to finally complete my 2 new crochet patterns that I've been working on for weeks – they expanded in scope far beyond what I originally imagined, so it's taking much longer than I'd anticipated to write and photograph the instructions.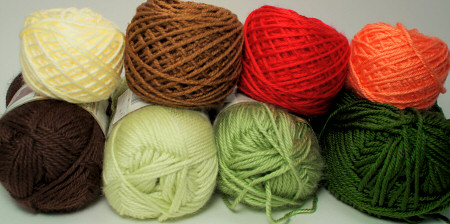 These yarns have morphed into something special – I hope you'll agree when I reveal my new designs early next week!
In the meantime, I'm working on so many projects at once, it feels like nothing is getting finished, and I miss that satisfied feeling of having completed a project. It's made doubly scary as August is always a quiet month for sales (if you have a business, do you find that too, or is it just me?!), so I'm working hard with nothing to show for it yet and not that much money coming in either.
Ah, the perils of self-employment…
Normal service will resume shortly, I'm sure 🙂