One of my crazy habits idiosyncracies is that I hate to throw anything away. As a result, I have a box full of rejected crochet pieces: the prototypes that didn't work out; the spare pieces I made to take photographs for patterns. The box is now full to overflowing (and has been for a long time!), and I've sometimes wondered if I'm being stupid by keeping these useless pieces.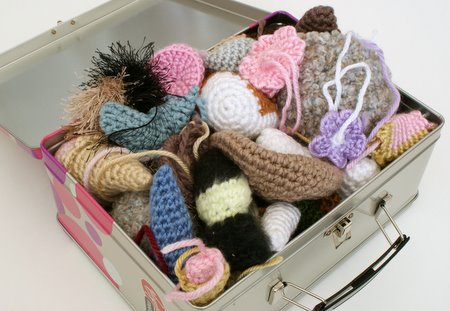 But, are they really useless? No, they are not! Allow me to present the case as to why I am actually very smart for keeping all these random bits:
Exhibit 1: Photo Props. When I needed to take a photo for my stitch markers, I just delved into the box to find some photogenic pieces to clip the markers to for my photo: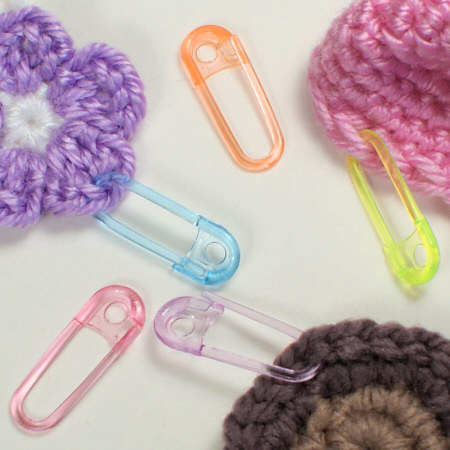 The pieces in this photo are actually (clockwise from top left): a rejected flower design from my African Violet pattern; a snout from a prototype pig that never made the cut; and a spare section of shell from my Sea Turtle!
Exhibit 2: Experimental Pieces. When I wanted to try out yarn brushing with non-wool yarns, I delved into the box to find some pieces I could test it on: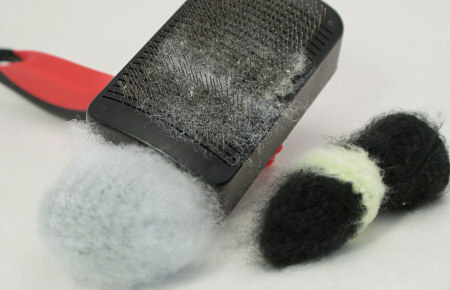 Cotton and acrylic samples – perfect!
Exhibit 3: Emergency Yarn. I can't believe this has happened to me twice now: a couple of weeks ago, I ran out of black yarn with one round to go on the final leg of my Farmyard Pigs, and yesterday I ran out of white yarn with one round to go on another new design..! The black yarn was old and a new skein probably wouldn't have matched, and the white yarn was out of stock when I went to buy a new skein… What's a girl to do?!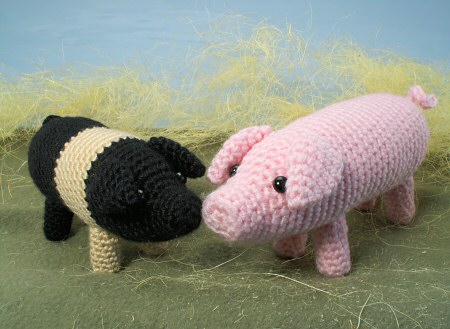 Luckily, in both cases, after a momentary panic, I thought to search through the magic box for any pieces made from those same yarns. And there I found a rejected Boston Terrier ear that was made from the right black yarn, and a partial Beagle body that contained the right white yarn – a minute of frogging and I had salvaged more than enough yarn to finish both my amigurumi 🙂
The defence rests – one more crazy perfectly sensible habit justified! The box of bits is staying in my craft room – I wonder what it'll come in handy for next time…