I've seen a lot of cartoony amigurumi pigs but I thought it was about time we saw a more realistic-looking pig design, so here's what I've come up with: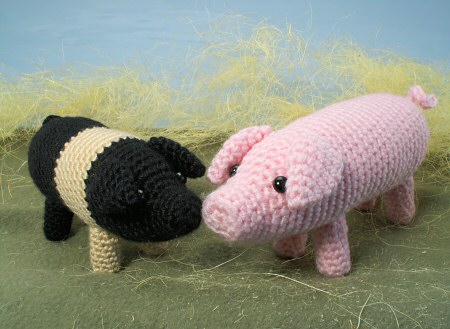 I named this design Farmyard Pigs to denote that it's a realistic pig pattern. Then I realised that the word farmyard is British English, and wasn't sure if my US-based audience would understand it (the US equivalent is barnyard) so I did a quick poll on Twitter to check. The results were varied, but overall it seems that, although most Americans wouldn't use the word farmyard, they would understand it well enough for my purpose. So, phew! The pattern name stands 🙂
I've created the pattern with two variants: the simple pink colourway, and as a black saddleback pig with a pale coloured band (the 'saddle' of the name – you could make it in pink, white or beige) and forelegs. The pattern includes full instructions for both versions – including positioning instructions for the single-coloured pig's forelegs, where you don't have the visual cue of the band to guide you!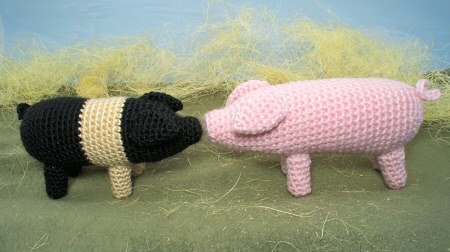 It's a really quick and easy pattern to work up, as the head, body and snout are all worked in one piece, but there's some clever shaping around the face (which I hope you can see in these photos) that gives the piggies their personality!
One thing: I'd just like to clarify that, although my saddleback pig is smaller than my pink pig, both versions of the pattern make the same sized pig; the size difference between my samples arises because the pink yarn I used was slightly thicker than the other shade!
If you'd like to make your own piggies, you can find the Farmyard Pigs crochet pattern in my shop!