Bunnies are one of the most commonly-designed toys – maybe second only to the ubiquitous teddy bear. I've even designed 3 different bunnies myself, previously. But I don't think I've ever seen a realistically-shaped amigurumi rabbit, which is strange when you think about it, because real bunnies (especially babies) are one of the cutest things you'll ever see!
We could all use a little more cuteness in our lives, so I decided to do something about that, in the form of my new Baby Bunnies crochet pattern: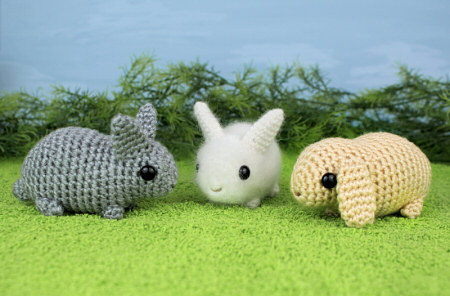 My Dwarf, Angora and Lop bunnies are so adorably tiny – about 4.5″ (12cm) long – that they can sit in the palm of your hand – just like real baby bunnies!
Meet the Bunnies
1. Dwarf
There was a time when I was desperate for a grey Netherland Dwarf rabbit. With their short ears and big eyes, I thought they were absolutely irresistible. My dream of a bunny of my own didn't work out (although I ended up with the world's most intelligent guinea pig instead, so that was okay!) but now, 20+ years(!) later, I finally have my little grey dwarf bunny: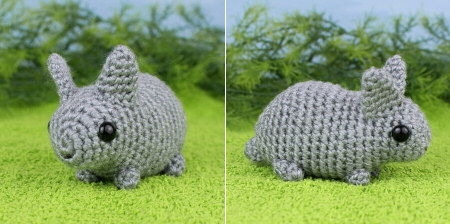 FYI, while researching this breed, I discovered that this solid grey colouring is actually called 'blue self' in the rabbit breed standard – just like with cats!
2. Angora
Ever since I made my alpaca from alpaca yarn, I've been planning a series of natural fibre amigurumi, of fibre-producing animals made from their own yarn. With that in mind, I bought one precious 22g skein of locally-produced angora a couple of years ago – it was the only one I could find in my budget, and was unfortunately a 2-ply laceweight yarn: not exactly ideal for amigurumi! Here's how to turn laceweight into worsted with a minimum of effort (a ball winder is essential though!):
Wind the skein into a ball.
Hold both the outside and centre ends together, and wind them together into another ball.
Repeat step 2 with the doubled yarn, to make a ball with 4 thicknesses of yarn wound together.
Now, this isn't exactly ideal; the new 'plies' aren't twisted together, so you have to be careful to pick up all 4 strands of yarn with your hook as you form every stitch. But it was sooooo worth it to get to work with this angora yarn: although it took concentration to make sure I was grabbing all 4 strands with my hook, the yarn was deliciously soft and a real pleasure to work with. A little part of me did worry that I was 'wasting' this high-quality fibre, but, now I see the end result, I don't regret it at all: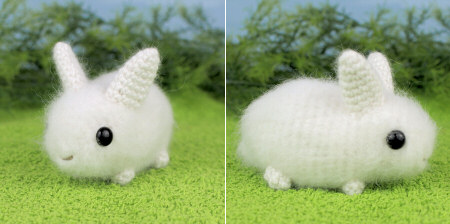 I wish you could reach out and touch her through your screen; words don't do justice to how amazingly soft and fluffy she is!
3. Lop
Rounding out the party, I just had to add a baby lop to the collection. I couldn't stop saying "awwww!" while I was looking up reference photos for this one; do a Google image search for baby lop bunny and you'll see what I mean. Go on, do it now so you can see what I mean; I'll wait… Right? Ahhh, the cuteness!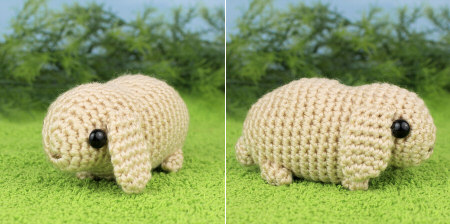 * * *
I'd love to take the credit for my clever timing with this design, but when I started it in January, it didn't even occur to me that this would be a perfect design for Easter and the upcoming spring season. (I put that down to southern hemisphere confusion – it's hard to think about Easter when you're in the middle of summer.) But now, serendipitously, Easter is 6 weeks away, so it's the perfect time to start making bunnies galore. The March PlanetJune CAL (more details nearer the time) will be Easter-themed, so I'm hoping to see a lot of adorable bunnies in amongst the crocheted Easter Eggs this year 😀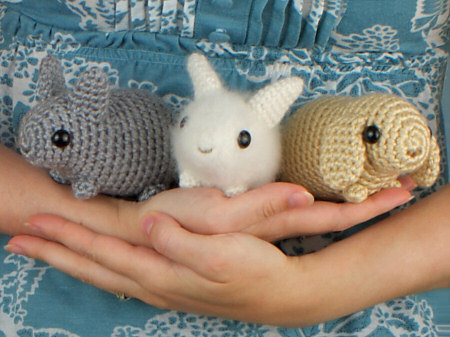 Tempted to make an armful of bunnies of your own? You can pick up the pattern right now from the shop – it even has a special price until the end of February! If you're not quite ready to buy though, how about queuing Baby Bunnies on ravelry so you don't forget about it?