I won the eBook version of this book through its blog tour, so I decided to review it for you. The following, as always, is based on my honest opinions!
Overview
Simply Crochet: 22 Stylish Designs for Every Day by Robyn Chachula is a crochet project book built around an unusual but useful premise: stash-busting! The 22 projects are split by the number of balls of yarn each uses: eight 1 ball projects, seven 2-3 ball projects, and seven 4-5 ball projects.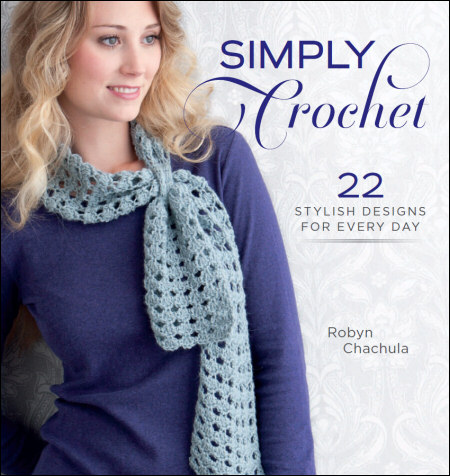 Partly because it includes patterns contributed by 15 crochet designers, there's a real variety of projects in this book, including garments for women and children, and wearable and home accessories. This means that, while you probably won't want to make all the included designs, there's something for everyone here, and you're bound to find some projects that you'd like to make. And you'll also find a variety of techniques: thread crochet, tapestry crochet, tunisian crochet, motif-based designs, felting.
Here's a selection of the designs that most appealed to me: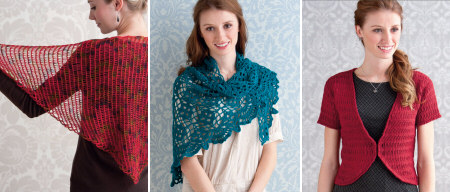 L-R: Tunisian Neck Lattice by Vashti Braha; Annabel Shawl by Kristin Omdahl; Linked Jacket by Robyn Chachula
And, as I clearly gravitate towards a certain style, here are some of the other designs, to give you a more complete picture of the variety of patterns: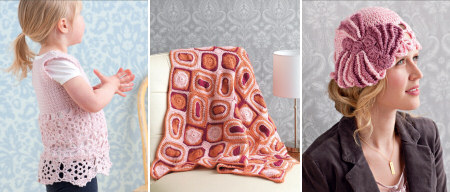 L-R: Tallula Baby Top by Marlaina Bird; Dots and Dashes Baby Blanket by Ellen Gormley; Flapper Hat by Margaret Hubert
As with all Interweave books, it looks elegant and is clearly laid out. The patterns are easy to follow and all include Robyn's excellent stitch diagrams and schematics. Tips from each of the featured designers on making the most of your yarn stash and crocheting on a budget are also scattered throughout the book.
As the book is intended to be used for stash-busting, the yarn requirements for each project give the weight of the yarn used in the design e.g. 'Sportweight (#3 Light)' as well as the specific yarn used for the sample. (I think this is a very useful addition that should be included in all crochet books, to make it easier for you to substitute yarns.)
Although there is a short section at the back of the book with descriptions of the stitches used, I wouldn't choose this as a learn-to-crochet book. But, as a project-based book for crocheters, I think it works very well.
My Experience
Being short on time and looking for something I'm not too familiar with, I decided to test out Robyn Chachula's Mystic Cuff (p27). I don't dabble in thread crochet often, as gripping the work tightly enough to force my hook into the tiny spaces plays havoc with my hands, so I've never made anything doily-like before.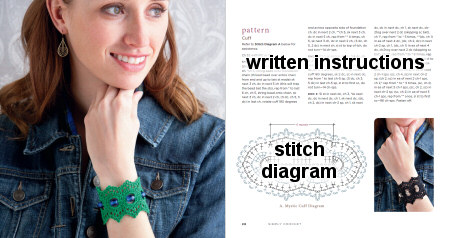 Mystic Cuff by Robyn Chachula (large text added by me to obscure the pattern!)
I have tiny wrists so I figured I'd need to adapt the pattern so the cuff wouldn't fall off my hand. Here, I ran into a little problem: the gauge section only gives the finished cuff measurement, which means I'd have to complete the entire cuff to find out if my gauge matched Robyn's, and then adjust the pattern (or my hook) and restart accordingly. It would have been helpful to have a gauge measurement as the size after Rnd 1, or even a guide as to what wrist size it fits (the cuff overlaps itself, so the finished measurement is larger than the wrist size) so I'd know much earlier if I needed to start over to match the gauge.
As my hands wouldn't tolerate crocheting two cuffs in thread, I decided to assume my gauge was close enough and make my cuff smaller by dropping one repeat. My only other change was to substitute a larger crochet hook (2.25mm) for the foundation chain, as I knew I'd have problems working back into those chains if I made them with the recommended 1.5mm hook. And then I got to crocheting…
I found Robyn's stitch diagram to be so clear that you could easily complete the cuff without reading a word (apart from how and when to attach the beads). I always prefer to check the written instructions too as I go, to make sure I haven't misunderstood anything in the diagram, and I did find a couple of errors here in the way the repeats were structured (an extra dc2tog at the end of Rnd 3, and a missing ch 2 at the end of Rnd 4). However, the stitch diagram was correct in both cases, and is clear enough that I doubt many people would use the written instructions anyway. (I notified Interweave about the errors, so I expect Simply Crochet will be added to their Crochet Book Corrections page shortly.)
Aside from those minor glitches, which were easy to fix with a glance at the stitch diagram, the cuff came together very smoothly. I'd never seen beads attached in this way before – it was a very elegant method (although a bit tricky to guess how many chains were covered by each bead, so I made my starting chain too long, just in case, and unravelled the extra chains later). I finished the cuff easily. It took me 4 days because I didn't want to risk giving myself longer-term hand pain, but it would be a very fast project if you don't have hand problems like mine!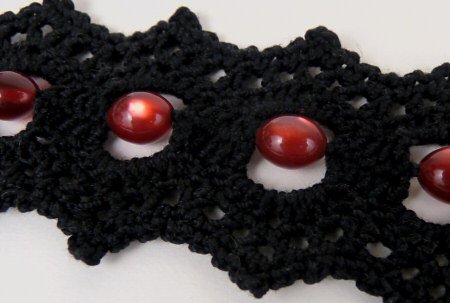 Isn't it lovely?
Now for the bad news. It turns out that my gauge was way off: 20% smaller! That means that I could have made the cuff with no modifications, and it probably would have been only slightly too large for me… As it is, my modified cuff barely meets around my wrist, let alone has the overlap needed for the clasp. This is the only pattern in the book that doesn't give a gauge swatch measurement, probably because the finished project is smaller than a typical swatch size, but it would have been helpful to know sooner that my gauge was so much tighter than Robyn's. Even after blocking, it was still far too small, so I had to come up with a different method to affix the cuff around my wrist (I bent an eye pin into a tiny hook shape and stitched it to one end of the cuff):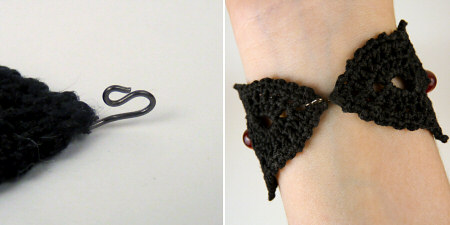 I think my bent-pin solution for my too-small cuff is quite elegant!
The Mystic Cuff is a very pretty design. For most people, it'd be a quick enough project to whip up another one if your gauge was off – and you could give the original 'gauge swatch' (i.e. finished cuff) to a friend with a smaller or larger wrist. My complaint with the gauge is really only because of my own difficulties with thread crochet and hand pain, so making it once was enough for me, but now I have a solution for my sizing error, I'm very happy with my modified version: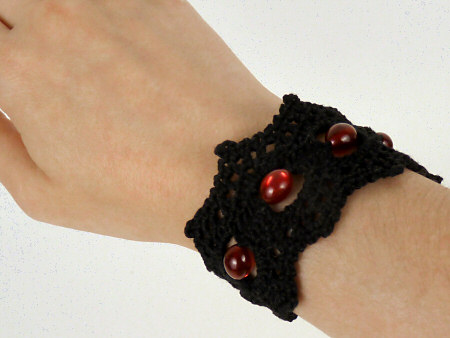 My finished Mystic Cuff
Peeves
There's not much to criticise here! Aside from the small errors I noted above (which I'm sure will be fixed with errata shortly) I only noted a couple of things:
The Billows of Baubles scarf (p19) is worked in stainless steel yarn, which isn't something that's commonly available, so I doubt it figures in many people's stashes. As this is supposed to be a 'use up your stash' book, it would have been nice if there was a note about how the scarf might look if crocheted with a non-steel yarn of the same weight – it obviously wouldn't be "an elegant sculptural accessory" as described.
The Linked Jacket (p129) mentions 2 hooks and eyes in the materials list. In one photo, it shows each side of the hooks and eyes attached to some sort of backing fabric or ribbon, however there's no mention in the instructions of attaching the hooks and eyes. A little guidance as to placement of the fastenings, and whether that backing fabric is required (and if so what to use for it) would have been helpful.
Final Thoughts
Simply Crochet is a stylish book of crochet patterns featuring a nice variety of modern designs. The instructions are all clearly written and charted, the photos are clear and elegant, and the yarn weight and yardage info make it much easier to substitute yarns than in many other crochet books.
Sometimes pattern books can be very focused: all hats; all afghans; all one weight of yarn; all using one technique. If you're looking for a project-based book featuring many different options for size, style, technique, and yarn weight, Simply Crochet will definitely fit the bill. Although it's unlikely that every project in the book will appeal to you, there's plenty of variety here to keep any crocheter interested!