This is the ninth post in my monthly series on the fascinating nature I encounter here in South Africa.
This post should be subtitled What I Did On My Holidays: over the Christmas holiday, we decided to have a stay-cation and explore the area around Cape Town with a few day trips. There's really no point in paying to go away when we have beautiful weather and such a variety of wonders yet to experience within an hour or two of home! Here are some edited highlights of the wildlife we saw, with a few scenic shots for context…
First, we paid a visit to Kirstenbosch National Botanical Garden. Nestled against the side of Table Mountain, it is vast and spectacular (and impossible to capture in one photo):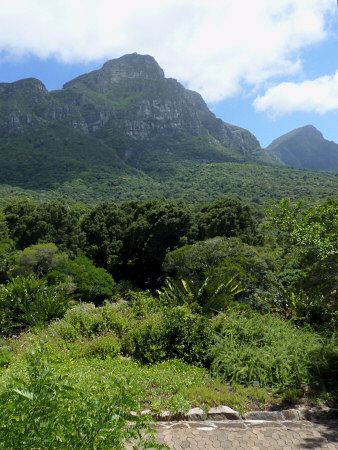 Although we saw lizards and a mongoose, they were too fast for my camera. But I did manage to snap this pic of a strange large bee in flight. It looked like a bumblebee, except the colour markings were all wrong – you can see it's all black with just one wide yellow band: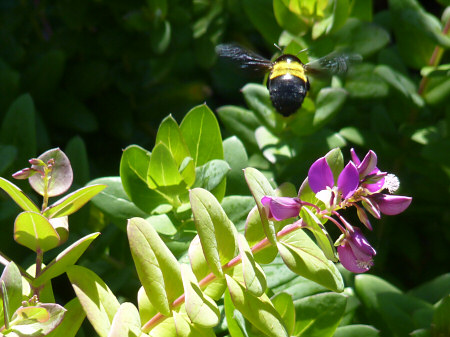 On Christmas Eve, we went to Rondevlei Nature Reserve. We've been here before, but this time we managed to spot some different wildlife, although the hippos still eluded us! These Three-banded Plovers were constantly flying overhead, calling, and diving at us – presumably trying to distract us so we wouldn't find their nests: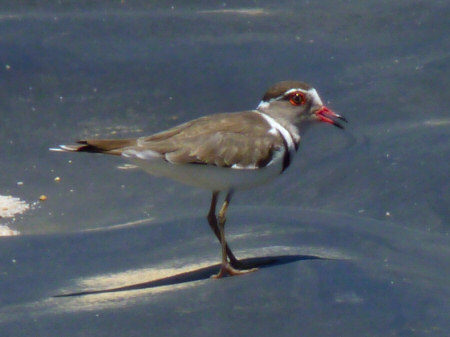 And I saw my first ever wild antelope! Our best attempt at identification is that it's a Grysbok, but we're not quite sure – it doesn't look much like the Grysbok photos on Google. It was cute anyway, and quite small (about the size of a large dog):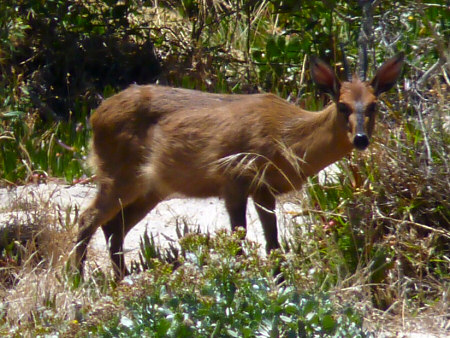 After Christmas, we followed the Cape Peninsula all the way down to the Cape of Good Hope, the most south-westerly tip of Africa. This area is part of the Table Mountain National Park. It was a beautiful day: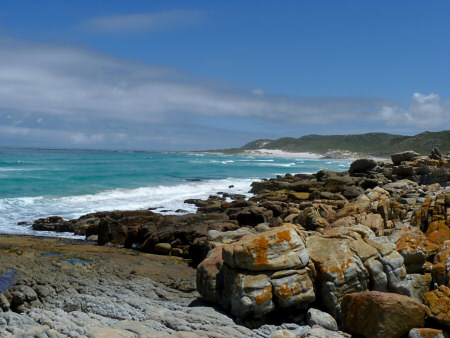 We picnicked by those lichen-covered rocks, under the watchful gaze of lots of sunbathing Black Girdled Lizards, like this one: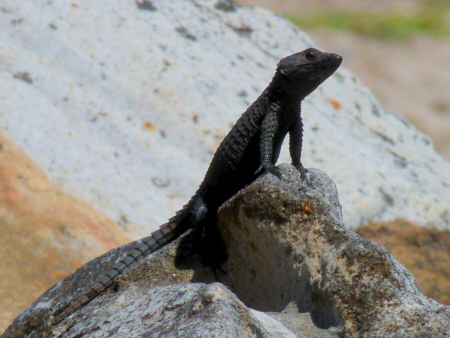 We stopped briefly at a beautiful white-sand beach:

And we were floored by this sight – wild ostriches!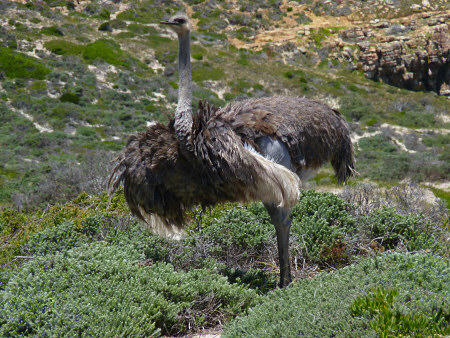 There were a whole family of them, casually crossing the road and pecking through the succulents along the sand dunes by the ocean. Don't miss the baby ostrich in this picture, visible between Daddy's legs: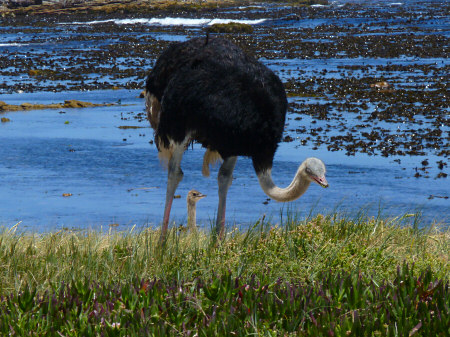 And here's how unconcerned these completely wild birds were at our presence: this is a juvenile ostrich stopping to drink from a puddle at the edge of the road, barely a metre away from our car (you can see the edge of the car in this photo):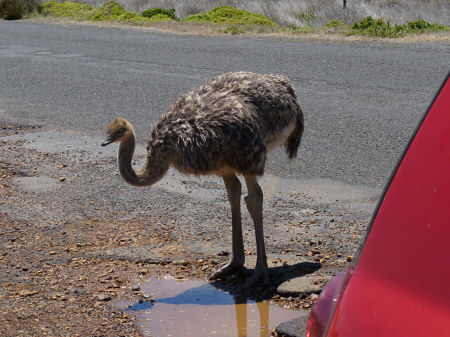 We didn't think we'd see anything to rival that and were taking a scenic drive along a completely deserted road in the park before heading home, when I had to brake for this: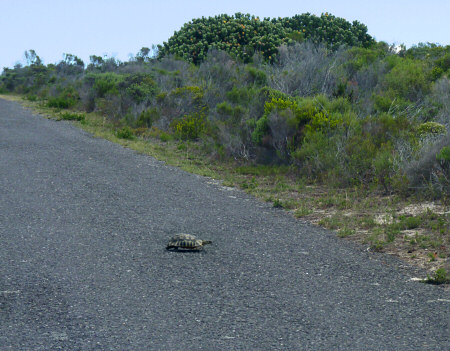 Yes, that's a tortoise crossing the road, right in front of our car! We stopped the car to take a better look – here's a close-up (it's an Angulate Tortoise):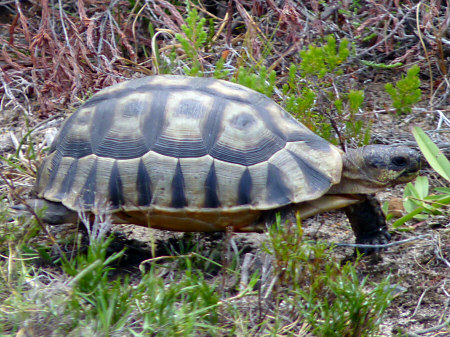 We stopped for several more tortoises along the same road. This one looks from its shell like a different species, but I haven't been able to identify it (yet):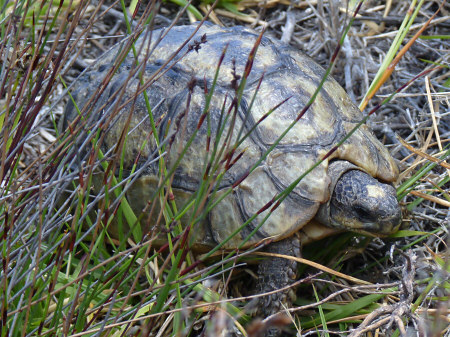 And, as if that wasn't enough excitement, we squeezed in one more 2011 adventure: cherry picking in the fruit region near Ceres. To get there, we had to cross a vast mountain range. On the way there, we took the 4.4km tunnel under the mountains (a bit scary) and on the way back we took the longer, more scenic route across the mountain pass. The mountains are huge and imposing up close, but don't look like such a big deal from a long way away:


Cherries galore at Klondyke Cherry Farm! Hundreds of trees, laden with thousands of sweet and juicy cherries, with more varieties than I knew existed. My favourites were the sweet black cherries, but these bright red ones were more photogenic: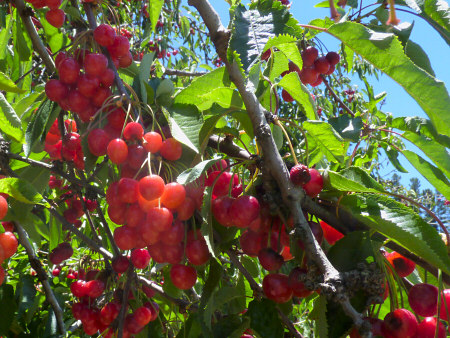 So that was our Christmas break – nothing like any Christmas I've ever experienced, but I think you'll agree it was pretty amazing! And the crazy thing is that we're nowhere near exhausting the local sights we can see with a day trip, let alone if we ventured further afield. We still haven't even been up Table Mountain yet – you can expect a wildlife report from there some time this year 🙂
I hope you've enjoyed this month's photos! Please leave me a comment if you did.