This is the fourth post in my monthly series on the fascinating nature I encounter here in South Africa.
I've seen so much wildlife that it's hard to keep this to one post per month – I still have photos from months ago that I haven't had a chance to show you yet! I'll try to come up with some kind of theme for each post, to help me select which photos to include. My theme this month is giants – and I have a very varied selection that fits into this category! I'll show them by size…
I've been hearing something large that buzzes as loudly as a hummingbird flying around my garden, but I couldn't figure out what it was until I finally saw one on the ground. This is one big beetle (about an inch long):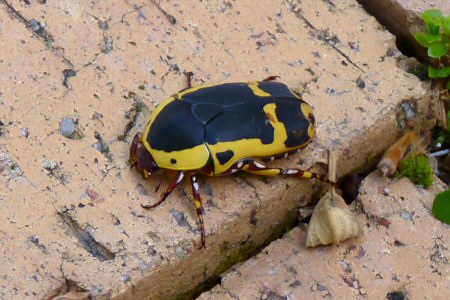 It's a garden fruit chafer (pachnoda sinuata), from the same family as scarabs and dung beetles. Apparently, it's a pest because it feeds on fruit and flowers. All I know is it gives me a fright when one zooms right past my head!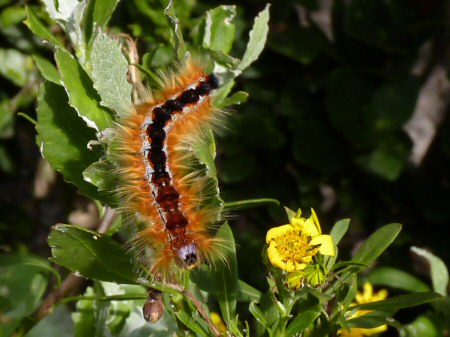 This is the caterpillar of the Cape Lappet Moth. Although they are about 4″ long, seeing one by itself like this isn't too scary – it's actually quite pretty, with a purple patch on its head and soft coppery hairs on each side. But you'll commonly see dozens swarming together on a tree trunk, and that's a far creepier sight…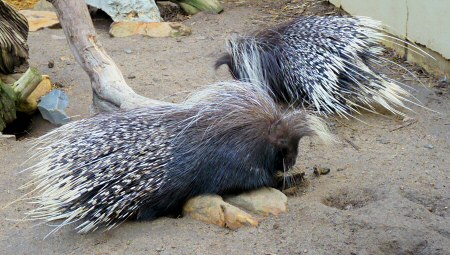 The porcupine is the largest rodent in Africa, sometimes reaching over 2 feet long! We saw these Cape Porcupines at World of Birds – although they are common here, they're also nocturnal, so there's not much chance of me getting a photo of one in the wild. Just look at those quills!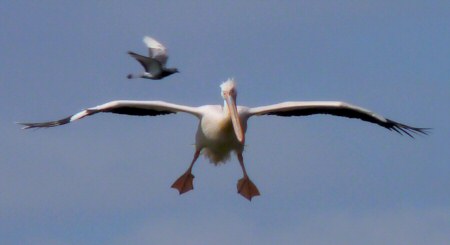 Imagine going for a walk along the river by your house and seeing this giant coming in to land (there's a pigeon there too, for scale – it has a 9ft wingspan)…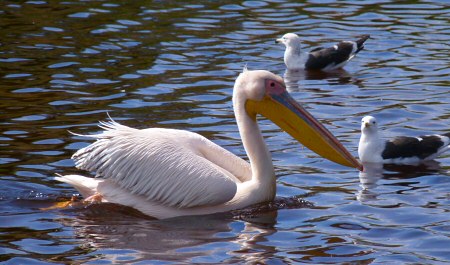 It is, of course, a Great White Pelican. At 160cm long, it's as long as I am tall! We watched it waddling around on the river bank, preening, and then swimming around for ages with its big feet visible behind it in the water as it slowly paddled. Then a second one flew down to join it, looking more like a giant pterosaur than a bird in flight. It's just amazing to see this kind of thing!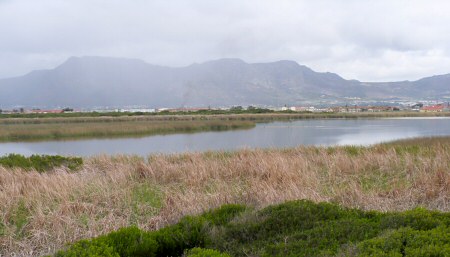 We visited Rondevlei Nature Reserve, only a short drive from our house and home to around 230 species of birds. We saw over 35 species on our visit, but this vlei (lake) is actually also home to a family of hippos! We spent a while looking for them, but hippos usually stay underwater during the day, and only emerge to graze in the evening.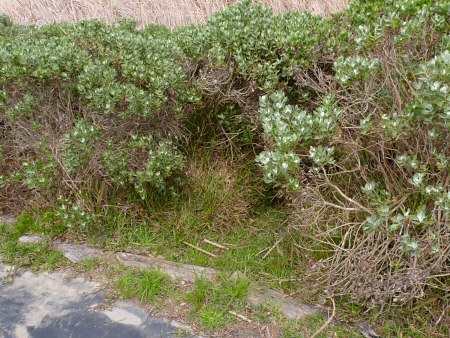 We didn't see any sign of a hippo except these tracks they have trampled (unfortunately, it's not that obvious from my photo, but the grass in the middle, between the bushes, is the hippo trail). Maybe we'll catch a glimpse of an actual hippo next time we visit…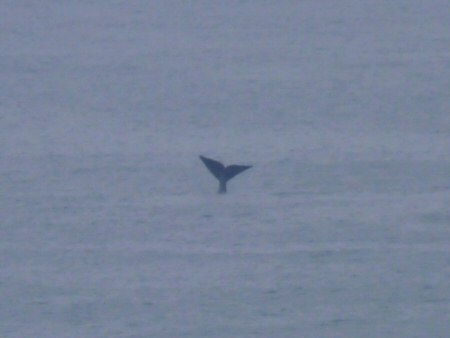 At this time of year, Southern Right Whales come close to shore, to breed and give birth. We were just on our way back from Rondevlei, when we saw what was unmistakeably a whale tail, sticking up out of the water. Our first whale! I assumed it would be about the size of a beluga whale; it was only later when I got home that I discovered that this whale is 50ft (15m) long, and the tail alone is around 5m wide – no wonder it was so easy to spot (hence the poor photo quality; we were actually a very long way away). The whale kept its tail pointed up out of the water for ages – this is apparently a known behaviour called 'sailing'.
I hope you've enjoyed my latest wildlife update. Life is certainly very different for me here, and not without its challenges and frustrations, but, as a nature lover, it's wonderful for me to see all these animals and birds that I imagined I'd only ever see in zoos or on wildlife documentaries, and I'm not taking that for granted!