I have a little trick that I use when I'm embroidering noses etc onto amigurumi faces, to easily hide the starting and ending tails of my thread and to keep my stitches secure. I thought you might like to see it in action in a new video tutorial.
It's easy to hide the ends in the exposed stuffing if you're stitching onto an open-ended piece, but not as obvious when you have to embroider onto a piece that's already closed up, leaving you with no hidden place to start from. It's especially important to fasten the ends securely if your amigurumi will be played with – you don't want that cute face to get snagged on something and unravel!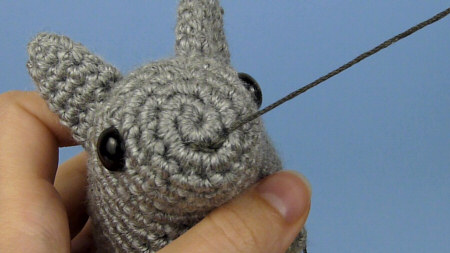 If you're using non-safety eyes, this is also how you can stitch them on after you finish crocheting and stuffing the piece, so you can make sure they'll be in the right place and give the cutest expression. (Crocheted 3D pieces change their shape when you stuff them: they stretch widthwise as the stitches expand into position, but not lengthwise. That's why I recommend stuffing the head before placing the eyes, nose, and any other features – even if that then means pulling out the stuffing so you can attach the backs of safety eyes before re-stuffing!)
You can also use my secure stitching technique for attaching other embellishments onto your amigurumi – buttons, beads, sequins, felt patches, etc – it's perfect for hiding thread ends of any type, whether you're using worsted weight yarn with a large yarn needle, embroidery thread with an embroidery/tapestry needle, or even fine sewing thread or invisible nylon thread with a hand-sewing needle.
And now to the video tutorial (in right- and left-handed versions, of course):
Amigurumi Faces: Secure Stitching (right-handed)
Click to watch this video on YouTube.
Amigurumi Faces: Secure Stitching (left-handed)
Click to watch this video on YouTube.
Note: The videos may look a little small embedded in the blog: if so, you can fullscreen them or click through to YouTube to watch them full-sized 🙂
If you enjoy my crochet tutorial videos, please help to spread the word about them, and/or subscribe to the PlanetJune YouTube channel.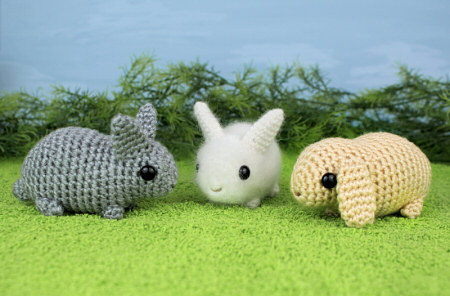 FYI, I'm demonstrating the technique in this video using one of my Baby Bunnies designs – the crochet pattern is now available in my shop and includes the patterns for 3 varieties of realistically adorable baby rabbits: Dwarf, Angora and Lop. 🙂
---
Do you find my tutorials helpful? If so, please consider making a contribution towards my time so I can continue to create clear and concise tutorials for you:
Thank you so much for your support! Now click below for loads more crochet video and photo tutorials (and do let me know what else you'd like me to cover in future tutorials…)