I've been planning to design a groundhog for the past 2 years, but every time I remember, it's late January, and far too late to give anyone other than me a chance to make one in time for Groundhog Day (February 2nd). This year I got my act in gear and made sure I'd get my design finished with a month to spare!
For those of you unfamiliar with Groundhog Day, go out and buy the movie Groundhog Day, starring Bill Murray and Andie MacDowell. RIGHT NOW. Seriously, you won't regret it. It's one of my favourite movies of all time 🙂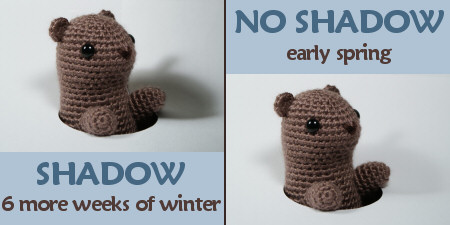 But the concept of Groundhog Day (the day, as opposed to the movie) is that the groundhog is a talented weather forecaster… On February 2nd, the groundhog wakes up from his winter hibernation, comes out of his burrow and looks around. If he sees his shadow, there'll be 6 more weeks of winter; if he doesn't see his shadow, we'll have an early spring. There are several famous annual Groundhog Day ceremonies around North America, each with their own famous groundhog, including Punxsutawney Phil (yep, he's the one in the movie!) in Pennsylvania, Wiarton Willie (an albino groundhog) in Ontario, and Shubenacadie Sam in Nova Scotia. Of course, the chance of spring starting in early February is fairly non-existent in these parts, and the groundhogs correctly predict that by seeing their shadows most years 😉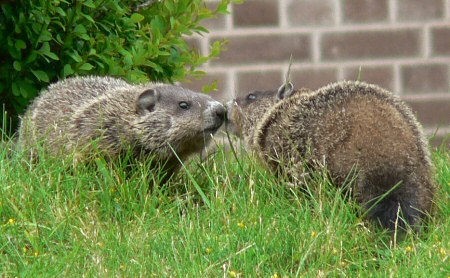 I took this photo of a pair of baby groundhogs last spring
But a groundhog is for life, not just for Groundhog Day… The groundhog, also known as a woodchuck, is a member of the marmot family. Here in Waterloo, Ontario, we see a lot of groundhogs throughout the year (except winter), sitting in fields and grazing on grass verges, and they are really cute. I love how fat they look (I made sure to build that into my design!) and when they stand up on their back legs to look around, they are just adorable! They aren't greedy – they build up all that fat for a reason: so they can survive through the harsh winter by hibernating in their burrows.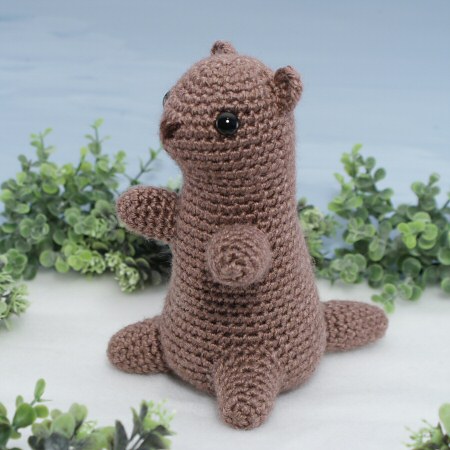 And now you can make a cute and chubby little groundhog of your own, with my latest amigurumi crochet pattern! I made mine from Bernat Satin which is quite fine as worsted weight yarns go, and he stands at around 6.5″ tall. If you used a thicker worsted weight yarn (confusing, I know) like Vanna's Choice, your groundhog would be even larger. If you'd like to make your own, the Groundhog crochet pattern is now available in the PlanetJune shop 🙂
I'm hoping my little guy will not see his shadow this February 2nd, so we can all look forward to an early spring!