The power of Twitter strikes again! A Twitter conversation between Groundhog Day fans @SisterDiane, @kpwerker, @kitchensinkdye and myself (@planetjune) led to a cool idea: We're having a Groundhog-along!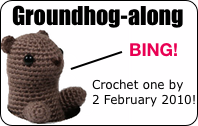 Join in and crochet your amigurumi groundhog by Feb 2nd. You can join  the Groundhog-along 2010 Ravelry group and/or grab the above button image (created by Kim from my photo) for your blog. (Save the button image and upload it to your own server, please.)
If you don't already use Ravelry, it's free to join and a wonderful resource for all crocheters and knitters. But if you don't want to join, send me a pic of your amigurumi groundhog before Feb 2nd and I'll include it in my Groundhog-along wrap-up post on Groundhog Day!
(Don't forget to get the Groundhog crochet pattern so you can add to our army of adorable crocheted groundhogs!)
I'm so excited that in one evening we're up to 25 Groundhog-along group members already – this is going to be so much fun!