Today I saw that the nominations for Ravelry's annual Bobby Awards had been posted. I thought I'd take a look through and see the wonderful knit and crochet projects that made the cut this year. Imagine my surprise when I saw that my own amigurumi Discworld had been nominated – yay! As I continued to browse through the categories, I discovered that my Discworld has been nominated for not one, but three Bobby Awards!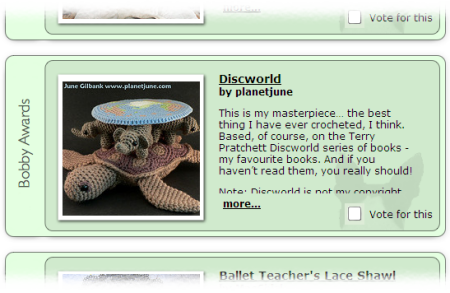 I don't think I've ever been up for an award before! My Discworld is nominated in three categories: Geekiest Pattern, Coolest Toy and Best Personal Pattern Project. If you have a Ravelry account, and (of course) if you think my Discworld is worthy of the awards, please consider voting for me in any or all of the three categories 🙂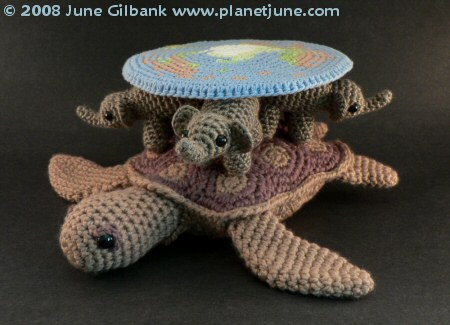 It would be lovely to win, of course, but right now I feel so honoured to even be nominated and be recognised as an artist and designer. Thanks, of course, to Terry Pratchett, for inspiring me to recreate his wonderful Discworld in crochet. And thank you, Ravelers, for nominating (and voting for!) one of my all-time favourite designs!