In general, I'm not one for picking favourites, but ever since I was first introduced to Terry Pratchett's books at age 11-ish, I have bought and loved every single one of his books. I even have two copies of some of them! In my student days, while I still lived in the UK, I queued for hours at book signings so I could spend a few seconds with the man himself, and he was unfailingly nice every time.
Since I made my sea turtle in March, I had a feeling it reminded me of something… Then it came to me: most of Terry's books are set on the Discworld: a flat world carried through space on the backs of four elephants who themselves stand on the shell of the giant star turtle, Great A'tuin… (Google image search if you don't know what I'm talking about 🙂 )
The idea to make a crocheted Discworld has been running around inside my head ever since. I thought it would make a wonderful art piece, so I've been slowly designing and assembling the pieces to create my Discworld model. I made sure the size for my small elephant design would fit on the turtle's back… I spent hours studying, sketching, simplifying and photoshopping the Discworld Mapp so I could recreate it in cotton yarn (and my process for that would take up a whole post by itself)…
And, finally, today it has all come together with the finishing touches to the fourth elephant. Drumroll please… In honour of the genius of Terry Pratchett and his books (and totally unauthorized, so I hope he won't take offence), allow me to present the Amigurumi Discworld: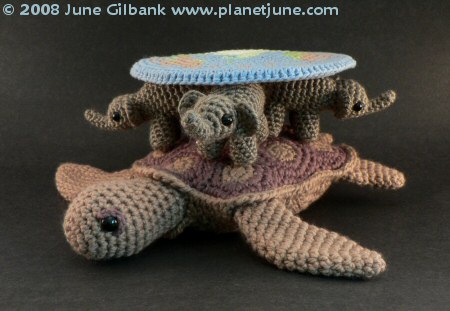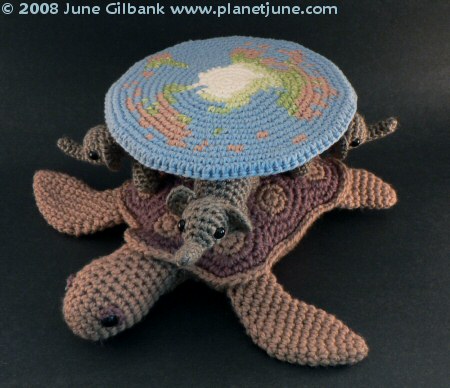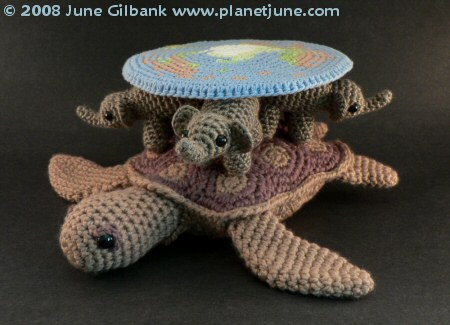 Small print: Discworld is © Terry Pratchett. I have made my homage only for fun, not profit. I don't have the rights to create a crochet pattern based on the Discworld, so please don't ask me to do so 🙂
Please leave me a comment if you like my work – your words mean a lot to me!
UPDATED 5 Sep 08: I have just posted a Discworld update. Terry himself has seen the pics and commented! And I have added some details on how I made the Disc.