I've ordered business cards etc from VistaPrint before, so I'm on their mailing list for all their promotions. A couple of weeks ago they had an offer that was too good to pass up, so I thought I'd sample a wider range of their products. I designed PlanetJune postcards, magnets, sticky notes, a rubber stamp and even a custom pen!
Today my box of goodies arrived. I've never been disappointed with VistaPrint, and this order was no exception.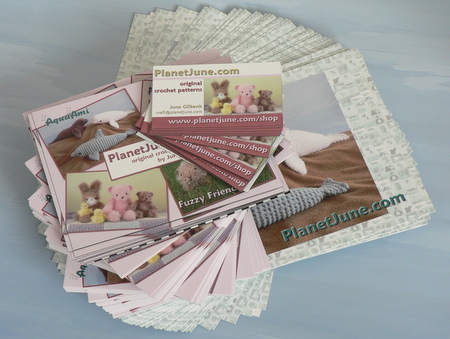 Lots of stuff!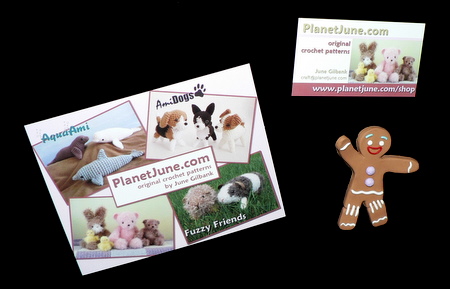 These 'business cards' and 'postcards' are actually fridge magnets. My polymer clay Gingy wanted to get in on the fridge photoshoot too 🙂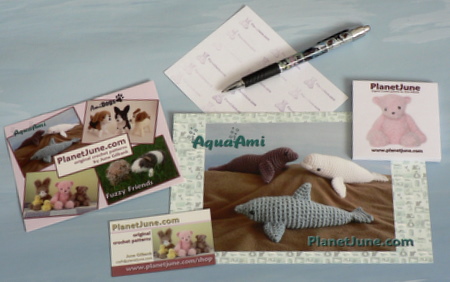 The full order (click pic for larger version). Clockwise from left: postcard, rubber stamped images, pen, sticky notes, large postcard, business card magnet.
I think my rubber stamp design (my pink bear and the words 'PlanetJune.com') may have been too detailed, as I'm having trouble getting a good print of the bear. I'm a stamping novice, though, so it could be the paper or ink at fault – I will experiment some more.
My favourite items from the order are the sticky notes (the pink bear image is faint enough to write over the top of it) and the large AquaAmi postcard. I made a border for the AquaAmi card featuring tiny images of all my designs, and I like the effect. I almost want to frame one of these and put it up on the wall in my craft room!