I'm fortunate to live only an hour's drive away from the Bernat/Patons Yarn Factory Outlet store (in Listowel, ON). Twice a year, they have a massive sale, and it's winter sale time again! Last winter, I went to the same sale, had an amazing time and bought a boatload of yarn. This year, it was a totally different experience for me: since becoming self-employed, my attitude to spending has changed. I've always been careful with money, but these days I rarely buy anything! As I walked around the store filled with amazing bargains, all I could think was "do I really need that?" and "24 balls of Patons Grace for $48 – I can't spend $48 on yarn I don't need!"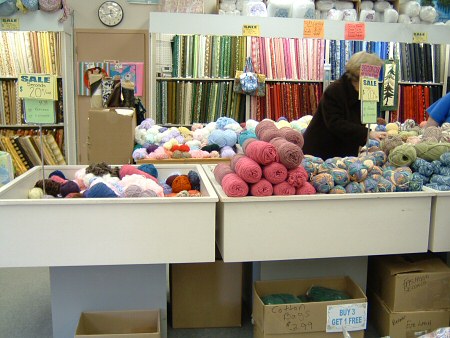 Just noticed that this photo makes it look like a fabric store with a bit of yarn! In every other direction, the store is floor to ceiling yarn 🙂
Everyone else in the store was literally filling black garbage bags with yarn! They probably make sweaters and afghans and other bulky items. My typical crocheted item takes less than 1 skein of yarn, so how could I justify that kind of buying? One lady stepped away from her bag of goodies for a moment (to pick up some more yarn), so I took the opportunity to snap this photo as evidence: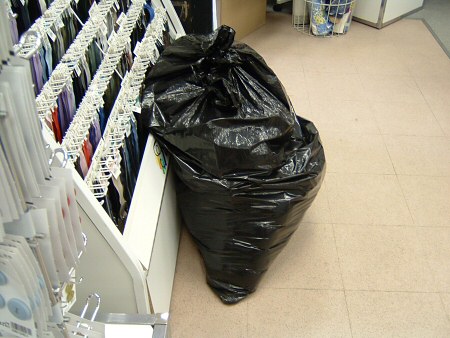 No, that's not rubbish – it's a bin bag full of yarn!
I was actually prepared to leave empty-handed, and then I saw the bin filled with mill ends of novelty yarns and other oddments, priced at 20c/oz. That's practically free! I combed through the entire bin (and it was a big bin!) and managed to find some treaures. I ended up with 21 balls of various yarns for around $8: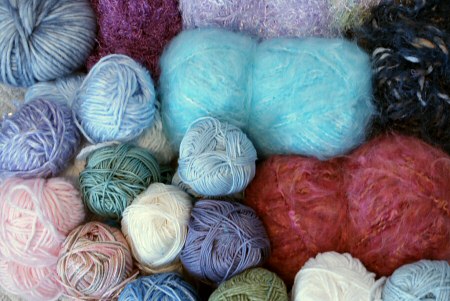 My meagre haul
I also picked up this handy pair of snips with a cap that will be perfect to keep safely in an on-the-go project bag: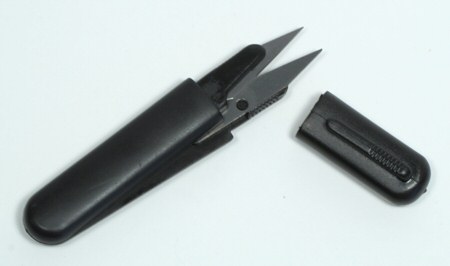 So, even though I didn't really take advantage of the sale, I don't feel too bad – I'm actually quite proud that I only spent $10!