Today I have a colourful new addition to add to my AquaAmi crochet pattern range: the Starfish Collection! These puffy starfish are a fast and easy no-sew pattern and look equally good as toys or home decor.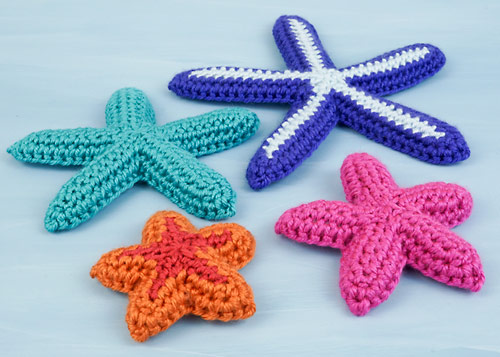 Starfish Collection is a mix-and-match no-sew pattern that includes 4 sizes of sea stars, ranging from 3 to 7 inches (7.5 to 18cm) across: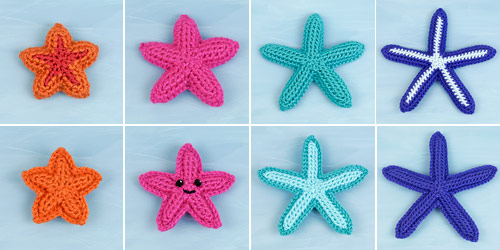 L-R: Tiny, Small, Medium and Large Starfish
You can make each size in any of three colour patterns (plain, striped top, and pale underside):

Clockwise from top left: striped top, pale underside, plain underside, plain top
The pattern also includes options (for any size and style) for making a flat appliqué starfish, and amigurumi-style starfish with a cute happy face:

Left: flat starfish appliqué; right: happy amigurumi starfish
About the Designs
These Starfish are fun to crochet – with no sewing needed (yay!), and the same basic technique for all the different sizes and options, once you've made one, you'll find them very fast to work up.
Choose size, pattern, colour(s), flat or 3D, and whether it has a face – you can mix-and-match endlessly to make new combinations. Choose whites and pale neutrals to decorate your home with an elegant seaside vibe, or make colourful smiley toys (as they are made in one piece, they're perfect baby-safe toys too, with embroidered or no features).
And that's not all! Why not make a starfish Amigurumi Wall Hanging, or add a couple to a Turtle Beach blanket..?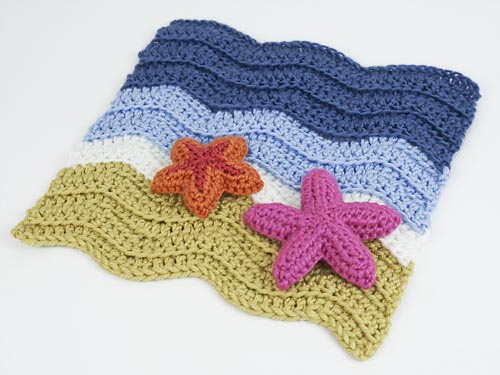 Starfish on a Turtle Beach square
About the Pattern
Starfish Collection is a detailed pattern including written patterns, step-by-step photo tutorials, and right- and left-handed stitch diagrams for each size of starfish.
This is a modular pattern, so you can save paper and ink by reading all the background tutorial information on-screen and just printing the pages you need for the written instructions (p6-8) and stitch diagrams (right-handed p10-12; left-handed p14-16).
Buy Now & Launch Discount
Ready to start crocheting? You can pick up the entire Starfish Collection from my shop right now for only $5.50!
If you're not ready to buy just yet (or even if you are!), please remember to heart and queue it on Ravelry:
But let's make that deal even better: for one week only, I'll give you an extra 10% off the price! To take advantage of this deal, add the Starfish Collection to your shopping cart, and enter the discount code SEASTAR at checkout! (Offer ends Wednesday 30 August, 2017.)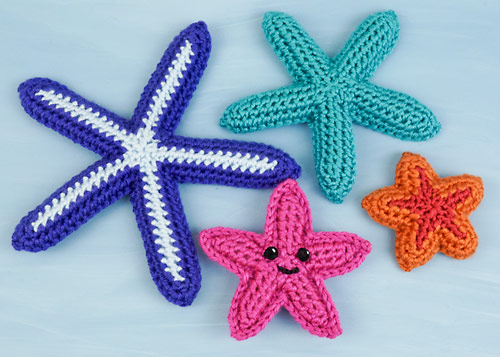 I hope you'll enjoy my new mix-and-match pattern – I can't wait to see which size, colours and options you choose for your first starfish. (And if you don't feel like mixing it up, please feel free to copy my sea stars exactly – that can be just as much fun!)