Here is the second design for my new pattern range (the dolphin is the first). The sea lion was more challenging to design because I wanted to crochet it in one piece, and build the curve of the neck and chest in. That's quite a challenge using only single crochet, but I'm really happy with how it turned out. I think she looks very sweet: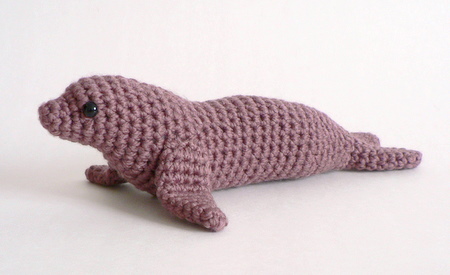 Now, it's contest time!
As you may have read from the dolphin post, this new range is all about water animals (but not fish) and the style is simple and sleek with just one colour per piece, to focus on the streamlined shape of these animals.
I'd like to know what you think, so please leave a comment on this post with one or more of these suggestions:
The name of this range (I'd like something short and distinctive, like my AmiDogs range)
Other animals you would like to see in this range
There will be two winners:
Whoever first comes up with the name I like best for the range
One other commenter (chosen randomly from all entrants; only one entry per person will be counted)
And the prizes? Each winner will receive a pattern of their choice from the PlanetJune range. Winners may either choose from one of the new range of patterns, or one of my existing Fuzzy Friends or AmiDogs patterns.
The contest will run for a week, so entries will be accepted until 7am EST on Monday January 21st 2007.
Good luck and thanks in advance for your suggestions!
UPDATE: Looking for the pattern? You can find the AquaAmi Sea Lion crochet pattern in my shop.