Today's PlanetJune Story comes from Monica from Magical Amigurumi – you may remember her previous appearances on my blog from her first PJ Story and when she was commissioned to crochet my Fruit Bats for the Ralph Lauren store window last year!
I love it when people use my techniques and the Boy and Girl patterns from my Complete Idiot's Guide to Amigurumi to create custom toys, and I don't think anyone has taken that concept to heart as much as Monica has – I'm sure you'll be as delighted and impressed as I am with her amigurumi doll collection. Over to you, Monica…
---
I love collecting dolls! Porcelain dolls, baby dolls, stuffed dolls, hand sewn dolls from all over the world. Each doll is unique and special to me. At the moment, most of my dolls are in two 30 gallon totes for safe keeping; small apartment means small space.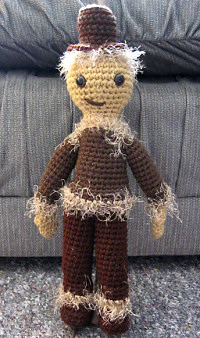 When I first received June's book Complete Idiot's Guide to Amigurumi I really liked the look of her crocheted dolls. Some of the other crocheted patterns out there make the dolls look a little creepy for my liking, and June's were really life-like (and super simple to create!) and they are the perfect size to hug, hold and carry around! I was not brave enough to try them out for several months and then took my first try on the boy pattern, turning him into this Scarecrow. After a cute success I was not able to make another doll for a year, but I had many ideas floating around in my head.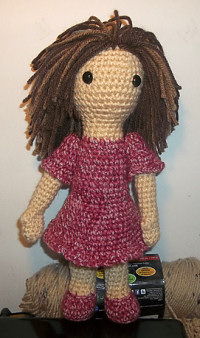 I made this standard Girl Doll in a pink mist color and really liked how she turned out. Cute but simple. After which, I started making a list of doll ideas, yarn colors, and other items I would need to make these dolls the best I could. Searching for the best yarn colors took the longest, but after looking at my finished dolls, I'd say the search was worth it! I even ordered special eyes from some of my dolls from Michelle at Suncatcher Craft Eyes to make them perfect (for me anyways).
I made these two special dolls for my children first before my long list of wants for myself 😉 and I love how they turned out: The Flash (from the Justice League) and Ariel the Mermaid. They love them and play with them constantly, and sleep with them, and best of all, the dolls may be a few months old, but they hold up really well.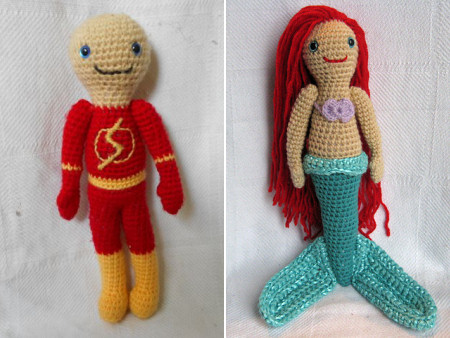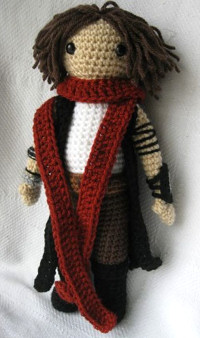 Then in one afternoon I made myself my first crocheted doll! His name is Dastan from the Prince of Persia movie, and I enjoyed customizing him to make him as realistic as I could! I am a bit of a perfectionist, so making him as close to the character as I could was a big must for me, a reason I had held off on making myself the crocheted dolls because I was afraid I could not do it…but…after seeing that I could, and that he was super cute, I started (slowly) on the rest of the dolls I wanted to make!
(Top row, below) I started with my Disney-inspired Princesses for myself really but I like to share. My children helped me pick out the correct colors for their gowns, and I went back to June's book a lot for help with the unique hairstyles. I am very pleased with how they turned out!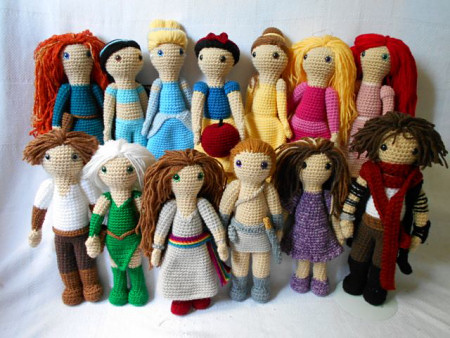 With the recent CAL in August, I felt compelled to accomplish my set of dolls that were adapted from my favorite fantasy book! And I knew that if I made my two favorite characters, I would have to make their companions; a giant blue-feathered iguana (Iguana) and a giant cream colored hound (AmiDogs Great Dane), and I was not able to make the white Star Stallion as I do not have a horse pattern yet. I was (still am) very excited about this set of four! While I was making them I had to re-read my six books (not only for fun, but to make sure I got their descriptions just right).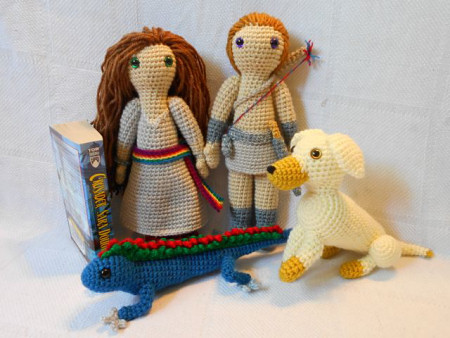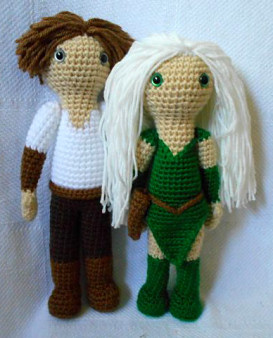 My next two special ones are from characters of my own fantasy book that I started writing in high school and have finally typed it out, so I thought it fitting to make my main characters into dolls as a self gift of accomplishment! 🙂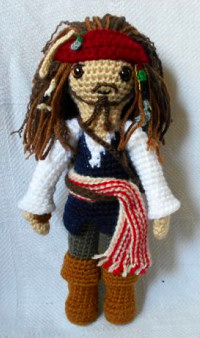 Captain Jack Sparrow! I have always loved that character, and thought it would be fun and challenging to crochet him into a doll. I loved how he turned out! He is my most detailed doll I have done yet, and he inspires me to make more dolls even more detailed than before!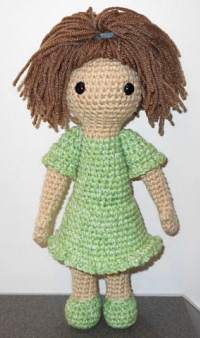 In between all of my special dolls, I have made some regular dolls in different colors of yarn. I really like how simple and cute they are just as dolls (my favorite of them being this girl in the green mist dress).
(Below) The Cranberry China Doll, as I've been calling her, was fun to customize. I was not sure how she would turn out in the standard Chinese style dress, but I am very pleased. I was not sure if I could make a Xena Warrior Princess, but my son loves how she came out, and even asked when I was going to make a Gabrielle. I told him I had not planned on it, so she may be a Christmas gift for him this year. 😉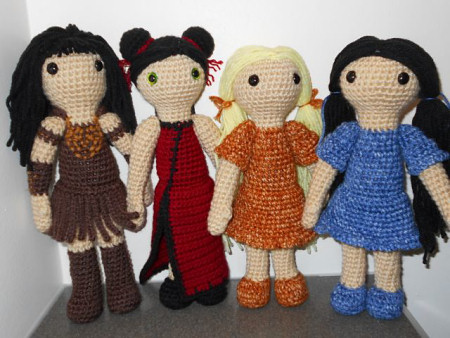 ---
(Back to me, June, again!)
Aren't they all wonderful? Thank you, Monica, for sharing your beautiful customization work! Please leave Monica a comment if you've enjoyed this post!
Do you have a PlanetJune Story you'd like to share? I'd love to hear it! Please email your story to june@planetjune.com, together with one or more high quality photos showing what you've made from PlanetJune patterns. If I choose your story to feature here on the blog, I'll send you your choice of pattern from my shop to say thank you!
And if you'd like to try your hand at making some custom (or standard) amigurumi people, you can find the Boy and Girl patterns in my book, The Complete Idiot's Guide to Amigurumi 🙂