I've been updating my entire back catalogue of patterns with extra information and tips and a new space-saving layout, and re-releasing them in batches as they are ready. Please see the Pattern Re-Release FAQ for more information.
I've finally done it! With this last batch of 12 patterns, all my crochet patterns, punchneedle patterns and ebook, and craft tutorials have been updated and re-released. That's 125 re-released patterns over the course of almost 2 years (I re-released the first batch in October 2012) and it's a huge weight off my mind that you can now be assured that any PlanetJune pattern you purchase meets my high standards for clarity, quality, detail, and ease of understanding.
This final batch of re-releases includes all 11 patterns from the Fuzzy Friends collection, the About Fuzzy Patterns reference guide you receive with each of these patterns, and Ice Cream Bear.
All these crochet patterns are now updated and re-released: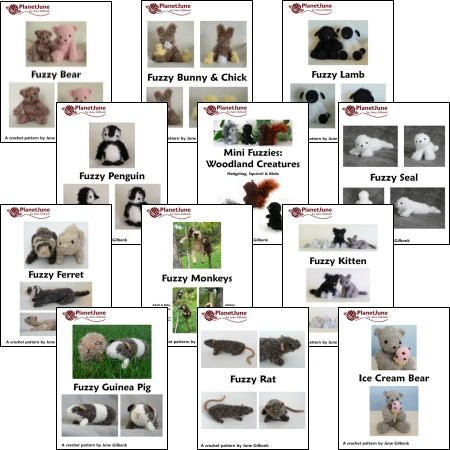 Fuzzy Bear, Fuzzy Bunny & Chick, Fuzzy Lamb, Fuzzy Penguin, Mini Fuzzies: Woodland Creatures, Fuzzy Seal, Fuzzy Ferret, Fuzzy Monkeys, Fuzzy Kitten, Fuzzy Guinea Pig, Fuzzy Rat, Ice Cream Bear.
If you've previously purchased any of these patterns, the update(s) are now ready for you to download in the new format!
Log back into your PlanetJune account at any time in the next 2 weeks and you'll see the download buttons for these purchases have been re-enabled, so you can click and download the new versions.
If you have lots of past orders in your PlanetJune account, you don't have to hunt for the right ones; just follow these simple steps:
In your PlanetJune account, click Show All Orders.
At the top of that page, click to the list of all your past purchases.
Find the pattern name in the alphabetical list.
Click the order number to go directly to that order.
Re-save your pattern 🙂
---
The Pattern Re-Release Project has been a much larger job than I originally anticipated, especially with these final Fuzzy Friends patterns. I left them until last for a few reasons:
They were my first ever patterns, so needed the most work to get them up to standard, especially the usual PlanetJune level of detail when it comes to assembly and finishing.
They used a technique I developed especially for working with novelty/eyelash/fuzzy yarns. I've updated any parts worked in standard yarns to use more conventional techniques (magic ring, invisible decrease, worked right side out) and to offer optional instructions for changing direction for any pieces that change from fuzzy to non-fuzzy yarn or vice versa.
They (mostly) didn't use safety eyes, so I had to add extra instructions as to where and when to attach safety eyes, if you want to use them instead, before the head is stuffed! In several cases, this involved re-crocheting at least part of the original design so I could add this information correctly.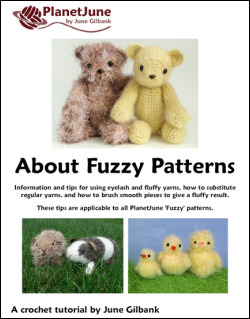 I've also completely revised the About Fuzzy Patterns document that you get with any Fuzzy Friends pattern purchase. The new 4-page reference guide is crammed full of information, tips, and examples for choosing and using both eyelash and fluffy/fuzzy yarns, how to substitute any regular yarn of your choice, and how to brush smooth pieces with a wire brush to give a fluffy result.
To save you from downloading it multiple times, I've made it a separate download in every order that includes a fuzzy pattern – so just download that 'About Fuzzy Patterns.pdf' file once! And yes, it's a straight PDF file, not a ZIP file (woohoo!), so if you have any problems in downloading it, please let me know what went wrong, in as much detail as possible, so I can investigate before I transition my shop away from ZIP files to straight PDFs…
Note: I should just add at this point that Ice Cream Bear is not a Fuzzy Friends design – he's worked normally and doesn't need the About Fuzzy Patterns file – but his pattern suffered from a few of the above problems (minimal assembly instructions, no instructions for safety eyes) so I saved him for this group so I could find a solution for them all at once.
---
If you're tempted by these new and improved Fuzzy Friends patterns, I have a new deal available for you! Starting from today, you can now buy a Custom Set of any 3 Fuzzy Friends patterns of your choice, for a special bargain price.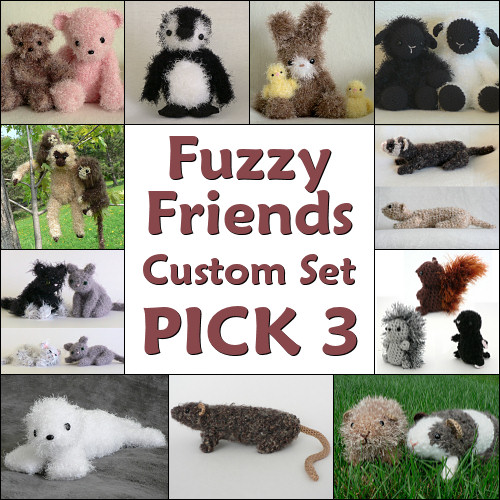 As with my other Custom Sets (AmiDogs and PJ Accessories), if you want more than 3 patterns, just add the Custom Set to your cart as many times as you need, selecting 3 different patterns each time.
---
Now the pattern reformat project is complete, I'll be giving you another chance to download any and all of the updated patterns you purchased but may have missed the window for re-downloading. That won't be for a while though – it'll probably be some time in October.
In the meantime, if you need access to any of your expired patterns, the process is the same as always: just shoot me an email including your 5-digit order number (you'll find the number in your order confirmation email, and in your list of orders in My Account), and I'll be happy to unlock that order for you 🙂
---
If you have any questions about the pattern reformat project, or you received the patterns through a different mechanism (and so don't have an order for them in the PlanetJune shop) but you'd still like the new versions, check the Pattern Re-Release FAQ for more information.
I can't believe this project is finally finished! Now I think I'm definitely overdue for a rest; it's going to be a while before I can even look at another crochet pattern, let alone have the brain power to design one… Thanks so much for your patience during this long pattern overhaul period. I feel that the new versions are vastly improved and worthy of the PlanetJune stamp of quality – I hope you agree 🙂