Today I have yet another project I've made from modifying a pattern from my Idiot's Guides: Crochet! This project is a miniature version of my Handy Baskets pattern: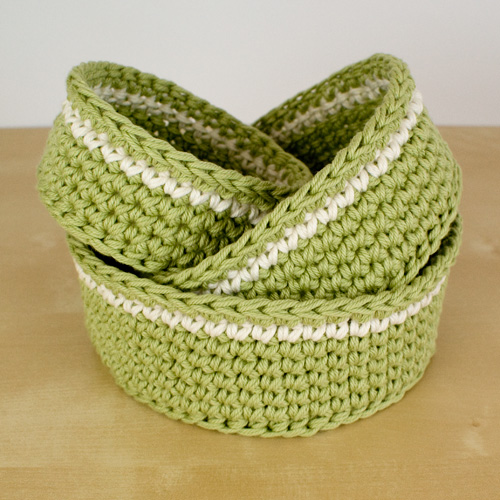 Handy Baskets on Ravelry:
This concept was born of necessity: my skin condition means I can't always wear my wedding rings any more, so I often leave them lying around the house. After I was burgled, I thought for one horrible minute that my rings had been taken..! They were lying on the coffee table, and would have been grabbed up if I hadn't accidentally dropped my gloves right on top of them earlier that day, so they were hidden from the burglars. I needed a special place for my rings that's both safe and unassuming-looking, so I can hide my rings in plain sight when I can't wear them.
To make my ring box, I held 2 strands of Knit Picks Curio (size 10 crochet thread) together with a B (2.25mm) hook, which made a nice sturdy fabric for the box. I made an extra-small version of the Handy Baskets pattern by only making 4 rounds for the base, and I continued with the sides until the box was tall enough to fit all my usual rings inside.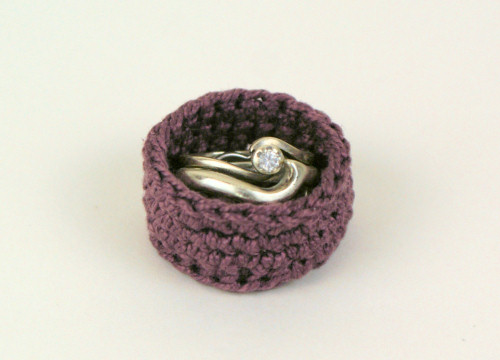 Then I made a lid by making a slightly larger version of the same pattern – I made 5 rounds for the base, but fudged the increases in the last 2 rounds (by skipping 1 or 2 in each round) so I ended up with a base with a total of 27 stitches around the edge – just right to snugly fit over my box base. (If you're going to try a project like this, it's really a matter of trial and error to see how much larger the lid should be than the box, as it's very dependent on your yarn/hook/gauge combination, and how tightly you want the lid to fit!)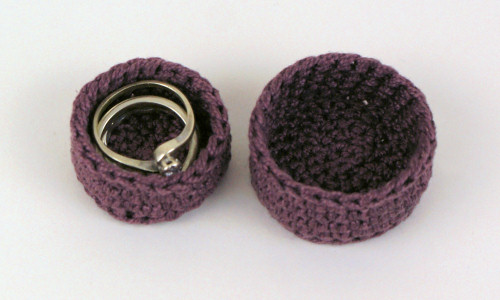 To make my box look less obviously like a container, I gave the lid long sides, so it completely covers the base of the box. If anyone sees it, they'd probably think it's a solid stuffed shape – a mini pincushion, maybe? – and hopefully won't give it a second glance.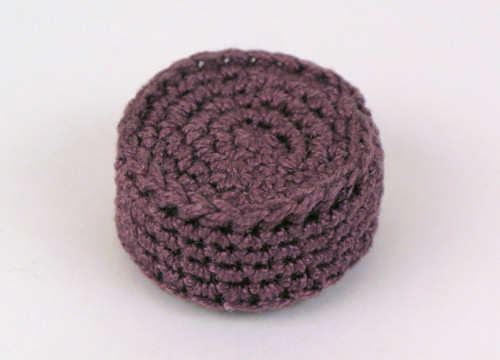 Only I – and now you! – know the truth… 😉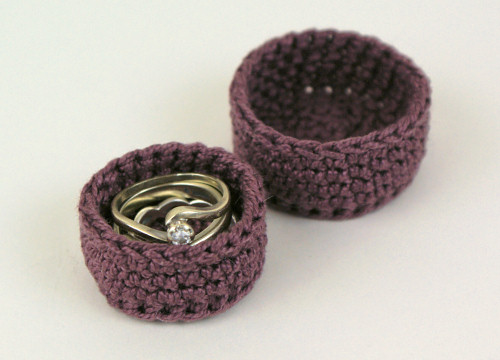 It's a really tiny box, at only about 3cm (just over an inch) across and 1.5cm (5/8″) tall, but still large enough that I never misplace my rings any more. Now, when I can't wear them, my rings are safe and cosy in their miniature home!
---
Are my posts giving the idea for how easy it is to modify my book patterns to meet your own needs? I do hope so! It's one of the themes I tried to convey throughout the book.
If you're making projects from IG: Crochet, please join the Book-Along CAL in the PlanetJune Ravelry group and share your photos (see the PlanetJune CAL FAQ for details if you're new to the crochet-along concept).
We already have coasters, headbands, baskets, phone covers, and even a shawl posted in the CAL thread – it's lovely to see the book projects mounting up!