I'm updating my entire back catalogue of patterns with extra information and tips and a new space-saving layout, and re-releasing them in batches as they are ready. Please see the Pattern Re-Release FAQ for more information.
Continuing with my pattern re-release project, all the old-style AquaAmi crochet patterns have been reformatted, and any of these patterns you've previously purchased are now ready for you to download in the new format!
Log back into your PlanetJune account at any time in the next 2 weeks and you'll see the download buttons for all your past AquaAmi pattern purchases have been re-enabled, so you can click and download the new versions.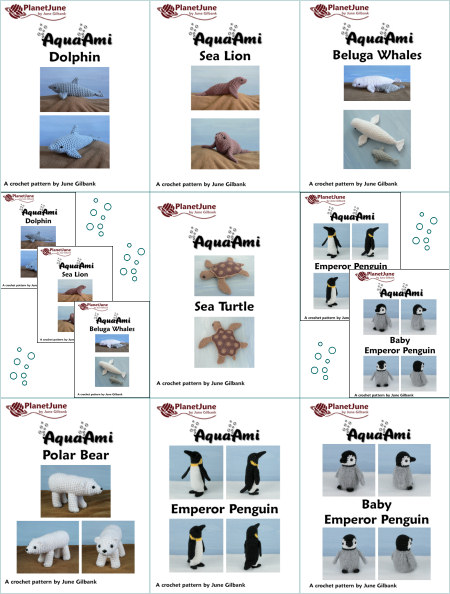 Here are the patterns and sets included in this batch:
Dolphin
Sea Lion
Beluga Whales
Sea Turtle
Polar Bear
Emperor Penguin
Baby Emperor Penguin
and the multipacks AquaAmi Set 1 and Emperor Penguin Family.
N.B. The 2013 AquaAmi releases (Baby Cephalopods 1 & 2 and Orca/Killer Whale) were published in the new style, so those patterns haven't been re-enabled in your PJ account as they are unchanged.

If you have any questions about the pattern reformat project, or you received the patterns through a different mechanism (and so don't have an order for them in the PlanetJune shop) but you'd still like the new versions, check the Pattern Re-Release FAQ for more information. I'll keep the FAQ updated throughout this project and add any further questions that arise.