Wow. What a response! Thank you all for your comments – it means so much to me that you like my most personal work to date 🙂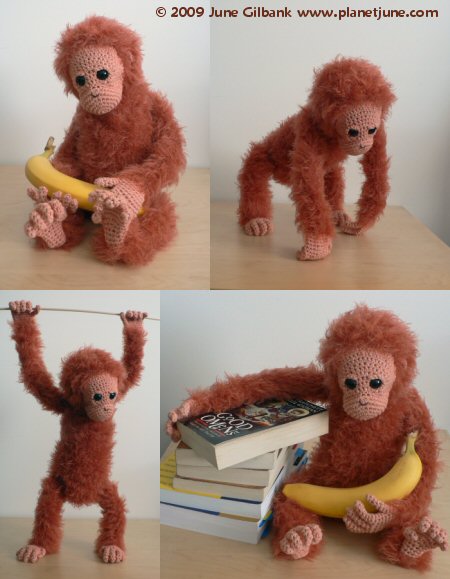 Okay, so now you've seen the finished product, but I think I need to share a little of the insane amount of effort that went into making my orang utan! I would guess we're looking at about 100 hours of June time, of which the actual crocheting that you see is less than half of that. Aside from that, highlights include:
sculpting the hands and feet from pipe cleaners
snapping and unsnapping armature parts to get the skeleton proportions right (literally hours of struggle, one pinched fingertip and one hugely bruised knuckle to show for that)
sewing cushioned sleeves to cushion the skeleton and keep them in the right place inside the body
the previous 2 heads that went wrong wrong wrong
creating a wire base for the head so it wouldn't sag
Here's a glimpse into a little bit of the work that you don't see in the finished orang: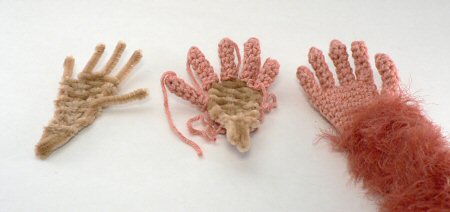 left: pipe cleaners formed into shape of hand
middle: beginning to crochet over the form
right: finished hand with arm attached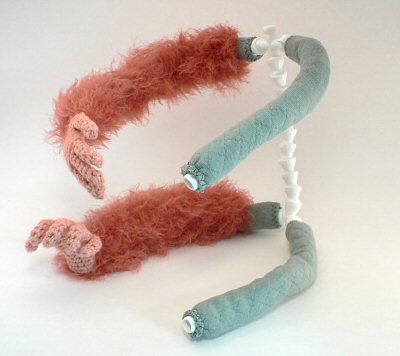 left: a finished arm and leg
middle: the spine (this is the plastic segmented poseable armature I used)
right: quilted covers for the armature limbs so he wouldn't feel too bony
I didn't take any pics of the inside of the body or head, but that should give you an idea – there's more than meets the eye to this little guy! But the result is that he is infinitely poseable and feels very realistic, thanks to the weight of the armature and the 'backbone' bumps you can just feel when you stroke him.
I'm so flattered that some of you would like a pattern, but, as you can see from the above, this wouldn't be a crochet pattern – it would be 'how to make a plush art sculpture (oh yeah, and you'll need to crochet too)'. And that's one reason why my orang utan is art, not craft – it's not something that can be reproduced. So definitely no pattern (sorry!).
But there may be a way you can own a little piece of him, even though you can never make/buy an original: I'm thinking of selling high quality prints of a really good photograph of him. I tweeted the idea yesterday and had some good responses – I still need to investigate the logistics but I think it would be doable.
So now I'd like to ask you: would you buy a print if they were for sale? Would you prefer something more 'useful' like a blank notecard or postcard, or an art print that you could frame? Or something else again – I'm open to all ideas. If there's enough interest I'll get some printed and put them in the shop.