I have to admit I've been a bit slow to appreciate the appeal of buying handmade, mostly because I'm usually guilty of seeing something and thinking "I could make that!" Well, yes, I probably could, given many hours/weeks/months of time, learning a new skill, and investing in new equipment and tools to do it properly… Now I've started to actually buy beautiful things that have been individually made by talented people, I can appreciate them for the lovely treat they are, instead of feeling like I have to challenge myself to make everything.
Of course, receiving a handmade gift is even more of a pleasure! I've been absolutely spoiled recently by some of my best crafty-blogger friends. Just look at this gorgeous grey-blue shrug that Kari (Crafty Ginger) made for me. It's so beautifully knitted – a skill I have never picked up – fits me perfectly, and I just love the colour: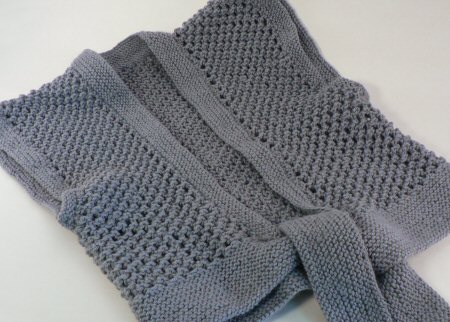 Kari also spoiled me with lots of other treats too, but they were dispersed before I thought to take a picture. Thank you, Kari – I love everything!
Alice (futuregirl) sent me a huge pile of lovely origami papers to use – I can definitely make good use of those for Folding Trees! But, even better, she sent me a handmade by futuregirl Birdcage Handbag! It is just beautiful. Alice is currently in the process of writing up the patterns for some of her bags, so head over to the futuregirl craft blog soon if you'd like to make one for yourself. In the meantime, take a look at mine: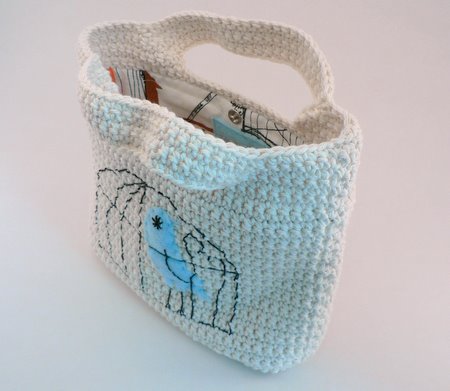 Sorry for the strange angle of this pic – I was trying to show the embroidered birdcage on the front AND the bird fabric lining on the inside!
Thank you, Alice – I shall treasure my bag!
I've also been doing a bit of shopping on Etsy and ArtFire. As a buyer, both were easy to use, although if a seller has a store at both venues, I'm choosing ArtFire, because I know the artisan won't be paying commission fees on my purchase that way! I thought I'd put together a little showcase of things I've bought and would recommend if you're looking for gifts or to treat yourself. In no particular order:
I have been intending to commission a portrait of Maui from ArtFire seller Christy DeKoning for a year, but I was having difficulty selecting the perfect source photos (difficult choice with such a photogenic cat… yes, I know I'm biased!). I'm so glad I finally made my mind up… Christy has painted the most adorable little watercolour for me, and she also e-mailed me a proof and was happy to correct the one little line that originally didn't look quite like my boy (now it's perfect). Christy also documented the process on her own blog (update: no longer online) – wow! The result is a beautiful work of art: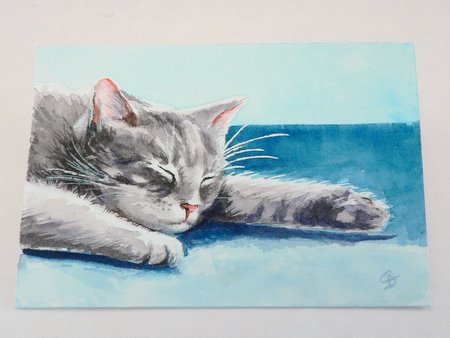 This adorable carved wooden chickadee comes from Etsy seller and talented artist Sandra Healy. Sandra has a huge range of over 270 species of wild animals and birds, and she individually carves and paints each one. If you like animals, you really must check out her store. Here's my darling chickadee: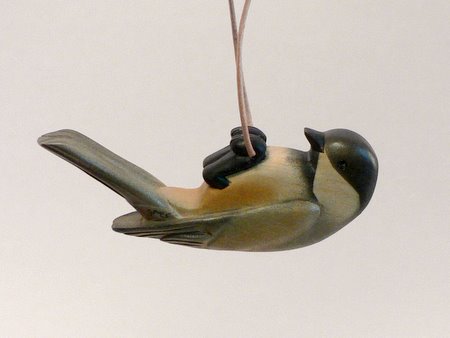 I bought this beautiful polymer clay covered crochet hook from Etsy seller Jenn Edwards, aka The Fanciful Feline. Jenn also sells polymer clay beads and more in her store. Jenn has taken my favourite type of hook (Susan Bates) and added a comfortable smooth handle complete with floating flowers and intricately caned butterflies. It's my new favourite hook: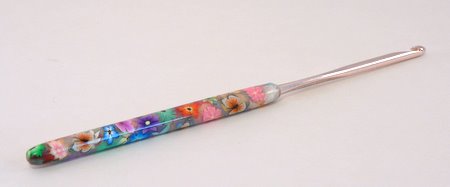 Lip balm is one of my vices – I never wear lipstick, but you'll never find me without my trusty lip balm. ArtFire seller Bohemian Rose (update: now Barefoot Hippie) makes handmade soaps and sugar scrubs, and also has a lovely range of deliciously scented lip balms. If you feel in need of a delicious little treat to pamper yourself, check out her store. I picked up her Pele lip balm, which is a yummy fruity pineapple flavour, and a steal at only $5 for two balms (I also chose the Cuticle Balm – much more convenient than a bottle of moisturiser for those emergency dry cuticle situations):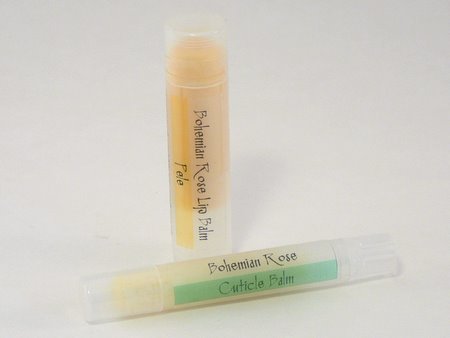 I hope I've inspired you to look into buying handmade items for yourself and your friends and family. You can find beautiful, original, high quality handcrafted merchandise from forums such as ArtFire.com and Etsy.com, and the knowledge that you are directly helping to support the artist/artisan will give you that warm glow that you just don't get from a trip to the mall. Long live handmade!