Sweet, moist, fruity and delicious – it's hard to believe that (apart from 1 egg yolk) there is no fat in these muffins. It's a good job they're low fat though – it's almost impossible to eat just one!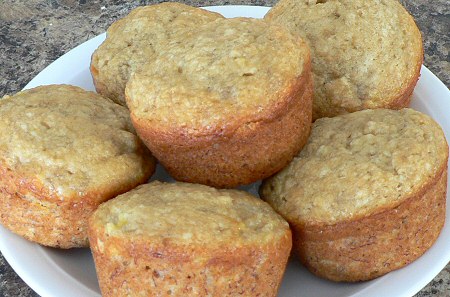 I had some browning bananas lying around the kitchen this week. I didn't want to waste them, and didn't want the temptation of fat-filled banana bread in the house, so I invented this recipe by modifying a banana bread recipe. It's too good not to share with the world, so here's how I did it.
Note: This recipe makes 18 muffins. You can easily halve the recipe to make 9 muffins by beating the egg and then using half of the beaten egg with half of all the other ingredients. Or make the full batch and freeze some for later (see end of post for defrosting instructions).
Ingredients
4 ripe bananas
1 1/2 cups all-purpose flour
1 cup sugar (reduce to 3/4 cup if you don't have a sweet tooth)
1 teaspoon vanilla extract
1 teaspoon baking soda
1/2 teaspoon baking powder
1 egg
6 tablespoons unsweetened apple sauce
Note: you could switch it up by adding 1/2 cup chocolate chips or your favourite dried fruit, but they don't need the extra flavour
Directions
Preheat oven to 350F.
Mash the bananas in a large bowl.
Add the remaining other ingredients and mix well.
Pour mixture into greased muffin pans, filling each pan to 2/3 full.
Bake for approx 22 mins (check for doneness with a toothpick)
Notes:
Best eaten slightly warm. 10 seconds in the microwave will bring out the banana flavour!
You can also freeze them (if there are any left!). Defrost in the microwave for about 30 seconds on full. Yum – instant breakfast.
I hope you'll be tempted to try my new favourite muffin recipe…