I can hardly believe that the Creativ Festival is this weekend! It's so exciting – crafters who live in or near Ontario, you HAVE to come to the show! It's being held at the International Centre near Pearson Airport in Mississauga.
For some reason, people seem to have the idea that this is a typical craft show, i.e. people selling their handmade goods. That's not what this show is about at all! The Creativ Festival is about trend spotting, inspiration, fabulous shopping, new products, industry experts, how-to's, make 'n takes, seminars, fashion shows, book signings, exquisite displays, & exciting door prizes! USA Today calls it one of the top "10 great places for a hands-on craft experience" in the whole of North America. Check out the festival brochure to see what's on offer.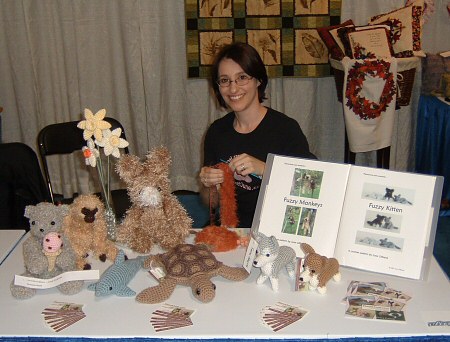 Here's me at last spring's show, working on the first arm of my orang utan!
The show begins this Friday, April 24th, and I'll be there on all 3 days. Please come and introduce yourself; I'd love to meet some of you in person! Here's my schedule:
Friday 1pm-8pm (except while I'm giving my talk): Come and meet me at booth #152
Friday 2.30pm: Who's Who in the Crochet Zoo! When a ball of yarn and a crochet hook meet up with a lot of talent and imagination… cute little creatures come to life. Meet crochet designer June Gilbank of PlanetJune.com and her adorable crochet creations. Just the inspiration needed to crochet for the animal lovers in your life!
Saturday 9am-1pm, Sunday 9am-1pm: Come and meet me at booth #152
Saturday 3.30pm, Sunday 2.30pm: Crochet a Decorative Rose June teaches how to crochet a simple decorative rose with endless possibilities. Wear it as a buttonhole or brooch or use it to embellish a bag or wearables.
A bit more festival info: all workshops, demos and seminars are FREE, and the crafts covered include appliqué, beadwork, bear making, brass embossing, card making, crafting, crochet, cross stitch, cutwork, designing, digitizing, embroidery, fabric dyeing, felting, finishing, fitting, framing, goldwork, heirloom sewing, knitting, lace making, long arm stand-up machine quilting, loomwork, machine embroidery, needle tatting, needlepoint, paper crafts, patchwork, pattern alterations, pattern drafting, punch art, quilting (hand & machine), rug hooking, scrapbooking, serging, sewing, shadow work, silk ribbon embroidery, smocking, stamping, stencilling, surface embellishment and more!
See, didn't I tell you it was a crafter's paradise? So what are you waiting for, meet me (and my orang utan) and enjoy a craft-filled day at the Creativ Festival this weekend!