Did you know that 2009 is the International Year of Natural Fibres? Natural fibres include plants (cotton, flax, hemp, bamboo, etc) and animals (sheep, goat, alpaca, camel, angora rabbit, etc).
This is perfect timing for me – I've been thinking for months of making a series of animals out of yarn made from their own fibres. To kick start the series, I've made an alpaca, using the wonderful yarn I picked up from Alpaca Acres last year. I was saving it for something special, but then I realised: this is what I do. What could be more special for me than to design a mini replica of Harvey, the alpaca who donated some of his fleece to make my yarn?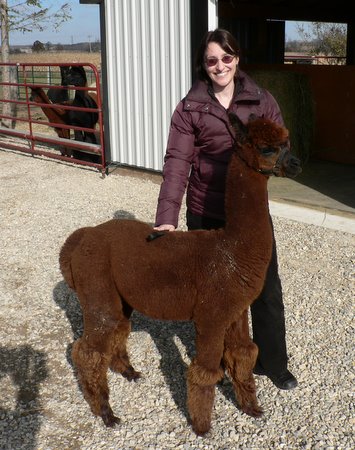 Me with Harvey at Alpaca Acres
And I turned some of his gorgeous yarn into this:

Harvey's mini-me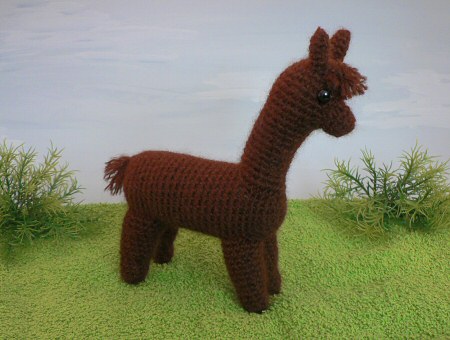 See his fluffy topknot and tail?
And before you ask, yes, there will be a pattern, and no, you won't need to find some obscure type or thickness of yarn to make it. Look out for the Alpaca pattern some time next week, or sign up for my mailing list if you'd like immediate notification when it's ready!
If this pattern is successful, I'd like to make some more animals in this series, like a cashmere or mohair goat, an angora bunny, and a silkworm.* What do you think?
*okay, maybe not that last one
UPDATE: You can find the Alpaca crochet pattern in my shop!