If you buy or sell handmade goods, you may have already heard of Artfire.com, a new online marketplace. Artfire is similar to Etsy in many ways, but also has some interesting differences, especially in their fee structure. I've been investigating for a while, so I thought it might be useful if I summarised some of the things I've discovered, in case you're also wondering if you should try selling your wares on Artfire…
This post is a review based on my own opinions – I'm not affiliated with Artfire in any way other than as a user!
Google Running a few test searches on Google to try to find some of my crochet patterns, I found that my Artfire page comes up much higher in the rankings than my Etsy page. This gives you an immediate advantage over your Etsy-selling competition if buyers are googling for a certain type of item.
No Account Checkout Unlike Etsy, your customers don't have to have an Artfire account in order to buy, so if you link from your blog to your Artfire, that's a good way to get sales from non-Etsians who may be unwilling to create an Etsy account.
No Fees! You can sign up for free and list up to 10 items at any one time with absolutely no strings, no listing fees, and no commission fee when you sell an item (vs 20c listing fee and 3.5% commission on Etsy). This would be a great way to get your feet wet with Artfire – you have nothing to lose.
Did I mention it's free to sell?! So important I think it deserves a second mention: NO listing fees! NO selling fees! That's an amazing deal.
Monthly Fee Upgrade The free account limits you to selling 10 items at any one time. To sell as many items as you want, there is a flat fee of $20 per month. But for the first 5000 sellers the fee is only $7 per month – and that's guaranteed never to increase.
Those 5000 places are going pretty fast – I've been thinking about it for the past few weeks, and in that time the number of $7 memberships left has gone down from 2600 to 1400… I decided I wanted to get in at the $7 level while I still have the chance. If I don't like it, I can go back to the free 10-item membership, and I haven't lost anything. But I'm prepared to pay for a few months at least and give it a chance to succeed.
As I'm currently paying over $30 in Etsy fees each month, knowing that I could sell a thousand patterns and would still only be paying $7/month in Artfire fees makes this deal very tempting! Just listing my 44 items would cost me $8.80 at Etsy, so I'll already be saving money by the time I've finished setting up all my listings.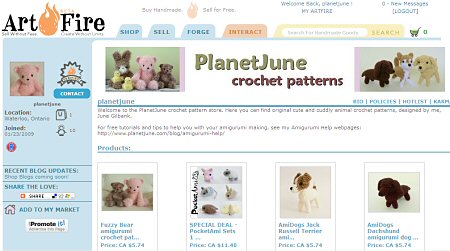 My Artfire storefront
Artfire is still small and new, but it's growing fast, and I really think it has the potential to be big. I've only had 1 sale so far, but it all went very smoothly. If you are thinking of expanding your sales venues, I suggest you consider Artfire among your options. At least sign up for a free account – you can upgrade to the $7 monthly account later if you don't feel like committing today (but remember that those memberships are going fast, so don't leave it too long!)
Please list me (planetjune) as the referrer if you do decide to sign up. Here's my direct link: Register on ArtFire.com.
I'll report back in the coming months with how sales in my Artfire shop compare with sales in my Etsy shop and, of course, my main PlanetJune shop. I'm thinking of writing some more posts about things I've found out about while running my business, so please let me know if you'd like to hear more on my perspective of running a craft business…