I have a confession to make: when I launched my Dinosaurs Set 1, I promised I'd design another set if/when I sold 100 copies of the first set. And, ahem, well let's just say that happened quite some time ago… I did start working on Set 2 in rare quiet periods while I was working on my new book, but there's a lot involved in designing a three pattern set, so I put them to one side and concentrated on individual patterns until I had more time on my hands.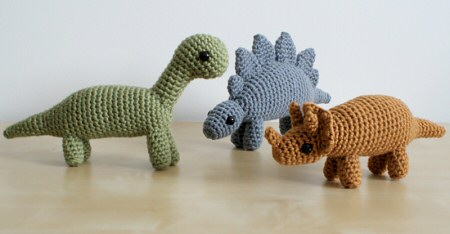 Dinosaurs Set 1, L-R: Brachiosaurus, Stegosaurus, Triceratops
And that time is now!
As you probably know from my first set, my dinosaur designs are deceptively simple: crocheted all in one colour, so they are really easy for you to crochet, and all the magic is in the shaping I built into them. It was really important to me that the new dinos have the same aesthetic as the original designs, and I hope I've succeeded in that: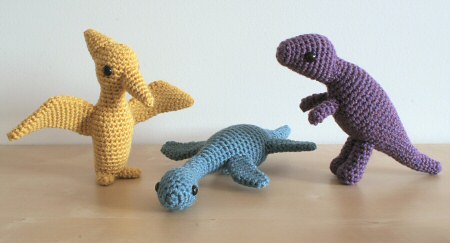 Dinosaurs Set 2, L-R: Pteranodon, Plesiosaurus, Tyrannosaurus Rex
The first set (Brachiosaurus, Stegosaurus, Triceratops) were all herbivores, but I didn't really want to make an all-carnivore set (some of the dino shapes are too similar to give an interesting mix of designs), so the theme of Set 2 is land, sea and sky. Coincidentally, once I started my research, I discovered that all the dinos I chose for Set 2 are actually carnivores anyway – ha!
Meet The Dinosaurs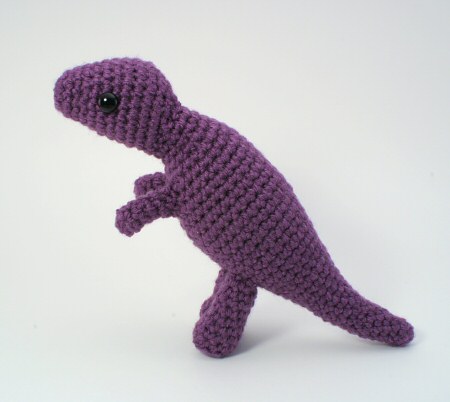 Tyrannosaurus Rex was an obvious choice for my land dinosaur. He was the 'king' of the dinosaurs – need I say more?! T. rex was one of the largest carnivores, at about 40 ft long. He used his long tail to counterbalance the weight of his big head, he walked on his back legs, and had almost comically tiny arms.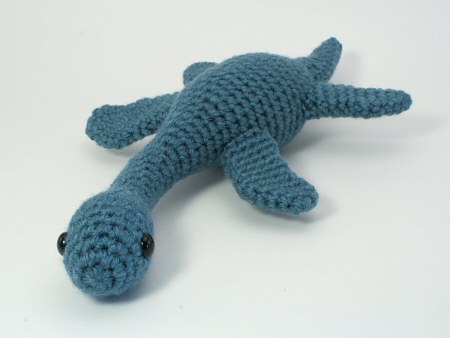 Plesiosaurus is my sea dinosaur. I've always loved the elegant shape of Plesiosaurs. Plesiosaurus was about 8 ft long, and had an extremely long neck, a small head, wide body, and four long, paddle-like flippers. He lived in the sea and fed on fish and cephalopods.
Fun fact: some people believe that Nessie, the mythical Loch Ness monster, could be a surviving plesiosaur!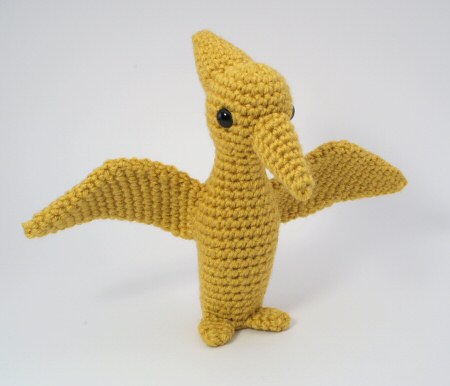 Pteranodon is my sky dinosaur; a type of Pterosaur. I was going to call him Pterodactyl, but then I discovered that the word Pterodactyl actually covers several different species (some of which don't have that distinctive head crest!), and that the correct name for this specific dino is Pteranodon. He had a 20-30 ft wingspan, a long toothless beak, and a characteristic cranial crest at the back of his head.
I should probably mention, that, during my research for these species, I discovered that, technically, neither Plesiosaurs nor Pterosaurs are actually dinosaurs! The term 'dinosaur' correctly covers only a certain type of terrestrial reptile with an upright stance, so Plesiosaurs and Pterosaurs are simply related reptiles that lived in the same time periods as the true dinosaurs. I think that, for the purpose of this collection, and what people understand when they hear the word 'dinosaur', it's okay for me to include them in my dinosaur set – I don't expect anyone to use my patterns as research tools!
I hope you like my new dinosaur set! You can buy the patterns individually in the shop, or save a bundle when you buy the complete Set 2.
And here's a bonus pic of my Dinosaurs Sets 1 and 2 – is it just me, or do they look really cute together?! (And I love those Vanna's Choice yarn colours!)
PS – I mentioned the new dinos on my Facebook page yesterday, and people there are already asking about Dinosaurs Set 3! Well, the same thing applies as last time: I'll make a third set if I sell 100 copies of this one. So, if you want even more dinos, please spread the word about my new dino patterns!