You may recall that I wrote a review of my experience advertising on Facebook last November. My advertising budget was $150 and I only made around $70 in direct sales – ouch. I concluded:
I love that you can specifically target the people who are your potential customers. But the advertising costs are just too expensive for smaller businesses to justify… Personally, I won't be advertising with FB again unless I can find another promotional voucher for free credit – it's just too expensive for my budget.
Well, now I have just that opportunity – a promotional voucher for $25 of Facebook ad credit, so I thought I'd try another FB advertising test, using what I learnt from last time, and trying to tweak things to give me better results. And once again, I'll share my results with you, so you don't have to waste money to discover what I've already found out!
The Ad Setup
(If you're interested in advertising on Facebook, I recommend you read my previous report first, and then come back here – it gives a good overview of the FB advertising experience which I'm not going to cover again today.)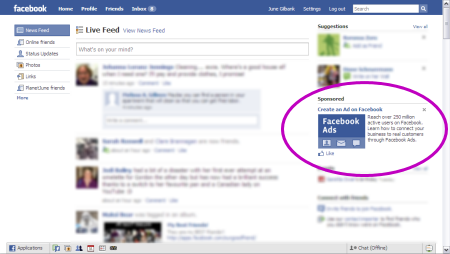 This is what an advertisement on Facebook looks like – I've circled the ad in purple
With only $25 (which I know from prior experience is very easy to blow through in a single day!) I set my daily budget at $12.50, so I could try different things on 2 days and compare the results.
I chose a CPM (pay per thousand views) bid, not CPC (pay per click), as I found that much more successful last time round.
Last year's ad was a Christmas ad, so I had to change the image this time. That means I can't directly compare the results to the previous experiment, as I'm sure the choice of photo plays a part in my success (or lack thereof).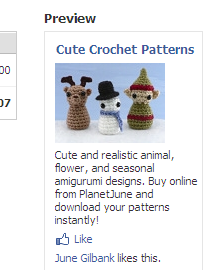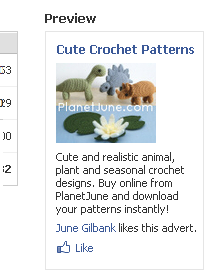 L-R: the old ad and the new one
I also excluded people who are already a fan of PlanetJune on Facebook, as the goal of this test is to see if I can attract new customers with this advertising.
Phase 1
I targeted all crocheters (around 150,000 people). I checked realtime stats in my shop throughout the day, and I could clearly see that customers who actually completed a purchase clicked all over my site and typically viewed 20-80 pages before completing a purchase. The Facebook clickers, however, typically looked at only 1 or 2 pages before leaving.
Phase 1 verdict: $12.13 spent, 99,000 views, 51 clicks, 0 sales.
Phase 2
I targeted only people who had listed amigurumi as an interest. This gave me a far more focused target, but only 2000 people have amigurumi listed as an interest. Could I get them ALL to click through? Or would anyone who lists amigurumi as an interest already know me, and not bother clicking?
My money went a lot further in phase 2, because I was targeting so few people. I actually managed to advertise for 5 full days using my remaining budget! A higher percentage of people clicked through (again not surprising, as many people who list crochet as an interest aren't interested in amigurumi/toys) and people looked at an average of 5 pages before leaving.
Phase 2 verdict: $12.89 spent, 120,000 views, 207 clicks, 1 sale.
Conclusions
Targeted marketing
By focussing on only people who like amigurumi instead of crochet in general, I saw a 20x improvement in the number of people who clicked my ad. Assuming each person only clicked the ad once, over 10% of my potential audience clicked through! Targeted marking is a powerful tool. But it still didn't lead to sales.
Saturation
In Phase 1, 150,000 people could have seen my ad – it could have potentially been seen by a different person each time it was displayed. In Phase 2, however, only 2000 people (at most) could see my ad, so that means that each person, on average, saw my ad 60 times! By day 5, the clickthroughs had dropped from about 50 to only 19, and that doesn't surprise me: if you've seen an advertisement 59 times and chosen not to click each of those times, why would you click after seeing it for the 60th time?!
Return on investment
As before, I made less money in direct sales than I 'invested' into the advertising – here, a $10 return on $25. (Although, also as before, this doesn't account for new people who may have found me through the ad and may become customers at a future date.)
Casual clickers vs shoppers
The one big thing I'm taking away from this experience is that Facebook users appear to be casual clickers; that is, they may click on an ad out of a vague curiosity, but not be interested enough to really explore my shop or make a purchase. This is a very different behaviour from people who find me through a google search and are actively looking for crochet patterns: these shoppers are in a 'buying' frame of mind and while they may come to my shop looking for, let's say, a "sea turtle crochet pattern", they tend to look through my entire shop before buying, and often end up buying far more goodies than they were originally searching for.
Of course, I could have seen more success if I'd managed to create a more appealing ad, but who knows?! Maybe I'd have seen more clicks, but the fact is that the people who did click didn't follow through and make a purchase, so I could have multiplied the number of clicks with a better ad and still seen the same result.
Based on this, I'm really not sure there's any value in my paying for advertising. People who are prepared to buy something can easily find me through Google, and that costs me nothing. I'll stand by my conclusion from last time: it's just not worth the money.
Over to you…
What's your experience? Have you tried advertising, on Facebook or elsewhere? (I also tried a $100 Google AdWords advertising experiment – would you like me to report on that experience too?) Have you found something that actually works for you? I'd love it if you'd share in the comments!