I actually wrote this post long before Christmas, but it's been too hot to even consider modelling a warm hat until now, so let's pretend I just finished it – I want to tell you the lemons-into-lemonade story of how I ended up with this lacy knitted hat instead of the cardigan or sweater I'd intended to make…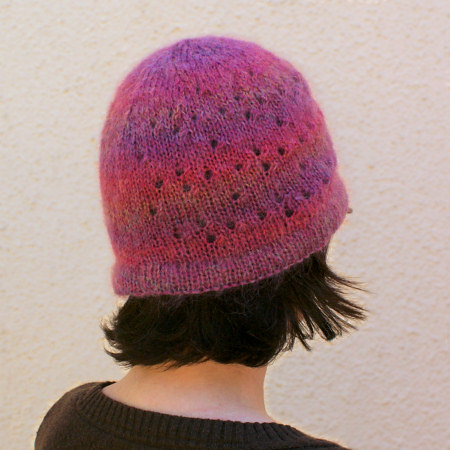 After the success of my first knitted cardigan, I needed to get another project started asap so I didn't revert back to my exhausting pattern of working (crochet designing) while watching TV in the evenings.
I looked through my stash and found this interesting yarn – it looks like mohair but it's actually an acrylic/nylon blend… No, it's not the loveliest yarn ever, but my Mum found it in a charity shop for next to nothing, and I thought I could use it up on some knitting practice before committing to the expense of buying yarn for a sweater. (As there are no big box craft stores here, no weekly sales, no 40% off coupons, I can't get any bargain yarn any more, so working through my stash is suddenly more appealing to me!)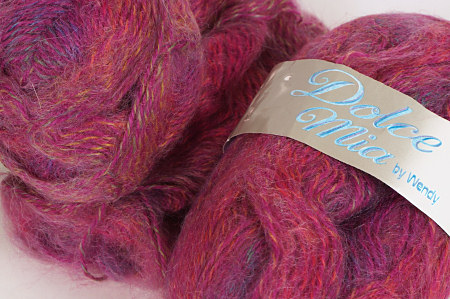 I wanted to try a built-in edge to prevent the stockinette curling this time, so I learnt how to start with a built-in facing and cast-on for the back of my unplanned sweater/cardigan: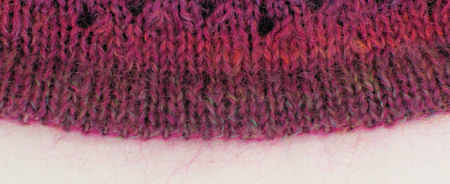 Built-in facing (look how neat it makes the bottom edge look)
Feeling ambitious, I thought I'd find out how to make knitted lace (i.e. strategically placed holes), and invented a basic pattern to work with: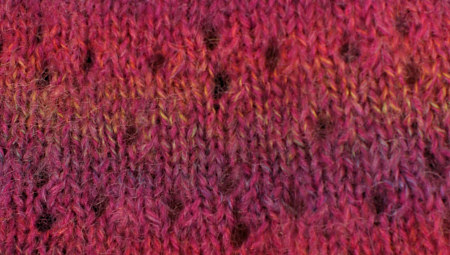 My very basic lace pattern
Disaster 1: After working through my 12-row lace pattern repeat three times (while watching TV and paying very little attention to what I was doing) I held my knitting up and noticed a couple of big mistakes in the position of my lace holes – one in the wrong place and one extra hole that shouldn't have been there.
Solution 1: Here's a big advantage of knitting over crochet: if you made a mistake, even many rows back, you can unravel that column of stitches down to the mistake like a ladder in a stocking, fix the mistake, and then zip all the stitches back up again with a crochet hook by hooking each through the last. Mine was a little trickier than fixing a mistake in stockinette, as I had to unravel some lace pattern stitches – decreases and yarn overs – but it worked! Which means that now I can confidently knit without paying much attention to it, knowing that I can fix a mistake later.
Disaster 2: I realised that a) I really don't love this yarn enough to wear a sweater made from it, and b) knitting lace without making mistakes would take more concentration than I can afford to spend – the whole joy of my knitting is that I can do it mindlessly to stop myself from working on crochet designs out-of-hours, and that doesn't really apply when getting into more complex stitches and patterns. What's the point in completing an un-relaxing project to make an un-wearable sweater?
Solution 2: By luck, the bottom hem of my 'sweater back' was just the right length to be a hat band. (That's only because my gauge was a bit off to begin with, and my planned 18″ back was actually 20″ wide – another reason not to continue with this project as a sweater.) So I stopped working my lace pattern and figured out a decrease pattern to make the top of a hat shape instead. I found out that I can extrapolate my crochet shaping knowledge to make knitted shaping pretty easily.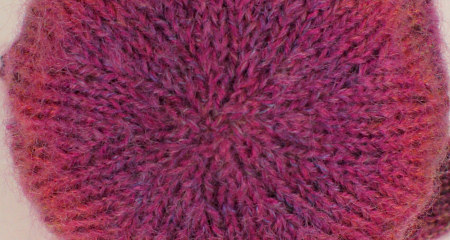 Decreases create the top of the hat
I seamed the two side edges together, and, voilà, a hat is born: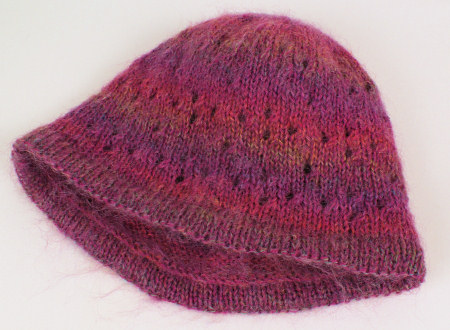 I knitted a hat – by accident!
And the bonus surprise from all this: I actually like the hat! I think I could get away with a small accessory in this yarn and colourway, whereas I know for a fact I would never have worn it as a sweater. I've never designed a hat before as I'm not really a hat person, but this has actually made me consider designing a crochet hat pattern at some point…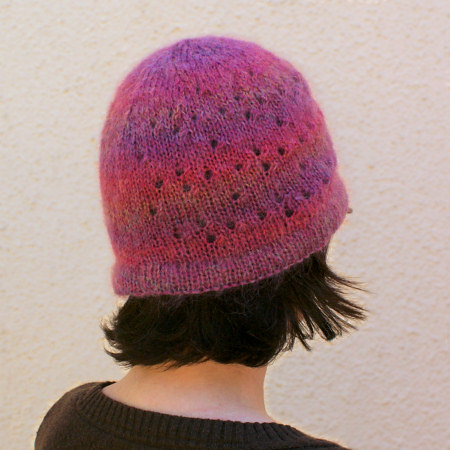 I'm avoiding getting fancy with my next knitting project (a sweater). I really like the look of stockinette, and the miles of pulling one loop through another to form a neat even fabric is very soothing to me. Yes, this fabric could be made in minutes on a knitting machine, but there's still an advantage in making over buying: I can tailor my garments to fit me instead of having to settle for leaving the bottom of every cardigan unbuttoned to accommodate my hips.
Plus, it's just relaxing to design things without writing anything down or worrying about how it'll translate into a pattern. Yay for non-work crafting!