February CALs
The Baby Cephalopods and other AquaAmi are already starting to multiply in the Ceph-Along (& friends) CAL thread on ravelry. There's still plenty of time to join in – the CAL runs all month and you can make a cephalopod in an hour or so! One thing I love about these patterns is how few pieces they have; there's almost no sewing to do (bliss when you're used to having to stitch head, muzzle, body, 2 ears, 4 legs, and a tail for one animal…)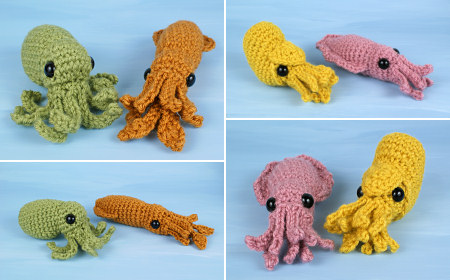 It's rare that I'm still excited enough about a new pattern to want to make more immediately, but I really can't resist the cephalopods – they're just so quick and fun to make. I've just bought this insanely-coloured yarn that I think will make wonderful colour-changing cephalopods (I can't imagine any other uses for it – no wonder the shop had only this colourway left):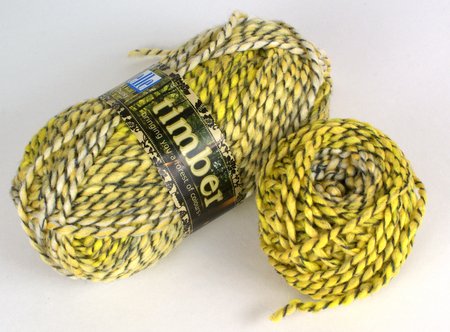 I'll be joining in the CAL myself, to see if my gut feeling is correct and I can turn this exuberance of colour into a set of amazing cephalopods….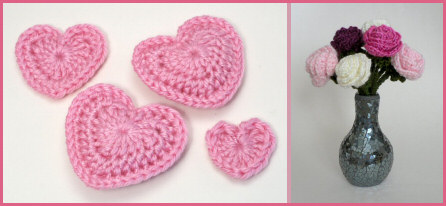 And if you're making hearts and roses from my free patterns, don't forget to share them in the Valentine's CAL thread before the 14th and I'll include your photos in the roundup here!
Review and Win contest
January's 'Review and Win' winner is Emily W, with her review of my ever-popular Baby Bunnies: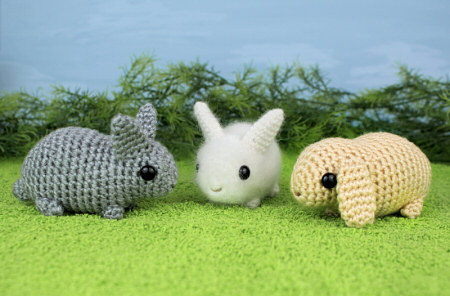 I ABSOLUTELY ADORE THIS PATTERN!!! As soon as I saw the bunny pictures on June's blog, I was absolutely ecstatic!!! I had previously looked everywhere for a realistic bunny pattern, but hadn't found anything that looked promising.

As soon as I bought the pattern, I was immediately swept up in a colony of bunnies – I just couldn't stop making them! The pattern is SUPER easy, even with the odd increases and decreases needed for the shaping. June explains the concepts needed so well, such as the entire page devoted to explaining angora bunny-brushing techniques! I'm also really glad that, unlike some other designers, June always pays great attention to important details, such as: where to put the eyes and ears, and where to put the feet so the bunny doesn't flop forward or look like it's pregnant (I speak from experience from my own attempts at designing a bunny pattern… did NOT turn out well 😛 ) Most of all, I love the fact that the bunny pattern is so easy to customize to look like your own bunny.

Everyone I make bunnies from this pattern for loves the results. This pattern will DEFINITELY become my last-minute birthday present pattern! Thank you SO MUCH for yet another wonderful pattern, June!!!!
You're welcome, Emily, and thanks for the lovely review – I'll email you to find out which pattern you'd like as your prize 🙂
And for everyone else, Baby Bunnies will be part of the next PlanetJune CAL (Spring/Easter theme), starting Feb 15th, so get ready for BunnyFest 2013, coming soon to a ravelry group near you…