As I'm a 99% self-published designer, I don't often get profiled in crochet magazines etc, so my Ravelry group decided to interview me to find out a little more about who I am and what I do – my own PlanetJune Story, if you like! I'll be posting the answers to some of their questions every now and again, and grouping them by theme if they fit together nicely. Here are the questions I'll be answering today:
Why Amigurumi? (from Monica, theMarkofSMB)
How did you find out about Amigurumi? (from Monica, theMarkofSMB)
Do you crochet from other designers' patterns? (from Aleksandra, petrOlly)
How did you get into designing patterns? (from Chrisie, CrochetChrisie)
What is your favorite animal? (from Monica, theMarkofSMB)
In 2005, the online craft scene was very different. Imagine a world with no Ravelry, no Etsy, only a handful of craft blogs (and no way to subscribe to them), no social media… It's strange to think how much things have changed in only a few years!
Back then, amigurumi was pretty much unknown outside Japan, but when I got bored with afghans and scarves, I managed to find something different in crochet that piqued my interest: thread bears – tiny bears crocheted with thread and steel hooks. Free patterns weren't common back then, and thread bear design seemed to be a closely guarded secret – there was no free way to find out how to make them. As the idea of working in rounds was completely new to me, I had no idea where to even start on making a crocheted toy, so I bought one pattern from a designer on eBay so I could see how these crocheted bears worked.
Now, I really don't like to follow patterns – crochet or otherwise. I can't help myself – I have to tweak and 'improve'. Even my first thread bear didn't quite follow the pattern I'd bought, and then I started changing them to make them simpler and cuter (unknowingly, I was creating something closer to amigurumi style!)…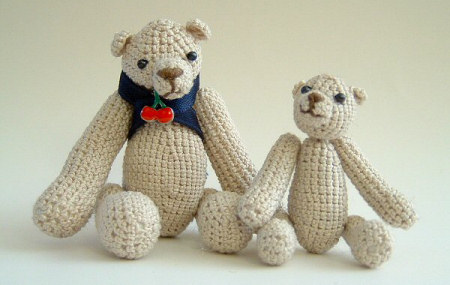 L: loosely based on a pattern I bought; R: my first attempt at a design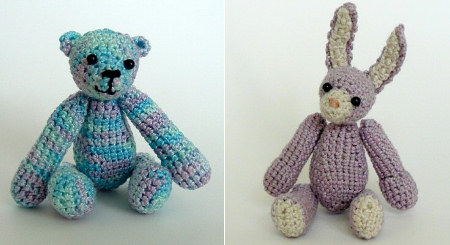 Further refinements (all are between 4 and 6cm tall as seated)
I got curious and tried making a regular-sized bear of my own design with eyelash yarn and a larger hook: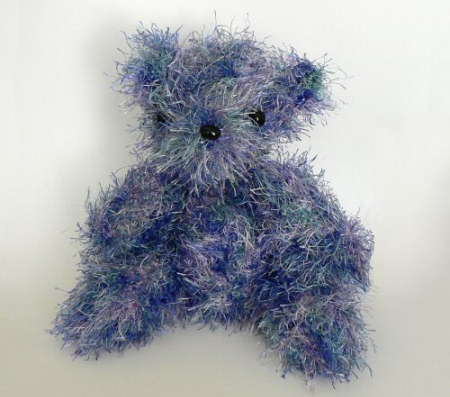 Blue Bear – a very early amigurumi prototype, ahead of its time!
…and that was the end of the story for well over a year. With no blog or online community, nobody saw what I was making, and there was nobody to tell me I was onto something and I should keep going in this direction, so I didn't.
But then things started to change – we had forums like Crochetville and Craftster to share what we were making, and more people (including me) started their own craft blogs. I began to hear about amigurumi, and crocheted toys were starting to get more popular.
I didn't really like the style of any other amigurumi I'd seen, so I wasn't too interested in them. Then I remembered my fuzzy Blue Bear – nobody was making anything like that, despite the proliferation of eyelash yarns around that time – and decided to try remaking it from scratch with more structure and better proportions. And look what happened: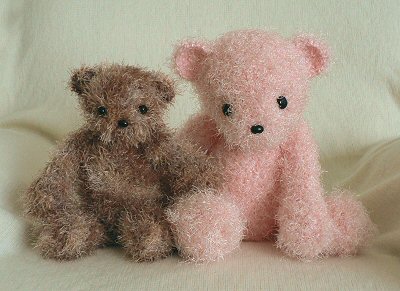 Hey, it's Fuzzy Bear!
I submitted an early version of Fuzzy Bear to the Crochet Pattern-a-Day Calendar, but didn't hear anything back from them. People on Crochetville and my fledgling blog seemed interested in a pattern anyway, so I thought I'd self-publish it as a PDF and see what happened…
(As it turns out, Fuzzy Bear not only made it into the calendar that year, but also made the back cover! Luckily, by the time I found out, I was already well down this road as a self-published crochet designer.)
It turned out I had a perfect combination of skills for doing this: my science/mathematical background worked well for figuring out all the numbers for patterns, and my technical writing background let me write clear, concise, accurate instructions. And, not only that, but all my other crafty pursuits lent themselves to my designs too:
My love of all animals (and, to answer the question, cats are my favourite 'pet' animal and orang utans my favourite 'non-pet') and observation skills I used to make my painstaking animal pencil sketches came in handy when I decided to make more realistic animals instead of traditional 'toy' shapes.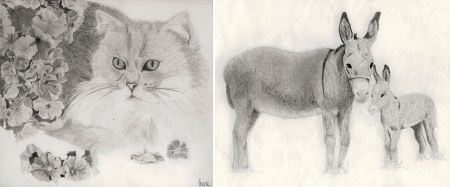 Some of my pencil sketches: cat with flowers, donkeys
And I'd also done lots of 3D modelling before, both in recreating toys from much-loved childhood TV shows: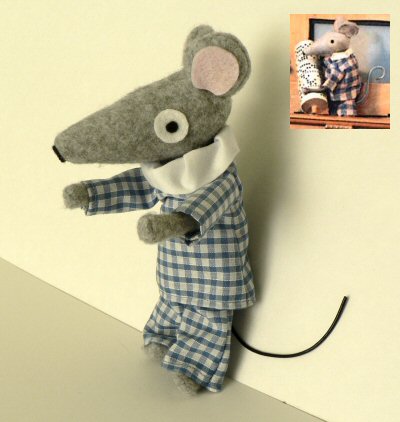 Hand-sewn Charlie Mouse from Bagpuss – my own design (inset pic shows the real Charlie Mouse from the show)
…and making polymer clay sculptures: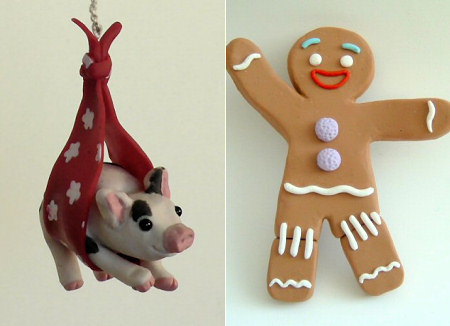 My versions of the flying pig from an old Telus commercial and Gingy from Shrek
So even though I started down this road by accident, it does make sense, looking back, that I could combine all my skills and interests in this way and find something that was a perfect fit for me – making models of my favourite things is something I've always done, many years before I even learned to crochet, let alone knew it could be used to create 3D models. Crochet lends itself to pattern-making more easily than clay sculpture, but, apart from that, the design process is pretty similar for me.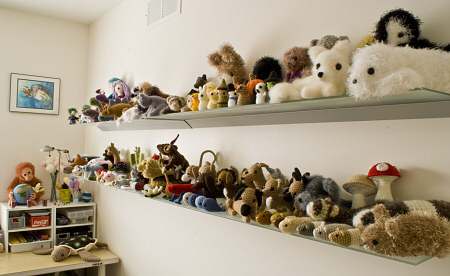 Some (nowhere near all!) of my amigurumi designs
Although I'm still amazed and grateful that I've been able to create a career from this, I'd still be making amigurumi even if nobody bought my patterns, because I just love to do it. Finding out about, and spending time with, animals and nature; crochet; sculpting; design challenges; and a good excuse to fill my house with the cutest toys I can imagine – what could be better?
I hope you've enjoyed hearing a bit about my introduction to amigurumi. If you have any questions you'd like to add to the interview pool, please submit them on Ravelry or in the comments of this post – I'll do another interview post in a little while!