As I'm a 99% self-published designer, I don't often get profiled in crochet magazines etc, so my Ravelry group decided to interview me to find out a little more about who I am and what I do – my own PlanetJune Story, if you like! I'll be posting the answers to some of their questions every now and again, and grouping them by theme if they fit together nicely. Here are the first three:
How did you learn to crochet? (from Sandy G, via the blog)
Who taught you to crochet? (from Monica, theMarkofSMB)
What was the first thing you ever crocheted? (from Linda, Fatals-attraction)
In 2003, my husband and I moved from the UK to Canada, and I had time on my hands while I looked for a job. I'd always liked making things and I'd dabbled in various crafts in the past: polymer clay, cross stitch, candlemaking, sewing, and others. At the time, there was a big craft shop in the middle of Toronto (Lewiscraft – the chain closed years ago, sadly) and I spent a lot of time in there, looking for things to try out that wouldn't cost much money. I tried teaching myself to knit, but didn't really enjoy it. Then I picked up a crochet hook and a 'learn to crochet' book, and fell in love.
Did you notice I avoided the obvious "I was hooked!" pun there? I hope you're proud of me!
(I've just remembered, this wasn't actually my very first experience with crochet: my aunt apparently taught me the basics when I was tiny, but I don't remember that at all, although I do still have my old hook – I always wondered why I had a crochet hook in my childhood sewing box!)
I've never been much of a pattern follower – I like to make up my own things (a precursor of things to come…). I also don't like to start with really basic projects. So I decided I'd learn as I go by making an afghan to use against the cold Canadian winter, using squares of single crochet, and that's what I did.
Here's the thing: I didn't really know how to crochet at the time, and this was an ambitiously large project for a total beginner! I made that basic rookie mistake of thinking you should insert your hook into the back loop (instead of both) to begin each single crochet stitch. I'd never heard of gauge, or blocking. I slip stitched my pile of squares together, but sadly didn't know about leaving a long tail to weave in securely when you finish off, so my poor yarn tails are only about an inch long. I'd also never heard of edging, which would have given my afghan a nicer finish…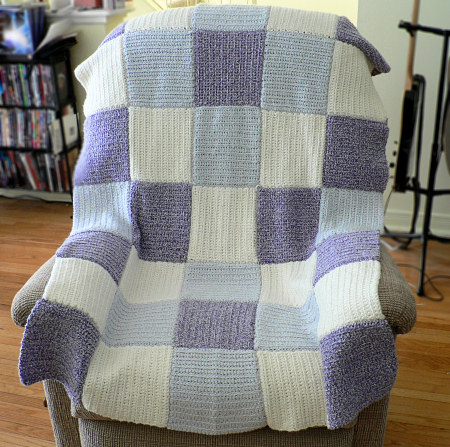 My first afghan (made in 2003-2004, photo from 2006). One of these squares is the first thing I ever crocheted!
It's not perfect, but that's okay. I still use it all the time; I keep it draped over a folding chair in my office so I can sit comfortably when I'm making videos and tutorials. The BLO single crochet doesn't look like a mistake, unless you know it's not what I intended! And I love being able to see the first thing I ever crocheted and know how far I've come.
After that, I decided to learn all the crochet stitches by making a sampler afghan – and yes, I did need a pattern for that! I used the 63 Easy-to-Crochet Pattern Stitches booklet (highly recommended if you'd like to crochet a stunning heirloom afghan, or to practice a large variety of crochet techniques and stitches).
Puzzling through the instructions for the trickier squares was what made me finally realise my mistake with the back loops, and ending up with squares of vastly different sizes is how I learnt about the importance of gauge. It took almost 3 years, but I finished it (with a sneaky extra round of sc around the edges of the tinier squares to even the sizes up a bit!) and it looks pretty impressive, even if it's not quite perfect: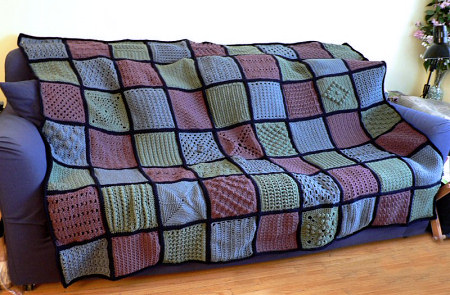 My second afghan (started Feb 2004, finished Nov 2006, photo from 2006)
The moral of the story is that, clearly, nobody starts out as an expert! These two afghans show my crochet learning experience in every stitch, and I love them both for that. It was a self-taught struggle – especially with no Ravelry or YouTube videos to consult as you can now – but, by the time I'd finished the sampler afghan, I really understood crochet. I could have made a 2nd, perfect, sampler afghan, but it was time for me to try something different…
I think this post is long enough now – I'll save the story of how I got into amigurumi, and the rest of the interview questions, for another day. 😉
I hope you've enjoyed hearing a bit about my crochet background. If you have any questions you'd like to add to the interview pool, please submit them on Ravelry or in the comments of this post – I'll do another interview post in a little while!