When I launched my pattern commissions page on Friday, I wasn't sure which of these scenarios to expect:
I might get no interest at all – I didn't think that would happen, but as a worst case scenario I'd have lost nothing more than the time taken to set up the database and code the page.
I might get a few nibbles, and a pattern commission every couple of months – this was my predicted outcome.
I may get 2 pattern commissions at once – I didn't think this was likely, but, just in case, I built in a clause that, should 2 patterns get funded within a month, I'd only collect the pledges for the second pattern after completing the first.
Well, I underestimated – in a big way. (I told you I was bad at making calculated business decisions!)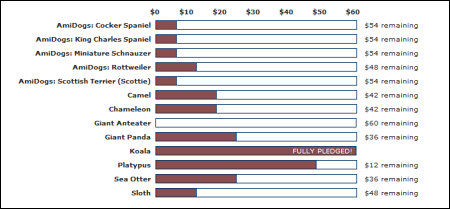 Eek – it's going too well!
It's been less than 4 days and I have one design fully pledged and several others getting close. I haven't even notified my mailing list yet, so there could be a huge rush of pledges at that point. At this rate, my business could turn into full-time commissioned designs, which, while very flattering, isn't something I can actually do – I still have all my other hats to wear, and a commitment to continue to make crochet videos and tutorials. I cannot possibly commit to creating more than one commissioned design per month – I can't work more quickly without the quality of my designs suffering, and that's not something I'm prepared to sacrifice (and, I'm sure, not something you'd want to pay for).
Plus, the commissions are only for basic animal designs. Anything complicated, or unusual, or something I'd be taking a gamble on in trying to create a design for it, is not going to appear on that commissions list – I have to wait for inspiration to strike before I can design things like that, and I need to leave myself time to let that inspiration happen.


There'd be no dinosaurs or succulents if I only made commissioned designs!
So, here's my solution: I'm moving the goalposts by raising the total commission amount from $60 to $90. Minimum pledges will still be $6. For the koala (which is already fully pledged at $60) there'll be no change – I've already committed to designing that.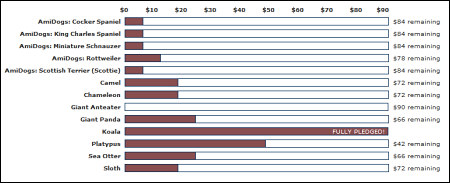 The updated system
If you've already pledged:
Your pledge stands at the dollar amount you originally agreed to.
The change shouldn't make any practical difference to you – by the time my koala design is finished, I'm sure the pledges will be back up to the level they were when you pledged, or higher.
As before, you won't have to pay for your pledge until I'm ready to begin the design.
If, however, you feel hard-done-by, just email me if you'd like to cancel your pledge. I'm not trying to con anyone – just to set up a system that will work in the long term.
I'm going with full transparency here and I hope you'll understand my reasons for this – the whole point of the commissions system is to gauge which design ideas may be most popular, but without making a change to the system, all the options will soon look equally popular! It's an entirely new system, and the challenge (and also the potential reward) of innovating is that you just can't know in advance how successful an idea may prove to be.
I expect the pledging frequency will drop after the initial flurry, but I may need to tweak the system a little more in the coming weeks/months, and I may, at some point, have to shift the totals again. If I do have to, my rules will remain the same:
Any design that is already fully pledged will remain so.
Whichever design is fully pledged first will be created first.
The dollar amount of your pledge(s) will remain unchanged.
If you really need to cancel a pledge, you may do so by emailing me before the design is fully pledged.
The first two points mean there's still value in pledging early if you'd like to see your favourite design(s) made more quickly, so please don't see this as a sign to stop pledging!
I think this is the fairest way of doing things, but if you have any suggestions, please feel free to share them in the comments or by email – your opinion counts too!