I have a lot of design ideas – too many, in fact. We live in an amazing world, and there are just too many wonderful animals and plants for me to be able to recreate them all in crochet. To help me decide which to make next, and see which would be popular choices, I've launched a new pattern commission model, so now you can help me make my design choices!
The way it works is like a mini Kickstarter, but exclusively for PlanetJune designs. If you'd like me to design a new crochet pattern, instead of commissioning me outright to design it for you, now you'll be able to make a pledge towards the design commission.
If you love the idea and want to get the pattern as soon as possible, you can pledge the entire commission amount; if you're happy to wait a while for some other people to come in with you to make the total amount, you can pledge as little as $6 towards the commission, or anything in between.
There's nothing to pay at the time you make a pledge; the pledges stay active until a design is fully funded, and, at that point, I'll collect the pledged monies and start designing. Once the design is complete, I'll email a copy of the pattern to each of the pledgers.
On the Commissions page, you'll see a graph showing the design ideas currently available for commission, and their current pledge states. As soon as you make a pledge, the graph will update to reflect it: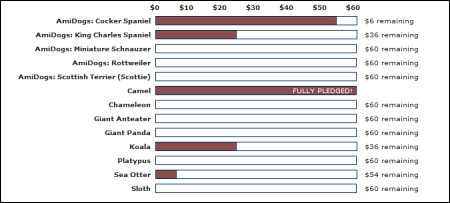 These are just test pledges so you can see what the graph will look like when I have some real pledges – I've reset them all to $0 now.
You can also suggest new ideas to me; I'll add each to the Commissions list if a) I'd be happy to make a design for it and b) I'm confident I'll be able to design it in the designated timeframe. More complicated or unusual requests may take longer to get right, so, if I like them, I'll either design them anyway, just because I want to, or they'll be available for private commission, with deadlines and pricing dependent on the design itself.
If you click through to the Commissions page, you'll also get a first glimpse of my new logo in action! Refresh the page and you'll see the photo in the header changes, so (in future, once the rest of the site has been updated) you'll see a different photo there each time you go to a new page on my site:


Ooh, new logo alert!
It's a really exciting time for me at the moment: I finally have the time to make progress on projects that have been in the works since long before I left Canada – everything got indefinitely postponed when things got too hectic… It was exactly a year and a day ago that I first started planning this new Commissions model, so it's extra-nice to have it finally coded up and ready to go!
Site navigation will improve once I have the new blog design finished, but for now, there's a text link to the Commissions page at the top of the right sidebar. —>
*click* – that's the sound of another piece of my grand plan slotting into place 🙂