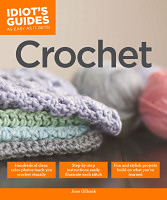 This is Day 4 of my week of posts telling you all about my new book, Idiot's Guides: Crochet, which will be released in 5 days, on 5th August.
For my main intro to the book, how to order your copy, and the other posts in this series, please see my main IG: Crochet info page.
To round out the book, I've designed a range of stylish original accessories and home decor patterns in a variety of simple, textured and lacy stitches. All the patterns include stitch diagrams and schematics where needed, and give modification tips if you want to use a different gauge or make a different size.
I've arranged the patterns in approximate order of difficulty, so you'll learn more as you make each one, using the stitches and techniques I taught you earlier in the book.
Today and tomorrow, I'll give you a little insight into the thought processes behind my designs and what makes each one special. Here's Part 1…
Flecked Scarf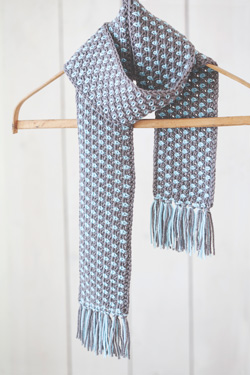 I love this design! I spent ages fiddling around with swatches to develop this stitch pattern that cleverly adds flecks of the contrast colour in an offset pattern, while each row of the scarf is crocheted in only one colour, so there's no colour changing to worry about!
Can it get any better? Yes, it can: the fringe has the dual purpose of incorporating all the yarn ends, so there's no weaving in either!
A simple and fun pattern with a stylish and impressive end result for not much work – isn't that the best kind of pattern?!
Cozy Cowl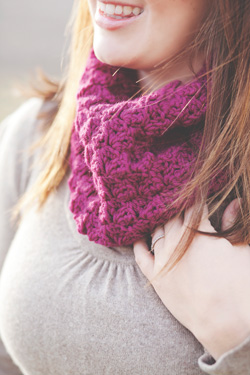 This cowl should be a go-to pattern for quick gifts. I came up with this stitch pattern that adds texture without too much chunky stiffness – getting a nice drape is always a concern when designing crocheted accessories.
As this cowl is worked flat, you have the freedom to keep crocheting until you like the feel of it wrapped around your neck. You can keep going to turn it into a long scarf, or even add buttons to make it a button-up cowl – there are large enough holes between the stitches that you won't need to make buttonholes.
The best part for me is the ends: if you choose not to join the cowl into a loop, you get a lovely wiggly line along each end – no need to add an edging! But if you do join it as I show in the pattern, I've designed the wiggles to mesh together perfectly, so your seam will be practically invisible.
Phone or Tablet Slipcover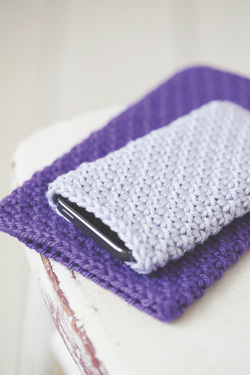 This slipcover will let you throw your device into your bag without worrying about it getting scratched. It's easy to customise the pattern to fit any size of portable electronic device, there are no fasteners to grapple with, and the slim fit means you can travel light without carrying a bulky case.
I came up with a simple but beautiful solid, cushioning stitch pattern that will protect your devices without looking boring. I've put this design through its paces: my phone has been thrown into my handbag (in my original prototype of the phone case) every day for over a year and is completely unscathed.
Note: The phone used in this photo is slightly smaller than the one I crocheted the case for, so don't worry – follow my instructions for your own devices and the slipcover will be a perfect snug fit.
Handy Baskets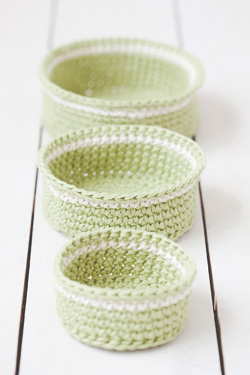 Sometimes single crochet really is the best choice – and not just for amigurumi! It makes a solid, sturdy fabric that's perfect for more dimensional items like baskets.
But, to keep my design original and interesting, I gave my set of 3 nesting baskets a few clever twists: they are seamless, with a sharp, crisp corner around the bottom, and I developed an amazing but simple new invisible join for single row stripes, which makes the contrast stripe and the top edge look totally seamless! They are worked with 2 strands of yarn to give a thick, sturdy result.
Placemat and Coaster Set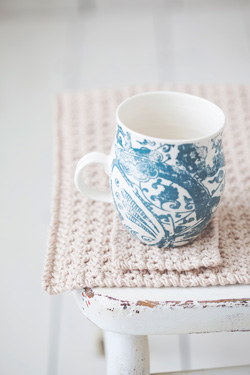 I wanted a solid but textured stitch pattern for my placemat and coaster set: too open or too textured a pattern leaves your mug in danger of tipping over! I played with all sorts of stitch combinations and swatched until I found the perfect match, with a simple but interesting looking stitch pattern, and a little (but not too much!) texture. The reverse single crochet edging adds the perfect finishing touch.
I chose a natural-coloured linen-blend yarn for my samples, for a natural, rustic feel, but standard kitchen cotton would be a perfect choice for yours. Of course you can use any colour (or stripes of colour, alternating every 1 or 2 rows) to match the style of your dining room. Eagle-eyed readers may have spotted one of my coasters in use under my mug of tea on my new homepage 😉
---
And, with that, we're halfway through the Gallery of Patterns – what do you think so far? Stay tuned for the final 5 patterns, in tomorrow's post…
Note: all images reprinted with permission, Alpha Books, a member of DK.