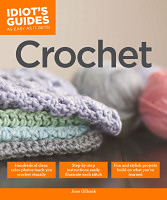 This is Day 3 of my week of posts telling you all about my new book, Idiot's Guides: Crochet, which will be released in 6 days, on 5th August.
For my main intro to the book, how to order your copy, and the other posts in this series, please see my main IG: Crochet info page.
I've included two stitch gallery chapters in IG: Crochet, plus a chapter on motifs.
Stitch Galleries
The beauty of crochet is that you can create a huge variety of stitch patterns from a few simple stitches. The Easy Stitch Gallery (Chapter 10) shows you how to create completely different effects using only the most basic stitches: chain, single crochet, half double crochet, and double crochet.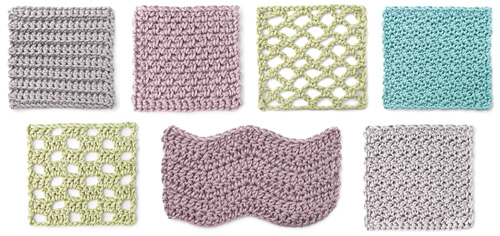 Easy Stitch Gallery patterns
The Intermediate Stitch Gallery (Chapter 15) demonstrates how you can combine all the crochet stitches you've learnt in the previous chapters to create a huge variety of decorative effects, from lacy, open stitch patterns, to densely textured patterns, and everything in between.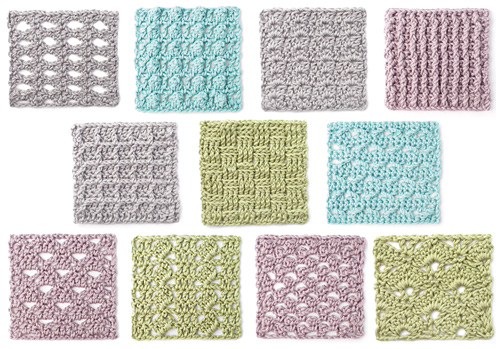 Intermediate Stitch Gallery patterns
All my stitch patterns in both chapters include a clear swatch photo, full written instructions, and a charted stitch diagram. If you follow my advice on swatching (see Gauge, p64-67) to make sure you select a hook size that will work with your yarn to produce a fabric you love, you can choose any of these stitch patterns to easily make any rectangular shaped object, such as a dishcloth, a scarf, or a blanket – just pick a stitch pattern and decide how big you want to make it, then start crocheting!
Motifs
And I've also included a chapter on Motifs (Chapter 13), with useful info and tips for making perfect motifs, and a selection of 5 patterns: the classic granny square, a solid variant on a granny square, a circle-in-square design, and a granny triangle and hexagon. You'd be amazed how many different formulae there are for making motifs like these, and I used a combination of maths and lots of prototyping to come up with what I consider to be the best patterns for each of these designs, that give the flattest and straightest-edged results, even before blocking.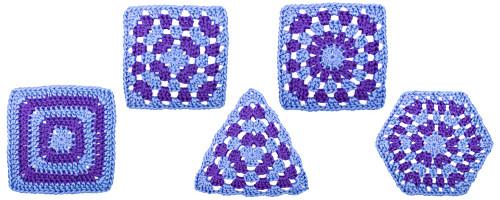 My motif patterns
I alternated between two colours for the rounds in my motifs, to make the pattern as clear as possible for you to follow. All my motif patterns include full round-by-round text instructions (with photos of each round, for those new to motif-making), a charted stitch diagram, and a general pattern for extending the motif to be as large as you want.
And then you can choose any of the joins from the several options I demonstrate in Finishing Techniques (Chapter 9 – my favourite is the Flat Slip-Stitched Seam) to crochet or stitch your motifs together into a blanket, bag, scarf, or whatever else you want!
---
Check back tomorrow, when I'll show you the first half of the Gallery of Patterns I designed exclusively for this book!
Note: all images reprinted with permission, Alpha Books, a member of DK.