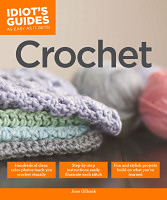 This is the last day of my week of posts telling you all about my new book, Idiot's Guides: Crochet, which will be released in 4 days, on 5th August.
For my main intro to the book, how to order your copy, and the other posts in this series, please see my main IG: Crochet info page.
Following on from yesterday's post, here are my insights into the designs that make up the the second half of the pattern gallery at the end of my book…
Rolling Waves Blanket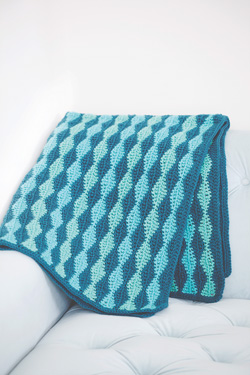 I really enjoyed crocheting this blanket – the hardest part was knowing how long I'd have to wait to keep it looking nice and neat before Maui and I could snuggle up in it! This design has a beautiful stitch pattern but it's easy to memorise. You only need to change colour once every 2 rows, so you won't have hundreds of ends to weave in.
It's easy to customize this design to make any size of blanket – from a baby blanket to an afghan for a king-sized bed – or even to crochet just the first 8 rows and you have a lovely wave pattern scarf.
I named this blanket Rolling Waves for the stitch pattern, and the colour choices for my sample support the name, but the wave pattern would look equally lovely in a non-aquatic colour scheme – just choose any main colour (the dark teal in my sample) and add one, two or more contrast colours. Pastels would make a sweet baby blanket, or how about a bold rainbow of different coloured wavy stripes against a black background? I can't wait to see the different colour combos when people start working on this blanket. 🙂
Solid Stripes Bag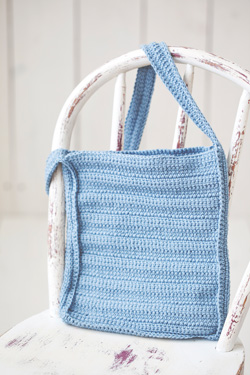 This design was a challenge for me – I'm really not keen on most crocheted bags, as they almost always need to be lined to be useful, and the straps stretch out as soon as you put anything in them (unless you add a fabric backing to the straps too). Another challenge I set out to solve with my design!
Would you believe the lovely textured stripes of this bag are created with only one stitch? The linked stitch pattern has no holes, so you don't need to line it with fabric, and small items such as pens (and crochet hooks!) won't fall out. The tall stitches work up quickly, and the finished bag is large enough to be useful without taking forever to make. I was thinking of a bag for carrying library books when I made my sample, although of course you can use my modification notes to make a bag of any size.
My clever strap design creates an inelastic strap that won't stretch out, and, possibly the best part of all: this design is almost no-sew – you just need a few stitches to join the ends of the strap together, and all the rest of the assembly is crocheted. I've included assembly diagrams to make that process even simpler.
Double Diagonals Shawl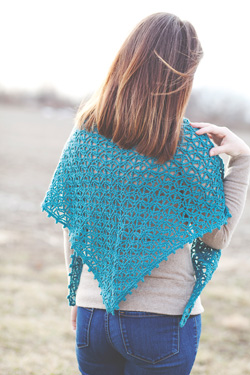 This may be my favourite pattern in the book. I thought I'd nailed the design several times, but then came up with a tweak to make it even better and had to redo the whole thing with the improved stitch pattern, over and over again. But it was worth every frogging and redoing – the final stitch pattern is infinitely prettier than my original concept! It looks to me a little like flowers and a little like snowflakes, but, either way, the parallel diagonal stitches throughout (that give this design its name) are uniquely beautiful.
The shawl is a shallow triangular shape, which means it'll work up more quickly than a standard right-angled triangular shawl. As it's worked from the bottom up, you can just keep crocheting until you like the size – or until you run out of yarn! A subtle picot edging makes the perfect finishing touch for this stunning shawl.
Front-and-Back Hat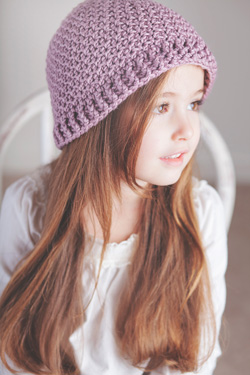 My editors were pretty insistent that I should design a hat for this book, but after browsing pages and pages of hat designs on Ravelry, I realised that
I just don't like crocheted hats
… I don't like the bulls-eye shape the rows make on the top of the head; I don't like the helmet-like structure of a single crochet hat, or the gappiness of a hat made with taller stitches; I
really
don't like hats with a plain top and a fancy stitch pattern that only starts on the sides.
So I set out to design a hat that avoided everything I don't like about crocheted hats – quite a challenge as I'm so picky! Finally, I came up with a seamless stitch pattern that gives a subtle all-over texture, with no obvious rows, and no transition between the increase part at the top of the hat and the straight sides. Even the increases are pretty much invisible!
I love the texture of this hat – it gives the hat a beautiful appearance and a nice stretch but without leaving any gaps for the wind to sneak through. The 'Front-and-Back' name refers to the trick that makes this hat unique – a combination of front and back loop only stitches (which are mirrored in the front and back post stitches in the ribbing).
I designed this hat in 3 sizes (child, adult small and adult large), but I've also included a recipe that works by size, so you can make this hat with any yarn and any gauge, and end up with a hat that fits anyone beautifully. Note: the beautiful girl in this photo is wearing the adult small size hat, which is why it's a little large on her.
Front-and-Back Fingerless Mitts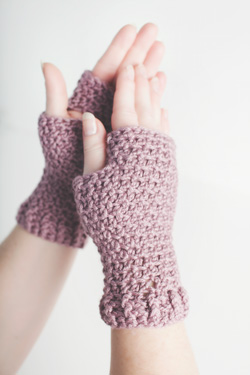 And now to the final pattern. If your book has one hat and one set of fingerless mitts, it just makes sense to design the patterns so you can crochet a matching set!
I was originally going to just make basic wristwarmers with a slit for the thumb, but I decided it's important for your thumb joint to be warm too, so I set out to design a shaped, fitted, no-sew fingerless mitt where the thumb shaping doesn't disrupt the stitch pattern. I designed these mitts to be long enough to cover your knuckles and keep you cosy, or of course you could add extra rows above or below the thumb gusset to make your mitts longer still.
If you've already made the hat, the mitts are a natural progression – slightly more complex due to the thumb gusset shaping, but you'll still find it easy, as it uses the same front-and-back stitch patterns you used for the hat.
I've supplied the mitts pattern in 2 sizes that should cover pretty much all women's hand sizes, and – as I mention in the pattern – you can modify it further by intentionally not meeting gauge, to make your mitts a little smaller or bigger, as necessary.
Note: all images reprinted with permission, Alpha Books, a member of DK.
---
Intrigued Yet?
So that's it – the end of the week of posts that tell you all about my new book, Idiot's Guides: Crochet. I hope you've found these posts interesting and that they've tempted you to take a look at the book once it's released on August 5th (assuming you're not one of the lucky few who amazon shipped to early!)
I put my heart and soul into making this book the best it could be, and I really hope you'll enjoy it and find it useful, and different from every other crochet book out there.
Buy it! If you haven't bought IG: Crochet yet, and would like to, please use my amazon links to buy either the paperback or Kindle version – you'll save some money vs buying it in a bookstore, and I'll make a few extra pennies too.
Review it! If you've already bought it and love it, please consider writing a review on amazon and telling the world why you think it's a special book. Thank you 🙂
Crochet-Along With Us!
And to celebrate the launch of IG: Crochet, today we're starting a 2-month Book-Along crochet-along (CAL) in the PlanetJune Ravelry group. That gives you plenty of time to try out a project – or several – from IG: Crochet, discuss yarns and colour choices, ask for advice, share your photos of your projects, and enjoy seeing what everyone else is making and how the different patterns look in different yarns and colours.
I'll be there too, of course, if you have questions or want my opinion on anything. It's going to be great, and I really hope you'll join us for it! If you're new to Ravelry, you'll have to sign up for a free membership, but I promise you'll love being a part of our friendly, helpful PlanetJune community. I hope to see you there!