Say you find the cutest mug or basket that would look lovely with a crocheted plant inside, or you're crocheting a plant as a gift and don't have time to make the pot too… How can you 'plant' your crocheted plant securely so it'll look good in a non-crocheted container?
I've been asked this many times over the decade since I published my first potted plant patterns, so I thought it was about time I document and share my preferred method with you.
In this tutorial, you'll make a ball of crocheted 'soil' and stitch your crocheted plant to the ball. You can then 'transplant' your crocheted plant into a decorative container of your choice!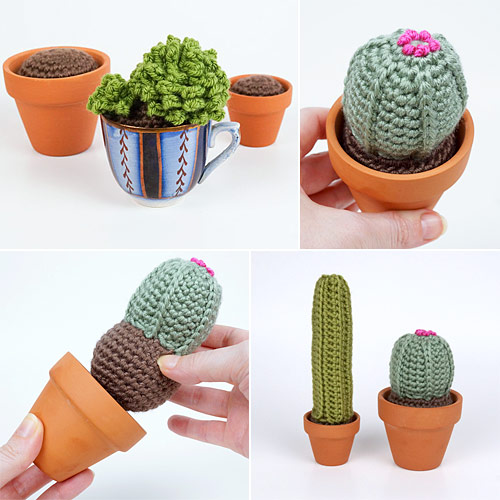 The online version of this tutorial includes the basic recipe for making a soil ball of any size. As I like to reward people who choose to donate for my donationware patterns, the PDF version also includes special bonus content: the full crochet patterns for two sizes of pot (1.5″/4cm and 2.25″/6cm diameter), and additional tutorial photos.
As always, though, the basic pattern is free for you to use, and you need only donate if you'd like to thank me for my time in creating it, or if you'd like the easy-to-print PDF version.
I hope you'll enjoy this tutorial, and find it useful next time you're making a PlanetJune potted plant pattern 😀
Go to the Soil Ball for 'planting' Crocheted Plants tutorial >>