A couple of months ago, I put out a call in my Ravelry group for Christmas or Holiday design requests, and the most popular idea was for a square gift box, worked in the round. It's easy enough to crochet a square base, but working the sides in one piece in the round means that the resulting box won't look square – there are no corners, and, with every round, the square becomes more and more circular…
I decided to rise to the challenge and develop a circular box, worked in one piece in the round, that still looks square. I actually thought I'd already come up with the perfect technique, but, after testing it, I wasn't happy with the result, so I went back to the drawing board. I created at least 10 cornering techniques and compared samples of each to find the ultimate corner, but I think it was worth the effort, because these boxes undeniably have real square corners: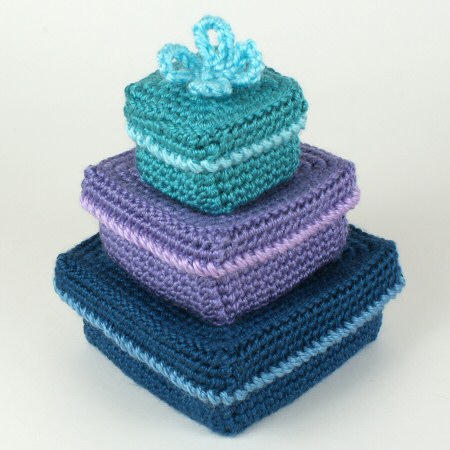 I chose rich peacock hues for my boxes, with a lighter shade of each colour for the trim, but of course you can change the look by using traditional Christmas colours, or any other colours you like.
Each box has a removable lid, and they are sized so that, with the lids on, the three can nest neatly inside each other. The smallest is 2.5″ (6cm) wide and the largest is 4.5″ (11cm) wide.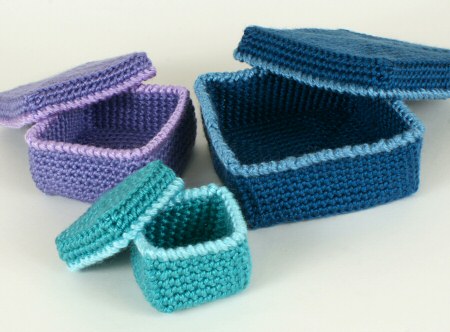 You can also use them, with or without lids, as pretty little desk or bathroom organisers, or to display trinkets…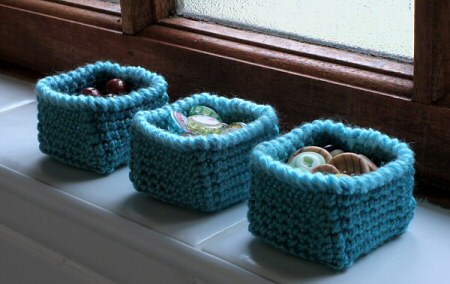 3 of the small boxes without lids
If you'd like to try out my special no-sew, worked-in-a-spiral, square corner technique, the Gift Boxes pattern includes full written instructions, and a bonus 3 page step-by-step photo tutorial at the end of the pattern. I laid it out like this so you'll have plenty of photos to make sure you'll definitely be able to understand how to make the corners, but you can save on ink by not printing the last 3 pages!
The Gift Boxes crochet pattern is now available in my shop, or you can bundle it with any other 2 PlanetJune Accessories patterns by picking up a custom set of any 3 Accessories patterns.
Note ready to make it yet? Add it to your Ravelry queue!
I hope you like them!