Here's a new addition to my stemmed flower patterns: a beautiful realistic tulip flower with a clever one-piece construction. You'll love how it comes together!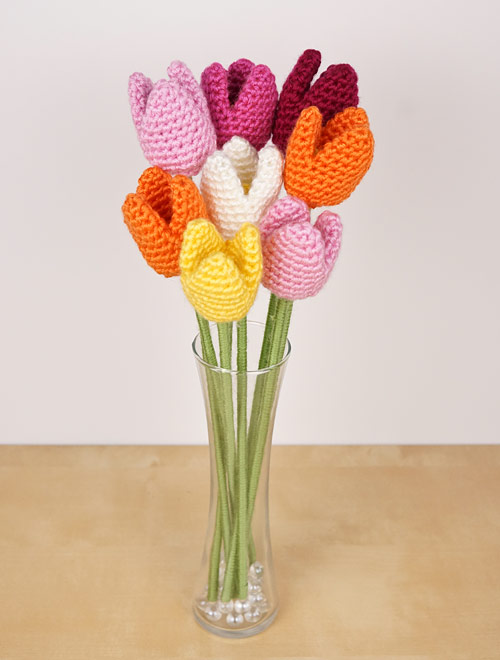 Don't they look gloriously spring-like in their distinctive tulip colours? (I had so much fun picking the colours for these!)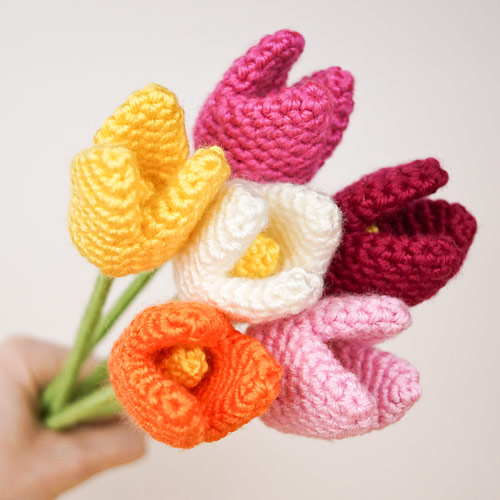 I've also completed a new video (the first of many!) using my new audio/video equipment to accompany this pattern, and all my other stemmed flowers: Easy Yarn-Wrapped Stems for Crochet Flowers. As always, my videos are available in right- and left-handed versions, so you can see exactly what to do.
I hope you can see/hear the quality improvement in this new video, but if you don't even notice because you're concentrating on the content, that's fine too. Clear, close-up and well explained techniques are always my top priority. Please subscribe to my YouTube channel so you'll always see my latest videos – I have lots more in store!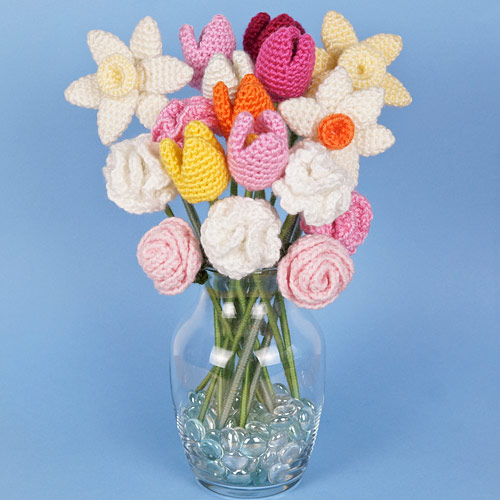 Here are all my stemmed flowers together: Basic Rose, Daffodils, Carnations and the new Tulips. I hope they all brighten your day!
As I like to reward people who chose to donate for my donationware patterns, the PDF version of the Tulips pattern includes additional assembly photos (including left-handed photos) and my special technique for fastening off the yarn neatly at the base of the stem. As always, the pattern is free for you to use, and you need only donate if you'd like to thank me for my time in creating it, or if you'd like the easy-to-print PDF version.
Go to the free Tulips pattern >>
Or jump straight to donate:
Not ready to make it yet? Add it to your Ravelry queue: