Posy Blossoms is my latest donationware crochet pattern for you! What began as an idea to make a tiny basic flower shape expanded until I had a set of seven different sweet miniature flowers with two leaf designs. As they all go together perfectly, you can mix, match, stack and combine endlessly to create floral embellishments perfect for any situation.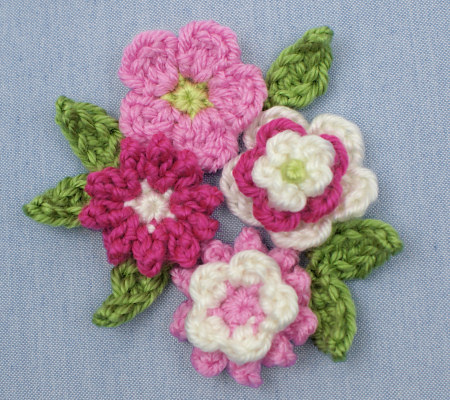 Make them in your favourite colours, or themed colours to match decor or occasion. (Thinking ahead, don't you agree that dark green leaves with white and/or red blossoms would make beautiful winter/Christmas decorations..?) You can make each blossom in one or two colours, and stack the smaller blossoms on the larger ones in the same or contrasting colours.
Each tiny component takes only minutes (or less!) to crochet. The sizes vary from approx 0.75-1.5″ (2-4cm) diameter when worked in worsted weight yarn, and of course you could miniaturise them further with finer yarn and an appropriately smaller hook.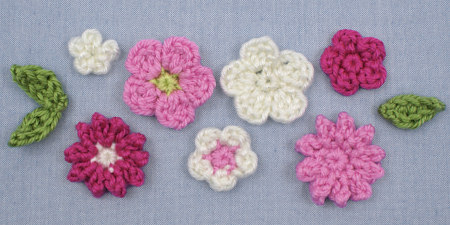 Use a single flower to embellish a hairclip, stitch two or three to a bag or purse, or combine your favourites into a larger posy for a brooch or pin. Stitch them around the neckline of a t-shirt or cardigan, embellish a photo frame, decorate your amigurumi, create floral crocheted jewellery… The only limit is your imagination!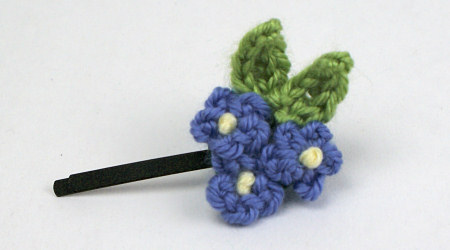 Above and below, you can see one example of how I used this pattern (3 x blossom A with the optional knotted centre, plus 1 x double leaf I) to make a sweet forget-me-not posy hair clip: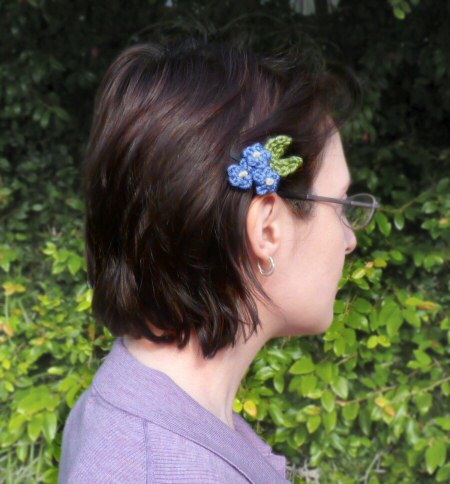 As always, the pattern is free for your use, but if you'd like to send me a donation towards it (completely optional), you'll receive the nicely formatted and easy-to-print PDF version of the pattern as a thank you.
I hope you'll enjoy this pattern – I can't wait to see how you use it! I'm hoping we'll see a huge range of embellishments, accents and decorations, all made using unique combinations and colour schemes.
Go to Posy Blossoms pattern >>
Crochet Along with us!
The new PlanetJune Crochet-Along is an extended BotaniCAL, taking us through from now until the end of September. The botanic theme, chosen by the members of my ravelry group, covers all my flower, plant and fruit patterns, so this is the perfect chance to start creating with my new Posy Blossoms pattern, and to be inspired by how other people are using it!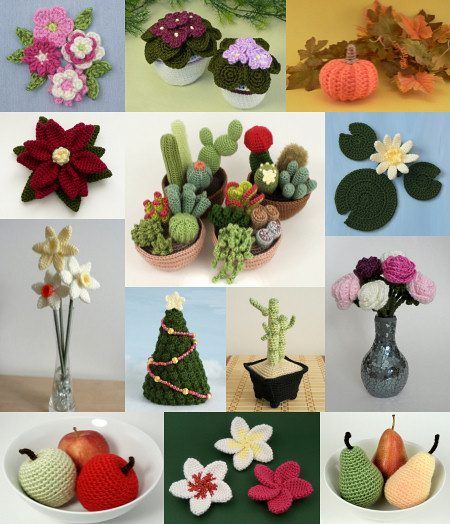 PlanetJune Botanicals patterns – find them all in the Flowers & Plants section of my shop.
(By the way, although the Ravellenic Games have now ended, the Team PlanetJune roundup and prize drawing will be later this week, as there's a 24 hour grace period for posting projects to the finish lines and I don't want to omit anyone from the roundup post or from receiving their contest entries.)
Please join us at the BotaniCAL thread in the PlanetJune Ravelry group if you'd like to crochet Posy Blossoms – or any other PlanetJune Botanicals – along with us!